Tim Tebow: Boomer Esiason Rips Tebow, Calls Broncos 'Layup' for Steelers
January 4, 2012
Theo Wargo/Getty Images
Add another analyst to the anti-Tebow bandwagon.
CBS Sports NFL analyst Boomer Esiason went on the Dennis & Callahan show on WEEI in Boston and wasn't talking about the New England Patriots.  He was talking Tim Tebow.
Esiason absolutely tore the 24-year-old quarterback to shreds:
To me, [the Steelers have] the layup this week.  They've got Tim Tebow, who obviously is in way over his head.  Everybody knows that.  It's been a nice story. But 6-of-22 [in Sunday's 7-3 loss to the Chiefs], the last three weeks he's been terrible.  This is a layup for the Pittsburgh Steelers, even without Ryan Clark.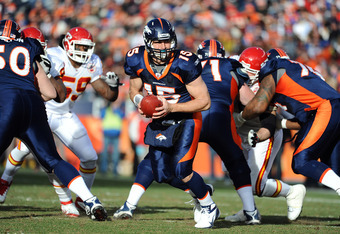 Garrett Ellwood/Getty Images
Ouch.  In over his head?  Tebow took a 1-4 team and went 7-4 as a starter; I certainly wouldn't call that being "over your head."
Tebow has been a huge reason why the Broncos broke the franchise record for rushing yards and are currently No. 1 in the NFL in that category. 
Teams have adjusted to the unorthodox style of offense, but I'm pretty sure offensive coordinator Mike McCoy has already made major adjustments this season, and you can bet he'll do the same on Sunday.
Esiason is getting caught up in the stats, but we all know those don't always add up to wins and losses.
I think Esiason is really underestimating the value of Pittsburgh safety Ryan Clark, who will be sitting this one out because of a medical condition that's exacerbated by Denver's high altitude. 
Clark led the team with 100 tackles, and played in 98.6 percent of the defense's snaps in 2011.  He was their rock, but now the Steelers have to rely on backup Ryan Mundy, who has two career starts.
Couple that with Rashard Mendenhall's torn ACL and Ben Roethlisberger's severe high ankle sprain, and you have one incredibly banged up squad.
The Broncos will enter the game in much better shape after getting safety Brian Dawkins back.
Denver, with their strong home-field advantage, is no layup.  Esiason is just the latest to doubt Tebow because its fashionable. 
Expect Esiason's predicted layup to get blocked as Tebow proves another doubter wrong Sunday.