2012 NFL Playoffs: Roadblock Facing Each Contender's Super Bowl Dreams
January 5, 2012
Kevin C. Cox/Getty Images
For the first time in a long time, we really have no idea who the best team in the NFL is.  A case can really be made for and against each team.  For all the talk about NFL records being set, it seems that we are talking more about weaknesses (and there are plenty).  When you see some of the flaws each team has, you sort of wonder whether any of them should be preparing for April's draft instead of a playoff game.
Here's a more detailed breakdown of each team's "roadblock:"
AFC
No. 1 seed: New England Patriots (13-3; AFC East Champion)
Roadblock: Pourous secondary
Tom Brady has not won a playoff game since winning the AFC crown back in 2007 en route to his stunning loss in Super Bowl XLII.  He boasts the second most passing yards in league history and arguably the most unstoppable two tight-end set we have ever seen.  But even he knows that to get to his fifth Super Bowl in nine seasons, he might have to shoulder a heavy load put on him by a bad defense.
Watching the Patriots' defense play this season is painful.  No, scratch that.  It's flat out torture.  The Patriots' secondary set the NFL record for most passing yards allowed in a season and even let quarterbacks like Rex Grossman, Vince Young and even Dan Orlovsky have career days against them.  Their only saving grace is that the AFC is not as deep as it once was.  The only viable quarterback in the conference is Ben Roethlisberger, and even he is not 100 percent with a sprained ankle.
The crazy thing is that even when the defense gives up a ton of yards early, they get a wake-up call through Tom Brady and the offense and get things adjusted.  That sounds disturbing as the roles in years past were always reversed, but New England can hang their hat on the fact that they forced 33 total turnovers (23 interceptions, second behind Green Bay) and, should both Cincinnati and Pittsburgh win their respective games, they will only have to face either Baltimore or the Steelers for the AFC championship.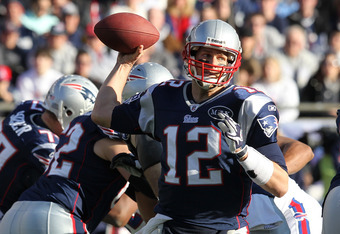 Jim Rogash/Getty Images
New England can also be proud that their scoring defense is in the middle of the pack and gives them a chance in a weaker-than-usual AFC.
No. 2 seed: Baltimore Ravens (12-4; AFC North champion)
Roadblock: The road, and shaky QB
Baltimore has all the components to win the Super Bowl: great running game, efficient quarterback, physical defense, speed at receiver.
Yet, the Ravens have been the league's biggest mystery this season.  They have a myriad of impressive victories against San Francisco, Pittsburgh (twice), Cincinnati (twice) and a then-healthy Houston squad.  They also have very puzzling losses to San Diego, Tennessee, Seattle and a very disturbing one to Jacksonville. 
Many people accuse the Ravens of living off of their reputation and criticize offensive coordinator Cam Cameron for not trusting Joe Flacco in crunch time.  Though they will have a home playoff game, they haven't won one there since 2000.
No. 3 seed: Houston Texans (10-6; AFC South champion)
Roadblock: Playoff babies
It is finally Houston's year.  They took advantage of breaks and came away with their first division title and playoff berth in franchise history after knocking on the door for so many years.  They looked to be the AFC favorite to get to the Super Bowl when the injury bug dealt them a cruel twist of fate.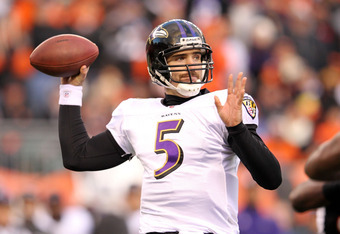 Andy Lyons/Getty Images
Losing a Pro Bowl quarterback in Matt Schaub is hard enough, but now that Houston's lost Schaub's backup, they have a tough road to climb.  Not only that, they have had to battle through the losses of Mario Williams and Andre Johnson (twice).  There is no question they have one of the best defenses and running back duos heading into the playoffs, but this is their first postseason appearance and no one is sure how they will respond to the pressure.
No. 4 seed: Denver Broncos (8-8; AFC West champion)
Roadblock: The man in the middle
It's no question Tim Tebow is being put in prime time against Pittsburgh: The league's most talked about player will be in his playoff debut against NFL royalty with both his supporters and his critics watching closely.
But what about the Broncos as a team? After starting 1-4, Tebow rescued Denver to a magical 7-1 mark (five fourth-quarter comebacks), but that has spiraled into an ugly three-game skid, translating into 41 percent completion, 439 yards passing, one touchdown, four interceptions (all against Buffalo) and three lost fumbles.  Not to mention one of his best linemen is gone for the season and his wide receivers (or lack thereof) possess no outside threat.
Tebow has been unceremoniously exposed, and his best chance to win is to take chances and rely on his running game, but that might not be enough.
No. 5 seed: Pittsburgh Steelers (12-4)
Roadblock: Tattered blocking and a hobbled Big Ben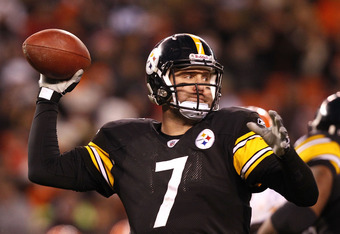 Matt Sullivan/Getty Images
By all accounts, Pittsburgh should be the most complete team in the playoffs.
The keyword there being should.
This isn't the first time Pittsburgh's offensive line has been banged up. They have been able to get away with this flaw with Ben Roethlisberger's ability to scramble and make plays.  However, with his high ankle sprain, which (according to multiple reports) has regressed, he has been sacked more often (25 times) and intercepted more (10 times) out of the shotgun than when he is under center.
By the way, has anyone seen Heath Miller lately? I forgot he was even on the team.  With the injuries to the Steelers' front line, Miller has had to stay in to block and his pass catching numbers have taken a nosedive (13 receptions in the last six games after 38 through the first ten).  
Pittsburgh won at Denver back in the 2005 AFC title game en route to winning Super Bowl XL, but their offensive line has never looked this bad. To make matters worse, Rashard Mendenhall has a torn ACL, which puts the main target on Roethlisberger to oppose defenses.
Many people pick Pittsburgh to win in the Mile High City, but this liability up front could cost them down the road in the later rounds.
No. 6 seed: Cincinnati Bengals (9-7)
Roadblock: Youth, youth, youth
Cincinnati finally has a reason to support its Bengals.  They have one of the best quarterback-receiver combos in the league in Andy Dalton, and A.J. Green and will be a force to be reckoned with for years to come. However, whenever it was time to shine against the league's elite, they never got it done.  The Bengals went 0-7 against playoff teams and face another playoff baby in Houston this weekend.  Their future is bright, but their playoff run will be short.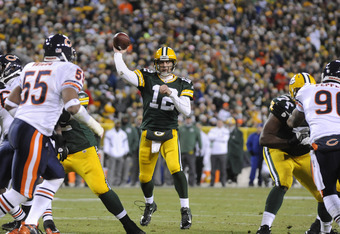 David Banks/Getty Images
NFC
No. 1 seed: Green Bay Packers (15-1; NFC North champion)
Roadblock: See New England
Like the Patriots, the Packers boast an unbelievable offense yet an unreliable defense.  Last season, they were one of the league's best and hottest defenses racking up 47 sacks and 24 interceptions. This year, their secondary is second-worst to New England (giving up an NFL-worst 411.6 yards per game) and their sack total has been cut almost in half with 29, though they increased their interception count to 31.  
There is a trend with this.  Since Green Bay scores so often and so fast, their defense gets back on the field quicker, and opposing teams are forced to throw just to keep up.  Most people believe they have the best defensive talent in the NFC with Clay Matthews, Charles Woodson, Tramon Williams and BJ Raji to name a few, and with them staying home throughout the postseason, they really should have no issue getting back to the Super Bowl.
Right?
No. 2 seed: San Francisco 49ers (13-3; NFC West champion)
Roadblock:  Knives vs. big guns
San Francisco boasted its best record since Steve Young and Jerry Rice did it back in 1997.  Winning 13 games is impressive, but they relied on a strong running game, a relentless, smart defense and not turning the football over (tying an NFL record with ten turnovers set all the way back in 2010 by New England).
The 49ers also boast another NFL record: most field goals in a season.  David Akers kicked a record 44 field goals this season.  That's the good news. The bad news is that it's more than the number of touchdowns they scored all season with 32.  They share that sentiment with Cincinnati and while that is a good record to have, field goals won't do against the likes of New Orleans and Green Bay.
Alex Smith has had the best season of a career, but it was beginning to have the word "bust" written on it. Even though his defense will give him a chance to win games in these playoffs, he must make clutch plays or his dreams of a ring will come to a grinding halt.
No. 3 seed: New Orleans Saints (13-3; NFC South champion)
Roadblock: The elements
No one is arguing that the Saints have the league's best home-field advantage.  Nobody, and I mean nobody, wants to go into the Superdome to face a faster, more relentless version of the Greatest Show on Turf.  One can even argue that New Orleans is the biggest threat to Green Bay's chances of repeating, which is where the Saints' roadblock comes in.
In five outdoor games, New Orleans has forced two total turnovers and scored a decent 25.8 points per game.  In 11 indoor games, including eight at home where they were undefeated and often unchallenged, they scored an astounding 41 points per game and forced 14 turnovers.
Given that the top two NFC seeds play outdoors, they will have to pack their running game (sixth best in the NFL at 132.9 yards per game) and hope for strong defensive performances in order to book a trip to Indianapolis.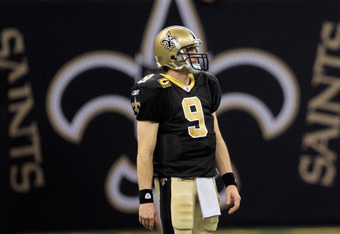 Chris Graythen/Getty Images
No. 4 seed: New York Giants (9-7; NFC East champion)
Roadblock: Running to nowhere
The NFC East wasn't as vaunted as it has been in years past as the Giants became the first team to win the division with less than 10 wins since its inception in 1970.
The only thing running wild lately has been Brandon Jacobs' mouth (funny guy, I will say) but his play on the field hasn't even come close to match the money he was paid to produce.  He and Ahmad Bradshaw anchor the league's worst (yes, worst) running game.  Some of that is contributed to Bradshaw's injuries (171 carries, 659 yards this season as opposed to 276 carries and 1235 yards last season) as well as a massive offensive line shuffle.  New York released both Shaun O'Hara and Rich Seubert in the offseason and has had to reshuffle the deck at times this year.
With the running game not viewed as a viable threat, Eli Manning has had to carry more than his share and, though he has come through more often than not, a Super Bowl run is reliant on getting back to New York Giant football.
No. 5 seed: Atlanta Falcons (10-6)
Roadblock: Themselves
Atlanta should have all the tools to make a deep playoff run but haven't won a playoff game since the 2004 divisional playoff with Michael Vick under center.
Julio Jones and Roddy White have been everything and more for Matt Ryan, catching passes for over 2100 yards and 16 touchdowns.  Though they traded up in the draft for Jones hoping for more explosive plays, most if not all Falcons fans will tell you that they are still reliant on their ball-control, low-risk, high-percentage philosophy of relying on the run to set up the pass in a league where the opposite is the norm.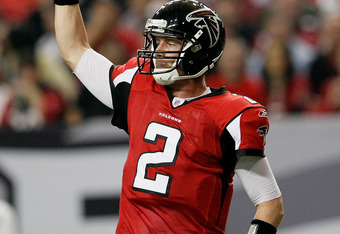 Kevin C. Cox/Getty Images
Against playoff-bound Houston, New Orleans (twice), Green Bay and Detroit, Atlanta scored less than 23 points in each game and went 1-4.  Offensive coordinator Mike Mularkey will need to trust his quarterback and open up the offense, or else the Falcons will find themselves going home early.
No. 6 seed: Detroit Lions (10-6)
Roadblock: Good, but just not good enough
The league's most incredible story started out like a fairy tale then almost went into full-blown collapse.  A 5-0 start for Detroit and talk of home playoff games spiraled into a 5-6 finish just good enough for a wild-card berth.  The Lions have all the makings of an NFL power with a franchise quarterback, an incredible receiver and the league's "dirtiest" player in Ndamukong Suh.  
Detroit set all kinds of team records this season for points, yards and even crowd noise.  Yet in their rebound season, they haven't exactly had a signature win.  Yes, winning three games after trailing by 21 is impressive, but those were against the 8-8 Cowboys, 6-10 Panthers and 7-9 Raiders.  Their best win was a 45-10 massacre of Tim Tebow and the 8-8 Denver Broncos.
They are 1-5 against playoff teams and 0-5 against teams above .500. That includes home losses to San Francisco, Atlanta and Green Bay, all in the tournament.
Detroit does have a bright future, but this just is not their year.
So do you agree? Disagree? Have other opinions? Super Bowl picks? Leave a comment below and let the debating begin.