Midseason Grades for Michigan State's Hoops Squad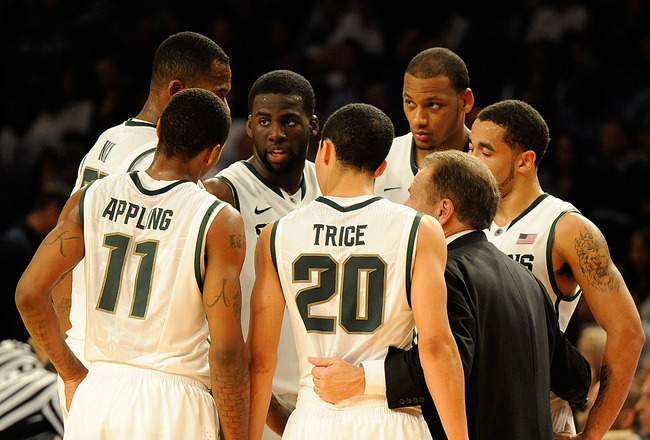 Patrick McDermott/Getty Images
How about it, Michigan State Spartans fans?
It looks like all the woes and whoas of last season are finally in the review mirror. This season opened up with more questions than a college midterm, but now that Michigan State is halfway through their season, all the questions seem to be answered correctly.
After kicking off the season being sunk at the Carrier Classic and partaking in the downside of Coach K's record-setting game, the Spartans rattled off 14 straight wins. Tom Izzo has righted the ship that was sailing away from him last year him, and his Spartans are on top of the Big Ten looking for his seventh conference title.
Now that the second half of the season at Michigan State is underway, it's time to dish out the grades from the first half.
Who's on the brink of failing?
What Spartan is bound to be on the hoops honor roll?
Well look no further, because the Michigan State basketball team's report card is right in front of you.
The Walk-Ons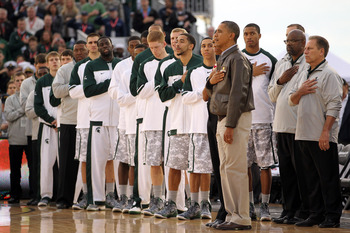 Ezra Shaw/Getty Images
Grade: A
Why the grade?
Am I grading this group in comparison to Michael Jordan? No, these guys earned their grade for doing what walk-ons do. Give the team a good look during practice and play when the Spartans are beating their opponents like a cheap drum. Keenan Wetzel, Colby Wollenman, Anthony Ianni, Dan Chapman and Joe Sweeny have earned an A the hard way.
What do they do best?
So far every player has a statistic, and there is nothing a home crowd loves more than seeing these hard workers get in the stat books. When one of these frantic white kids score, the Breslin Center comes close to toppling down. They also seem to be working hard at practice in giving the starters a solid look after a 14-game winning streak.
What can they work on?
If they can throw together a triple alley-oop and have the point guard shoot fireworks once it's all completed, that would be great. Other than that, you really can't expect much more from a group of guys who aren't on scholarship.
Brandan Kearney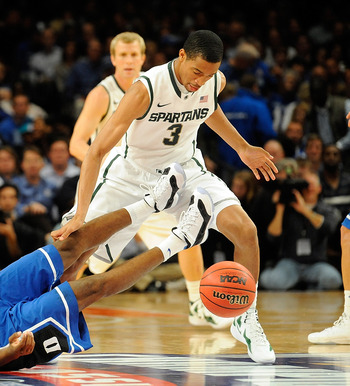 Patrick McDermott/Getty Images
Grade: C
Why the grade?
Kearney, a freshman out of Detroit, hasn't really established a role on this team yet. Partly, that is due to his lack of playing time, but minutes are hard to come by when Branden Dawson and Brandon Wood are in front of him. He hasn't shown that he is great yet, but he hasn't shown that he is bad either. An ESPN Top 150 recruit, he should blossom sometime next year, but for now, he's just kind of out there.
What does he do best?
From what we know, Kearney is well-rounded on the court. The 6'5" guard can rebound, drive to the lane and protect the ball. He hasn't hurt MSU on the court with stupid decision making or errors so far this season. All in all, Kearney plays a solid supporting role on this team.
What can he work on?
As far as his game goes, he could use help on his three point shooting. Going 0-of-3 so far from behind the arch, he shows that he is better taking the ball to the rim. An intangible that needs help is his passion he brings out on the court. Often he comes out flat and contributes very little to the offensive attack, so seeing a bit more energy and confidence with the ball won't hurt.
Russell Byrd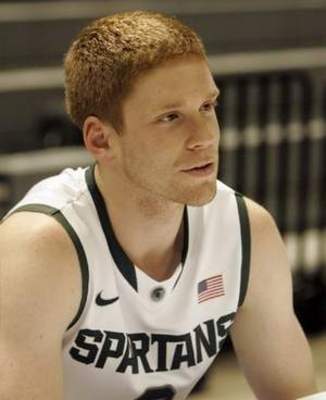 Grade: D-
Why the grade?
Russell Byrd is on this team to do one thing, and one thing only: he shoots the ball until the nets rip. So far, the redshirt freshman has yet to turn himself into a three-point threat. He plays marginal defense at best and has also made some poor decisions that are usually made by freshman.
What does he do best?
The only thing saving him from receiving a full blown F is the fact that his shots will start falling soon. Defenses know that, and they always but a little extra pressure on the arch when he steps on to the court. Once those three balls start falling, the grade will start rising.
What can he work on?
A couple of things, no doubt. First, the three-point shooting needs to improve before whatever confidence he does have left goes flying out the window. He has the lowest shooting percentage on the team at .250. He's a tad gun-shy to shooting the ball lately, and that has to be due in part of his recent struggles.
He can also work on bringing the ball inside the lane to give him another option of scoring. His defense, again, is marginal and could use some help. If he can make solid adjustments, he can make himself a threat on the court.
Alex Gauna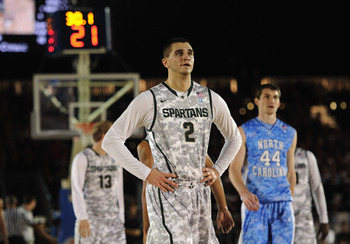 Harry How/Getty Images
Grade: C
Why the grade?
Just his presence alone is enough to give him some credit. Being a 6'9", 240-pound big man makes him undersized for the role he plays. He fills in for Payne and Nix when they are in foul trouble or need of a breather, but banging low in the post just seems uncomfortable for him. He isn't the scariest threat out there for the team, but at least he goes out and gives it his all.
What does he do best?
He doesn't attempt a lot of shots, but when he decides to pull the trigger, they are good looks. His smart shooting gives him a team-best 63 percent shooting, but he still looks like he lacks confidence to shoot the ball more.
Against Wisconsin, he gave Michigan State fans a sign that the apocalypse was indeed happening as he drained a shot just inside of the three point ark. If that wasn't a fluke shot, and it sure didn't look like it, Gauna can add an outside game. If Gauna shows that he can shoot the ball from a decent range, then what he brings to the table will improve Michigan State incredibly.
What can he work on?
Rebounding is the first thing. Even though he is shown minimal time, he only comes down with a disappointing one rebound a game. For a post player, that number needs to raise. Feeling more comfortable in shooting the ball is another intangible he needs to work on.
Austin Thornton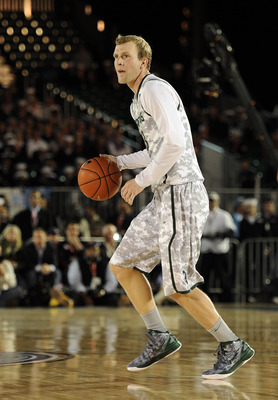 Harry How/Getty Images
Grade: C
Why the grade?
On some plays, Austin Thornton looks like a solid player. At other times, you wonder how on Earth he found himself in a Spartan jersey. He's definitely not a scoring threat, but he can be a nice swing man that the offense thrives off of.
What does he do best?
He doesn't wow anybody in any aspect of his game, but he does bring some assets to the table. He displays great leadership that comes from his experience as he has been around this program for five years.
You may notice that he doesn't put up numbers on the scoreboard, but that's because he doesn't get solid looks. Ever so often he will have a play where you think to yourself wait, did number 13 really just do that?
What he can work on?
Whenever there is one ounce of defensive pressure on him, he more than likely hands the ball to the other team. More than a few times this season, his hands look they are coated with hot margarine as he tries to grab a rebound or a loose ball, but instead hits it out of bounds.
And those did number 13 really just do that? moments might be because he may have so many negative plays in a row that the moments when he breaks out of them seem like a miracle.
Travis Trice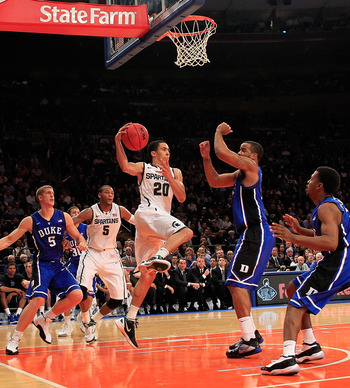 Chris Trotman/Getty Images
Grade- B+
Why the grade?
Travis Trice is making himself the most underrated recruit in the Big Ten so far, no question. Backing up Keith Appling is no easy task, but this true freshman gives Michigan State quality minutes. He can dish the rock, moves great in transition, and brings a fire and passion on the court that his teammates thrive off of.
What does he do best?
Just like any good point guard, Trice is exceptional at stealing the ball and dishing out assists. He is second on the team in steals and fourth in assists. Trice is also a lock down defender, and that goes overlooked more than anything else.
He comes right off of picks with speed and authority and he sticks to his man like a wet T-shirt. He learned how to play in the spotlight very quickly, and his leadership and ability to play will be a blast to watch in the future.
What he needs to work on?
For a point guard, Trice has a shockingly low free-throw percentage with shooting just 53 percent from the stripe. On a Tom Izzo team, that's odd, but as a point guard on a Tom Izzo team, it's baffling. His shooting percentage is also the second lowest on the team with 36.5 percent, but its not low enough to panic about just yet.
Adreian Payne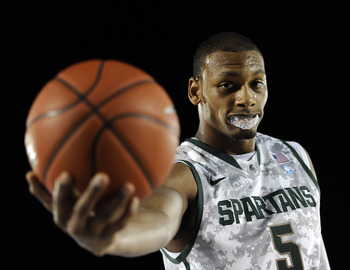 Harry How/Getty Images
Grade: B+
Why the grade?
Payne has proved to everyone that he is suitable for a starting role on this team. His 6'10" frame earns him a lot of minutes and action low in the post. Even though he's slim by big men standards, he still finds a way to get to the hoop.
What does he do best?
Payne is a great offensive threat, and that is credited to his height. The Spartans are short on post players, no pun intended, and Payne is relied on heavily to do some damage. He grabs more than four rebounds a game and punishes shooters by swatting away a few shots a game. Defensively, he is solid for the most part.
What can he work on?
Again, he is solid on defense most of the time. Sometimes he seems to take plays off and is sluggish switching on and off defenders. His frame is something he can work on, but that has been known since he walked on campus looking like a stick bug.
Derrick Nix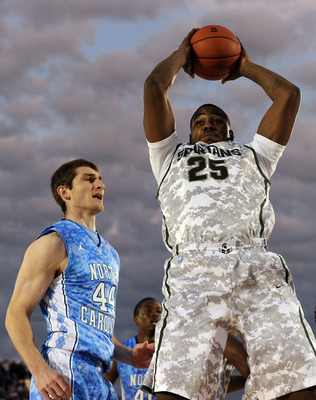 Harry How/Getty Images
Grade: B+
Why the grade?
Nix is a prime example of a Subway before and after picture commercial. He walked in to Michigan State tipping the scales at over 300 pounds. After a long summer of working out and dieting, he came back in the fall 40 pounds slimmer. Now that he is more fit, he can play more minutes and be more agile around the rim.
What does he do the best?
Nix's footwork is impeccable. If you haven't seen the Black Swan yet, don't. Instead, just watch Nix do his magic on offense. He can make defenders look stupid sometimes, and he often finds no one between him and the hoop. Not only is he a reliable scoring threat, but he can rebound like a big man should.
What can he work on?
There is no stat for this, but there are some times Nix has a hard time grabbing the ball. The upper half of his body almost acts the exact opposite of his fluid lower body, almost looking uncoordinated at times.
Nix also loves to lay the ball in when he has an open look rather than slam it home. Sure, two points is two points, but throwing it down and making the backboard shake for the next two possessions is a sure momentum-grabber.
Branden Dawson
Patrick McDermott/Getty Images
Grade: A
Why the grade?
The 6'6" freshman out of Gary, Ind., is already making a huge impact on the season. As a hybrid shooting guard/small forward Dawson is making a strong case for Big Ten freshman of the year. He can shoot, drive to the lane, and brings great intangibles to the team.
What does he do best?
Branden Dawson simply plays basketball. In almost every category, he's in the top five on the team and has opposing coaches wishing that they were the team to recruit him. He falls into the Michigan State program perfectly, playing physical, up-tempo ball. As a guard, he grabs an impressive 4.4 rebounds a game and protects the ball well.
Every Michigan State fan should be thrilled for his future.
What can he work on?
Branden Dawson has yet to attempt a three-point shot, but at least he knows his weakness. If Dawson can develop an outside game he is comfortable with, then he will extend the floor and make opposing coaches cry.
Brandon Wood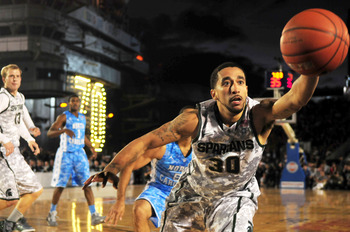 U.S. Navy/Getty Images
Grade: A
Why the grade?
Entering this season as a transfer from Valparaiso, there were questions whether he would adapt well to the team. He answered those questions, and the only people that are upset at the answers don't wear green and white. Wood plays a stellar shooting guard and assures that he gives Michigan State a great year.
What does he do best?
Brandon Wood is a big-time player that can put up big-time numbers. Average 10 points and less than one turnover per game makes him one of the marquee offensive players on Tom Izzo's team. His shooting is efficient at 48 percent from the field. On defense, his endurance and wisdom makes him a lockdown defender that opposing players hate to face.
What can he work on?
From the eye test and on paper there is really nothing that sticks out. Michigan State could try to ensure he uses his final year of eligibility next season.
Keith Appling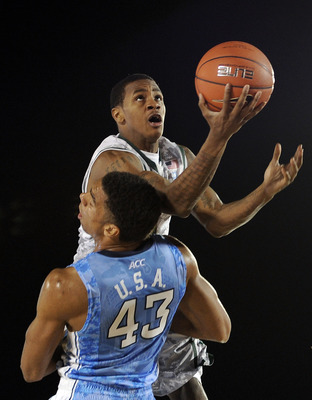 Harry How/Getty Images
Grade: A
Why the grade?
Last year, some said that Appling started his career off slow, bricking some wide open shots and sometimes seeming lost out there. Partly, that is because he had to accept a new role, shooting less and focusing more on being a true point guard. This was a 180 from high school, but now that one year has passed, he has already found a happy medium between scoring and playing point guard.
What does he do best?
Being the second leading scorer on the team with 12.5 points a game and shooting above 45 percent from the field, Appling is a flat-out scoring threat. He shoots the three ball. He penetrates to the lane hard. Also, he can find the open man.
Not to be premature, but he is definitely moonlighting his former teammate and Spartan great Kalin Lucas. His defense is great, and he is always a threat to block a shot and snag the occasional rebound. All in all, Appling is simply a great player.
What can he work on?
Appling is a great player, but sometimes limits himself due to fouls. Earlier in the season, Appling found himself in foul trouble early in the game, and that landed him on the bench for a good portion of some big games. Lately, he appears to have toned it down, but Michigan State hopes he doesn't start up that bad habit again.
Draymond Green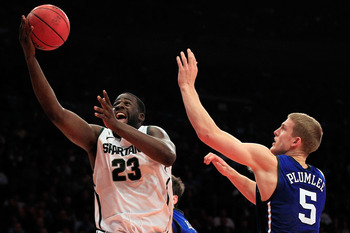 Chris Trotman/Getty Images
Grade: A
Why the grade?
Do you really need an explanation?
Green leads the team in points with 15.6 per game, rebounds with 9.8 per game, and is just behind Keith Appling with 3.3 assist per game. Green can flat-out play, and he could be the No. 1 reason the Spartans are on top of their game right now.
What does he do best?
Draymond Green plays how the perfect Tom Izzo player would play. He's tough, physical, and grabs more rebounds than Barney Stinson. At only 6'7", he leads the team in rebounding. Once you see him go to work, you realize he doesn't play at what his height says.
No matter who is on the other team, he will out work them and grab the board. Green also has a solid shot and post game, and he uses both to stretch the floor and keep the defense guessing. Another huge asset of Green's is his leadership. No other player controls and leads the Spartans like he does, and that is crucial on a team that had many chemistry issues last year.
What can he work on?
Green is confident in himself when it comes to shooting the ball, but some shots are rushed. He can be seen shooting 16-foot shots with 20 seconds left on the shot clock. Being confident is great, but being too ambitious with time to spare on the shot clock sometimes hurts the Spartan offense.
Keep Reading

Michigan State Basketball: Like this team?