Are Duke Blue Devils Really Overrated?
January 4, 2012
Chris Trotman/Getty Images
Duke can only be overrated if other teams are underrated. Only two such teams stand out: No. 7 Missouri and No. 12 Indiana.
Missouri is 13-0 and they have won games they were expected to lose, especially with only eight (seven, now that one has transferred) scholarship players on hand.
They defeated Pac-12 challenger then No. 18 ranked California then blew out a vulnerable Notre Dame. They also took care of Big East contender, Villanova.
There is a case for ranking Missouri higher, and they should get their just reward if they beat No. 4 ranked Baylor in a few weeks on the road. But first they need to hold off No. 22 Kansas State and an unpredictable Texas in the Big 12.
Indiana (12-1) started the season unranked, like Missouri, but has been the surprise of college basketball this season. They defeated No. 1 Kentucky, then a few weeks later beat No. 2 Ohio State, both games at home.
As a matter of fact, Indiana has played three true road games so far—two they won, and the third they lost to Michigan State.
A team Duke already beat on a neutral site to make Mike Krzyzewski the winningest coach in Division I basketball.
Duke's only loss of the season was a blowout at Ohio State, then ranked No. 2.
That was Duke's only true road game but they defeated three ranked teams on neutral sites—Kansas and Michigan in the Maui Invitational tournament, the third team being Michigan State, currently No. 10.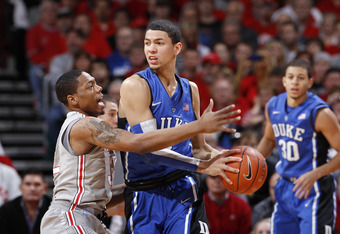 Joe Robbins/Getty Images
Just because Duke doesn't have a player that may be considered consistent and they struggle at times to win games doesn't mean they don't deserve their ranking. They have only one loss and have yet to lose to a lesser-ranked opponent.
Other teams may seem a lot stronger than Duke, but only Ohio State can say they beat them. However, the Buckeyes currently have two losses, one to Kansas and the other to Indiana, as mentioned earlier.
Jared Sullinger's injury is a major factor, and when he is back to full health, Ohio State should rise again but in the meantime Duke is on a five-game winning streak.
UConn (12-2, 2-1 Big East) may be considered a more talented team than Duke, but they were beaten by UCF and then Seton Hall last night.
All teams have to earn their ranking whether they are thought to be elite or not, and on any given night any team could lose.
Tonight, Duke travels to Temple (9-3), currently on a three-game winning streak for their second true road game.
Duke has acknowledged a few weaknesses, as any young team would do, and will be tested by the Owls later.
They have played some cupcakes to date but still have a decent strength of schedule, which is no coincidence.
"We try to schedule one of the better schedules in the country," said Mike Krzyzewski. "For us to have the strength of schedule we have right now not having played a conference game I think says a lot for our team."
On any given night any team can lose. Duke has lost the one game they were not heavily favored to win and won all the games they could.