Liverpool Transfer Rumors: What Is Next for Andy Carroll?
January 4, 2012
Clive Brunskill/Getty Images
Almost a year ago, Liverpool shattered their transfer record, making Newcastle United striker Andy Carroll their most expensive ever signing at £35 million.
The big Englishman, who stands at 6'3", was expected to revolutionize the Reds squad—alongside fellow newcomer Luis Suarez—and carry the club back to the Top Four where they rightfully belong.
Unfortunately, Carroll has struggled badly since his arrival at Anfield.
Liverpool fans will take solace in the fact that each goal the 22-year-old has scored has cost them only £7 million. Each goal ex-Kop hero Fernando Torres has scored at Chelsea has been priced at £10 million.
It would be an understatement to say they expected more from Carroll. He has been nowhere near the player Kenny Dalglish and Damien Comolli thought he would be when they brought him in.
Eleven months later, it is starting to cause real problems for the club.
With Luis Suarez's eight-game suspension kicking in for the 3-0 defeat to Manchester City, Liverpool find themselves without any real goalscoring threat. That's particularly true without the man who has scored 21 percent of the team's goals through the first half of the season.
Carroll—who has scored just five goals in 29 appearances for Liverpool, and two in 17 this season—needs to step up. He has to become the go-to guy in the absence of the superstar Uruguayan. Against City, though, he showed few signs that that might happen.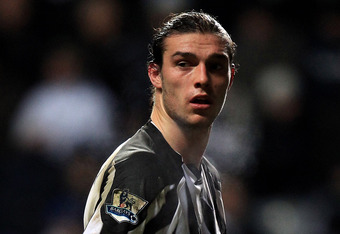 Mark Thompson/Getty Images
It seems inevitable that Liverpool will make a move to sign a true goalpoacher in January. With just 24 goals through 20 games, nine Premier League teams have scored more goals than Liverpool.
It is rapidly becoming clear that the club's biggest need is for a goalscorer. It is becoming even clearer that Carroll is not the answer.
The signing of a striker would, upon Suarez's return, demote Carroll to the fifth-option attacker. That puts him after whoever the mystery signing turns out to be, plus Suarez, Dirk Kuyt and Craig Bellamy.
Needless to say, it is unlikely the youngster would see too much playing time. This has left fans and experts alike asking what might be next for the £35 million man?
Reports from the rumour mill seem to suggest Dalglish and his team will send Carroll out on loan, though not to Newcastle. This seems a good move by Liverpool management.
With Carroll, the talent and potential is undeniably there; it's just a matter of confidence.
He has not been able to live up to the enormous pressure that has been put on him by fans, and his confidence in himself is getting worse and worse.
Sending him out to a mid-table Premier League club would allow him to regain his touch as an everyday striker, and hopefully score some goals to regain that confidence.
Early rumours had named Newcastle as a candidate. That would make sense since he's considered a hero at St James' Park.
Newcastle are in the same position as Liverpool in terms of goalscoring. They have 26, with 14 coming off the boot of Senegalese striker Demba Ba. The goals that Carroll would likely bring would be welcome.
While there is no telling what a loan spell might or might not to do Andy Carroll, one fact remains: Something needs to be done, or Carroll will forever be remembered as a £35 million mistake for Liverpool. 
Follow Jake Ware on Twitter at @JacobWare95