Duke vs. Temple: TV Schedule, Live Stream, Spread Info and More
January 4, 2012
Streeter Lecka/Getty Images
The Duke Blue Devils are looking to continue their recent run of dominance as they get ready for conference play and finish their warm-up schedule against the Temple Owls tonight.
Duke is favored to win, but Temple has been finding ways to come out of contests with W's in recent weeks.
Keep reading to find out if this game will be close and everything else you need to know about the matchup.
Where: Wells Fargo Center, Philadelphia, PA 
When: Wednesday, Jan. 4 at 7:00 p.m. EDT
Watch: ESPN2/ESPN3 (Live Stream)
Listen: Duke Blue Devil Radio Network, 97.5 FM The Fanatic - Temple
Betting Line: Duke -7.5
Key Injuries
Duke
No Significant Injuries to Report
Temple
F/C Michael Eric – OUT (Knee)
F Scootie Randall – OUT (Knee)
What's At Stake?
Duke (12-1) is gearing up for ACC play and looking for another win against a solid opponent before it gets into the meat of its schedule.
The game is on a neutral court but should see many more fans of the locally based Temple Owls in the building.
This will make it a tough test for the No. 5 team in the nation, who hasn't had a meaningful game since its Nov. 29 loss in Columbus against Ohio State.
Temple has been gutting out some tough wins and is lucky to possess a 9-3 record.
Duke is the first ranked team the Owls are playing this season and it would be huge for their tournament hopes come March if they could get a signature win here.
What They're Saying
Steve Wiseman of The Herald-Sun is reporting that Duke coach Mike Krzyzewski is happy with Quinn Cook's recent contributions to the team.
"He's the best passer we have on the perimeter," Krzyzewski said. "He's a natural point guard. His ability to run the team, pass and defend the ball, that's basically what a point guard's supposed to do in a traditional sense.

"He's gotten a lot better. He's gotten stronger, he's healthy and hopefully he'll continue to show that improvement."
Kami Mattioli of Owlsports.com found that coach Fran Dunphy is doesn't care if his team continues to win by whatever means necessary and is proud that they have found ways to pull out victories.
"I hope that it'll be a signature of this team—that they'll find a way to win," he said.

"These guys manage to come up with some big, big shots. I'm proud of them."
Duke Player to Watch: Quinn Cook
Now that this young man is healthy, he adds another dimension to the Duke offense and will help with the turnover problem it suffered from early in the season.
Temple Player to Watch: Ramone Moore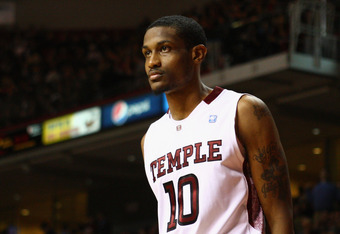 Chris Chambers/Getty Images
The senior guard leads the team in scoring but has slumped over the past few games and desperately needs to get out of it if the Owls want a chance to win.
Key Matchup: Rebounding
Duke showed weakness on the glass earlier this season but has managed to out-rebound its opponents over the past four games.
Temple needs to exploit its opponent's sometimes lackadaisical approach to grabbing boards should it hope to steal a win.
Prediction
Duke 75 - Temple 70