Gilbert Melendez vs. Frankie Edgar Breakdown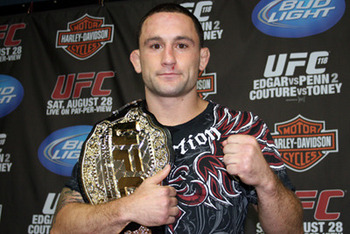 mmajunkie.com
Both Frankie Edgar and Gilbert Melendez are considered to be among the elite of the lightweight division as both men reside as champions under the Zuffa umbrella, with the New Jersey star claiming the UFC while the Californian holds court over Strikeforce.
For some time Melendez was believed to be joining the UFC roster relatively soon, though a subsequent new deal with Showtime has shackled "El Nino" to Strikeforce for a little while longer. Should he enter the Octagon soon, how would a fight with Edgar shake out?
Both Edgar and Melendez Are Top Notch Wrestlers
Both men hail from collegiate wrestling backgrounds and though they haven't garnered any specific accolades there, both Melendez and Edgar have become two of the division's best lightweight grapplers.
Melendez uses his physicality to bring down most opponents while Edgar uses opportune timing to engage opponents with a double leg take down.
Against each other, both men will likely cancel each other out when it comes to the wrestling department, where the bout will likely be decided more so on the feet.
Melendez's Right Hand Could Make the Difference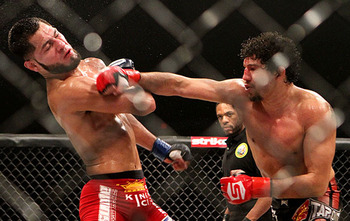 Yahoo! Sports
Edgar's speed and precision have caused many problems for even the most touted of fighters in the division, though Melendez has proven time and time again that he has this uncanny ability to land his crushing right hand.
Melendez's own striking acumen has improved by leaps and bounds, mixing in knees in the clinch and elbows in close quarters, but it's his right hand that has always been cause for concern.
Edgar's resolve is arguably his biggest asset, though Melendez has just enough power to even make Edgar a victim of an emphatic finish.
Melendez Rocks and Drops Edgar for 5 Rounds
mmajunkie.com
Melendez is a winner, much like Edgar, though his experience and power will likely be the difference against even the most talented fighter.
Edgar will use his speed and tenacity to move in and out of the pocket, landing some quick combinations which would baffle most men, but not Melendez.
Expect the Cesar Gracie fighter to clip Edgar with that right hand time and time again, where Edgar will show the heart of a champion to gut out some hairy moments, though the early damage done by Melendez will be enough to carry the Strikeforce star to victory.
Keep Reading