Ricky Rubio Has Brought the Timberwolves to Life
January 4, 2012
The Clippers are Lob City; the Heat look darn frightening, even when they're losing; despite the manufactured soap opera brewing around Oklahoma City, Kevin Durant makes the Thunder a must-watch on any given night. Yet so far, the hot television ticket of the season has been a team with virtually no playoff hopes, and who are just happy to have their 2009 lottery pick on the roster.
With Ricky Rubio finally starting his NBA career and Kevin Love playing like an elite power forward, the Timberwolves have a foundation for their future—one that not even general manager David Kahn, known for his perplexing transactions and fulsome praise of his own players, could screw up too badly. Yet somehow, the T-Wolves are more than a two-man show, or just a high-scoring bunch of athletes who turn each game into a kamikaze track meet. The Timberwolves have an identity, and while they aren't going to suddenly make a run at their division, no one could have foreseen just how far along this team would be two weeks into 2011-12.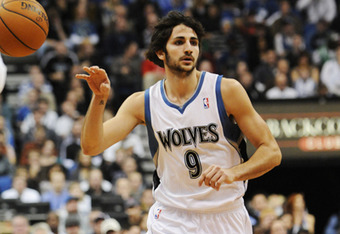 It all starts with Rubio, who has proven the hype, and the wait, were worth it. Like Blake Griffin's delay rookie campaign last year, Rubio has arrived hungry, out to vindicate everyone who waited on him, keen on waking up those who had forgotten about him. It took exactly one game for Griffin to go from an athletic big man to a superhuman icon. While Rubio didn't start his first contest, the 6 dimes he put up had no less spectacular a passer than LeBron James singing his praises. Rubio plays with energy and insouciance, zipping bounce passes across the lane, floating alley-oops that seem like a recipe for disaster. And they would be, if he ever put the ball where other players would.
Maybe it has something to do with coming from another basketball culture, but Ricky Rubio doesn't see things others don't—he sees a different court than those around him. As his teammates get acclimated to him, the plays they connect on have begun to look ridiculously easy. And he's not just a passer. Rubio's shot is far livelier, and accurate, than advertised, and he's shifty enough to penetrate like any great point guard needs to these days. If the point guard is the new center, then the Timberwolves have hit the jackpot.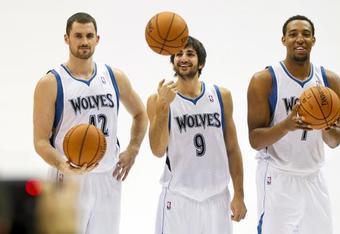 Rubio certainly benefits from the talent around him. Love, sure to be an All-Star this year, is anything but a workman-like double-double machine. He stretches the floor with his long-range shooting, and his storied outlet passes join with Rubio to give the Wolves an absolutely deadly fast break. Kahn has no shortage of athletes like Anthony Randolph, who is finally starting to shine in this new setting, 2010 lottery pick Wesley Johnson, veteran Martell Webster, and this summer's prize draft pick, Derrick Williams, a hyper-athletic forward who can bang with PFs and has the touch and shiftiness of a swingman. He is already turning into one of Rubio's favorite target. The Wolves also have Michael Beasley, an immensely gifted scorer still finding his way in a team that no longer revolves around his ball-stopping ways. But Beasley can be deadly, and he has a kind of one-on-one swagger that this team will desperately need, if only sometimes, when the fluid break stalls.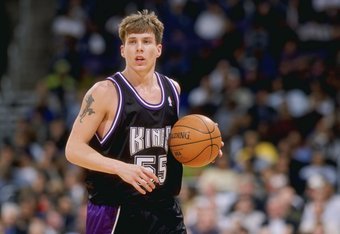 Doug Pensinger/Getty Images
This doesn't mean that David Kahn, the general manager who has become the butt of so many jokes, gets it. He declined to take Pau Gasol for Love straight-up, but still hasn't given his star player an extension. It's not clear yet that there's any method to his madness, other than get Rubio to America and give him dudes to run with. But Kahn did understand that Kurt Rambis and his inflexible triangle offense were the wrong fit for this roster, even before Rubio arrived. Rick Adelman, who was behind the free-flowing Sacramento Kings teams of the late nineties and early 2000's (Rubio = "Spanish Chocolate"), as well as Rockets squads that aspired to a similarly mobile system, is eager to teach, but also to get out and run.
So far, the Timberwolves are winning more than moral victories. They knocked off the Spurs on Monday; the night before, it was the Mavericks. The Timberwolves are deep, energetic, young, and dead-set on making other teams play their game. That's not enough to take them all the way, but it's certainly one heck of a start.