NBA Rumors: Memphis Grizzlies Need More Than Marreese Speights to Save Them
January 4, 2012
Ronald Martinez/Getty Images
The Memphis Grizzlies are having a disappointing start to their 2011-12 campaign and a large reason for that is injury and rust.
However, their current personnel problem cannot be ignored and the club will need to make a move to fix it sooner rather than later.
Their one glaring flaw?
There is a serious lack of talent in Memphis' frontcourt if Marc Gasol and Zach Randolph are on the bench or injured.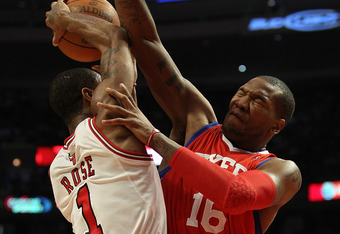 Jonathan Daniel/Getty Images
The team is looking to address that shortcoming by adding Marreese Speights.
Speights is a power forward/center in the fourth year of his career, who has fallen out of favor with the Philadelphia 76ers, according to the staff of Memphis Commercial Appeal.
They are in a rush to add Speights or another body soon, after Randolph bruised his right knee in a 40-point loss to the Chicago Bulls on Sunday and sat out against the Sacramento Kings on Tuesday.
Dante Cunningham started in Z-Bo's place, but only logged seven points and four rebounds in 19 minutes of play.
If the Grizzlies can add Speights, they will be off to a good start. However, the team needs to find at least one more big to give them the depth they will need for a playoff run at the end of the season.
Memphis was projected by many to be a serious contender in the West with their youth having another year of experience under their belt. They knocked the No. 1 seeded Spurs out in Round 1 and pushed the Thunder to seven games last season in the playoffs.
Anything less than another deep run would be a disappointment, so the Grizzlies must add Speights and continue to scan free agency and work the phones for a second backup big to complete their roster.