MMA's 25 Worst Happenings in 2011
2011 was a banner year for mixed martial arts.
Bibiano Fernades earned his second Grand Prix title under the DREAM banner, Strikeforce transplants Nick Diaz and Alistair Overeem emerged as top contender in the UFC, and Jon Jones went from a contender to twice-defending champion in just one year's time.
However, despite all of the momentum that the sport has picked up, there have still been some cringe-worthy, frustrating and sad moments that have occurred.
Begin Slideshow

»
mmajunkie.com
Dec. 17 saw amateur fighter Jeff Dunbar look for a win under the Card Entertainment banner when he took on Rudy Bahena.
Dunbar was in dire straits early, having his back taken by Bahena who was searching for the rear-naked choke finish.
In a desperate maneuver, Dunbar looked to shuck his opponent off of his back; however, he favored to dive forward.
When he did, the 20-year-old spiked his head straight into the canvas; he was later rushed to the hospital on a gurney where he was later found to be paralyzed from the waist down.
Amateur MMA fighter Salvador Flamenco sparred with an Internet tough guy he had met online; however, things went awry.
Though experienced, Flemenco felt the brunt of the blows and eventually was showing signs of "medical distress."
The Chicago fighter was later rushed to the hospital where he passed shortly thereafter.
A coach to some of the best fighters to come out of Canada, Shawn Tompkins is a man who will be in the hearts of many for all time.
The famed trainer had fighters like Mark Hominick, Sam Stout and Chris Horodecki, though the three men are now helping run the Adrenaline training center after Tompkins' ill-fated passing. The 37-year-old suffered a heart attack in his sleep.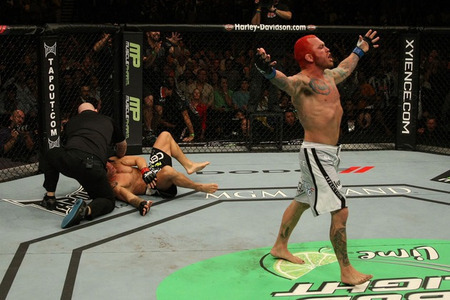 After an extended layoff due to injury kept him out of the Octagon, MMA legend Wanderlei Silva returned last July against the heavy-handed Chris Leben.
Following the same trend of losses, Silva suffered yet another knockout loss at the hands of "The Crippler," reminding everyone that the former PRIDE champion's days in this sport are numbered.
mmajunkie.com
Forrest Griffin and Miguel Torres can now attest to the power of Twitter.
Both men have received some flack after some less-than-stellar tweets put them in hot water with the UFC head honchos, particularly that of President Dana White, who canned Torres after a rape van joke gone wrong.
After several charitable donations and time spent volunteering, Torres found himself employed again with the Zuffa family.
Former Strikeforce title challenger Brett Rogers was released from the promotion after his run-in with the law.
Rogers was arrested on assault charges when he was found beating his wife in front of his children, which also yielded charges of child endangerment and a gross misdemeanor.
After Alexander's son was found engaging in some sexually explicit contact with somebody on Facebook, the former UFC fighter felt that it was only fair that the two settle their differences with boxing gloves.
The police were called to Alexander's home for a domestic disturbance when they discovered that the heavy-hitting 205-pounder had bloodied and bruised his 16-year-old son.
The former Strikeforce 185-pound champion returned to the welterweight division when he joined the UFC. The submission specialist notched a decision victory in 2010 when he defeated Martin Kampmann, which earned him a title shot against Georges St-Pierre.
The Canadian fought Shields to a lackluster decision last April, handing the Californian the first loss of his UFC career.
Shortly thereafter, Shields was pitted against rising contender Jake Ellenberger this September, though tragedy struck weeks before the bout when Shields' father Jack, who also served as his manager, passed away in his sleep at 67 years old.
Shields subsequently suffered a knockout loss to "The Juggernaut" and moved down the 170-pound totem poll, going winless in 2011.
mmajunkie.com
After trust issues had Overeem seek another mixed martial arts team, his former management group in Golden Glory fired back.
The UFC heavyweight contender was currently in the midst of a lawsuit with Golden Glory, who fired back with a lawsuit of their own which continued all the way through the Dutchman's battle with Brock Lesnar last Friday, hoping to garnish his wages from his main event tilt at UFC 141, though they proved unsuccessful, but they will continue to plug along.
Yahoo! Sports
Fitch began 2011 with a disappointing draw with former champion BJ Penn, which halted the AKA product's imminent shot at the welterweight title, something he has been hoping to achieve since his decision loss to champion Georges St-Pierre in 2009.
After an injury and subsequent surgery left Fitch sidelined for the better part of the year, he returned last Friday when he took on budding prospect Johny Hendricks.
The heavy-handed Hendricks connected on a powerful left hook, which eventually sealed the knockout finish in just 12 seconds of action.
After going 1-2 in 2010, Shamrock held a press conference in June of last year when he announced his intentions to take on one-time UFC fighter James Toney, a prolific boxer who was still trying his hand at MMA.
Shamrock, 47, has gone 3-7 in his last 10 outings, while many have been calling for the MMA pioneer to hang it up once and for all.
mmajunkie.com
Boxing world champion James Toney entered the UFC straight away and took on UFC Hall of Famer Randy Couture in his first outing as a mixed martial artist.
Though Toney had allegedly done all the right preparation in the lead-up to the bout, he was taken down fairly easily by the Olympic wrestler and eventually submitted inside of the first round last August.
Needless to say, Toney has never stepped back inside the Octagon since.
mmaweekly.com
After defending his lightweight title three times in Strikeforce and avenging both of his previous career defeats, it looked as if Melendez would be finally invited to join the ranks of the UFC.
"El Nino" is widely considered a top-3 fighter in the division, though with the recently negotiated new contract with Showtime, Melendez will remain in the Strikeforce roster for the time being.
Unarguably one of the most uncomfortable and cringe-worthy post-fight speeches in recent memory, Jacob Volkmann heard crickets when he tried to take a shot at President Barack Obama:
"Obama needs a glassectomy. Ask me what a glassectomy is, Joe," said Volkmann, to which UFC commentator Joe Rogan obliged.
"It's where they remove the belly button and put a piece of glass in there so you can see what you're doing while your head's up your [expletive]."
Rogan responded with a deadpan stare and proclaiming Volkmann a great fighter, but horrible joke teller.
FEG, the subsidiary of both K-1 and DREAM, has garnered some huge blows in recent years, to which fighters like Gary Goodridge can attest to, who went unpaid for his bout with Gegard Mousasi for well over a year.
K-1 has gone under the most distress, as the annual World Grand Prix was recently put on the back burner now that the organization does not have the adequate funds to support it's fighters.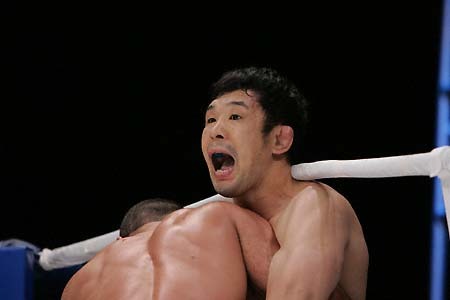 A veteran of the game, Kazushi Sakuraba has solidified himself as a legend of the sport after battling against some of the best fighters in the world, which includes victories over the likes of former UFC champions Kevin Randleman, Quinton Jackson and Vitor Belfort.
However in recent years Sakuraba has suffered some devastating losses and in 2010 the Japanese star went winless, losing against Ralek Gracie, Jason Miller and Marius Zaromskis—who knocked Sakuraba's ear clear off his head.
The former pro wrestler returned to the ring last September where he was deftly submitted by Yan Cabral, who handed Sakuraba his fourth consecutive defeat.
sherdog.com
"The Beast" has looked more like the mouse in some of his more recent outings.
Sapp fought six times in 2011 in both the MMA and kickboxing realm, where he went winless, having been stopped in five of the bouts.
mmajunkie.com
Though it's all worked out for the best in the end, initially, former Strikeforce champion Nick Diaz entered the UFC in order to vie for the promotion's belt against titleholder Georges St-Pierre.
After no-showing several pre-fight press conferences, Diaz was pulled from the championship tilt and was replaced by Carlos Condit.
A two-time UFC tournament champion, Don Frye is a legend of the sport, though at 46 years old, Frye has likely reached the end of his career.
After suffering a TKO loss to the touted Dave Herman, it looked as if "The Predator" would finally hang up the gloves, though Frye would return last December when he took on journeyman Ruben Villareal, better known as "Warpath."
Villareal was riding a five-fight skid heading into the bout, though he notched a victory when he subsequently knocked out Frye in the first round.
mmaweekly.com
After dealing with his second battle with diverticulitis, former UFC champion Brock Lesnar returned to the Octagon in order to take on Strikeforce transplant Alistair Overeem, where the winner would determine the next challenger to Junior dos Santos' belt.
In a one-sided affair, Overeem finished off Lesnar on first-round strikes, which elicited the ex-WWE star to announce his retirement from the sport, much to the surprise of many.
mmaweekly.com
Leading into his light heavyweight encounter with former champion Lyoto Machida, Randy Couture had already announced that his bout with the Brazilian would be the last of his career.
The UFC Hall of Famer was knocked out by the Karate specialist, leaving the sport on a low note, despite leaving behind a legacy that no other fighter has come close to accomplishing.
Cro Cop has been largely disappointing since he entered the UFC, having lost decisively at the hands of Gabriel Gonzaga, Frank Mir and Brendan Schaub.
The Croatian fighter took on Roy Nelson in his final outing and after a back-and-forth bout, the former K-1 star was stopped on strikes in the final round.
The loss was his third straight and eventually yielded Filipovic to announce his impromptu retirement from the sport.
For years, Emelianenko had an aura of invincibility surrounding him, since the heavyweight star had gone undefeated for over a decade.
However, after suffering his a submission loss to Fabricio Werdum, the Russian looked to get his career back on track last February when he took on Antonio Silva in the quarter-final round of the Strikeforce Grand Prix.
Emelianenko was eventually TKO'd in the second round after Silva had mounted and pounded away at the former PRIDE star, who was deemed unable to continue leading into the third round.
Next, "The Last Emperor" met with fellow PRIDE vet Dan Henderson in a collision of two of the sports leading all-time greats, though he suffered a subsequent knockout loss to the Team Quest star, who handed Emelianenko his third straight loss.
Former WEC star Marcos Galvao entered the Bellator cage in April of last year when he first took on touted wrestler and reigning 145-pound champion in Joe Warren.
The bout seemed to be a cinch for the Brazilian. He out-struck Warren, who was largely unsuccessful in bringing the fight the canvas, though the American was declared the winner by a contentious decision win.
The controversial win secured Galvao's spot in the promotion, where he was seeded into the subsequent 135-pound tourney, where he bested former WEC champ Chase Beebe in the quarter-finals.
Next, Galvao took on Olympic wrestler Alexis Vila, a bout which mirrored that of Galvao's previous outing with Warren, out boxing the heavy-handed striker and fending off several takedowns in the process.
In the end, Galvao was on the losing end of a split-decision and was twice defeated in Bellator in bouts that many felt he should have rightfully won.
Las Vegas Sun
After a disappointing draw with Jon Fitch last February, BJ Penn returned to the cage in October when he took on Strikeforce transplant Nick Diaz.
The Stockton fighter lit up the Hawaiian on the feet, wilting him with hooks to the head and body which had the former world champion on the receiving end of arguably the most decisive loss of his career.
In the end, Diaz was declared the winner by clear-cut decision, which prompted "The Prodigy" to call it quits.