Washington Capitals: Is It Time to Blow Up the Team?
January 4, 2012
Patrick McDermott/Getty Images
Through the 2011-12 NHL season's first 40 or so games, there have been few teams as disappointing as the Washington Capitals, who are in danger of missing out on their fifth straight Southeast Division crown, and potentially the postseason altogether.  
The Caps' struggles have been well documented, and the severity of the team's slump only increased after former bench boss Bruce Boudreau lost his job in November. Only within the last week has the play of stars Alex Ovechkin and Alexander Semin picked up to the level that's expected of them, which is a big reason why the boys in red have been on the losing end of a number of close games early on.  
So, with the team's core midway through its fifth season together, general manager George McPhee must ask himself whether the potential is there for this group to win a championship.  
On paper, one must believe that there's enough talent in the Caps' locker room to win a Stanley Cup, as there's more than a sufficient amount of talent and offensive firepower to fill two teams—at least when Washington's highly-paid horses are performing to the best of their abilities.  
Beyond Semin and Ovechkin, Nicklas Backstrom gives the Caps three of the game's most dynamic scoring threats, and there's plenty of offensive support as one moves down the team's depth chart.  
However, the consistent lack of consistency from Semin in particular is extremely troubling, especially for an organization that has come up short year after year during the playoffs. Backstrom's 2010-11 playoffs were terrible, as the former 100-point scorer notched just two assists in nine games, which is unacceptable for a player of his calibre.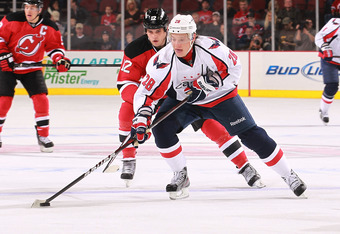 Nick Laham/Getty Images
At this stage, unless Washington's recent resurgence (four straight wins) continues, a change of the drastic variety has to be on McPhee's agenda, likely meaning that Semin's time in Washington is up.  
In net, Tomas Vokoun and Michal Neuvirth have each been disappointing through the first half of the season, as neither has seized the opportunity to be the Caps' undisputed starter thus far. In fact, many have wondered aloud whether Hershey Bears netminder Braden Holtby, he of a total of 14 NHL games of experience, might be a better option for coach Dale Hunter in between the pipes.  
Nonetheless, no matter who's in net, it's obvious that the Caps will need to receive better goaltending if they hope to do any kind of damage this spring.  
On the blue line, the Caps have less to complain about than up front and in goal, but staying healthy has been a major challenge—especially for two-time Norris Trophy finalist Mike Green, who returned to the lineup Tuesday after a 23-game absence.  
Once the season's over, McPhee will be faced with a difficult decision, as Green, Dennis Wideman and John Carlson, the team's top three offensive threats from the back end, will all be in need of new contracts.
Wideman has been arguably the Caps' best defenseman this season, but it's unclear as to whether his contact demands will be too rich for McPhee's liking come July 1st.
Overall, the Caps need more consistency from every player on the team, or it will be time for a change that seriously alters Washington's lineup.  
If Washington isn't leading the divisional race by the time the trade deadline rolls around, expect McPhee to pull the trigger on a deal that will send waves through the Caps' locker room.