Why Sir Alex Ferguson Is the Longest Serving Manager in EPL History
January 4, 2012
Alex Livesey/Getty Images
Everybody knows Sir Alexander Chapman "Alex" Ferguson. This man has acquired many epithets in his managerial career, including "the added time lord of football" (for his sometimes legendary habit of winning games only in added time).
His iconic figure is present at every United game, where he masticates his favourite chewing gum. What a sight he is as he punches the air every time United scores.
Who can forget his theatrics, especially when a glorious scoring chance is missed by his sometimes prodigal strikers.
Ferguson was unveiled as manager of Manchester United Football Club in November 1986. He has held the reins of the club since, guiding them to 19 league titles as well as several FA Cup titles and two Champions League triumphs.
He is the most successful manager in English football history.
What accounts for his long tenure as manager of one of the most famous clubs in the world?
While United have a history of appointing coaches for life, there is something about Sir Alex Ferguson that makes him stand out from the pack.
Sir Matt Busby survived the Munich air disaster to manage United for 28 more years, but his tenure was not as successful as Sir Alex's has been.
Sir Alex's 19th EPL triumph set a new league record. It eclipsed that of Liverpool, which had won the league 18 times.
Sir Alex Ferguson combines great personal charisma with an unending capacity for sustained hard work. His great interpersonal relationship skills have enabled him to get along well with his players and staff alike.
He has fallen out with key players, though. Three incidents come to mind. There was an infamous falling out with Jaap Stam, which led to the key player leaving the club for the Serie A, as well as a bust up with the iconic David Beckham, which led to the player leaving the club for the La Liga.
The Roy Keane saga also comes to mind. His die hard supporters say his "my way or the highway" policy has made United what it is today. I couldn't agree more. All the three players were key to United's continual success, but no one is bigger than the club.
That is what he sought to emphasize by selling these players.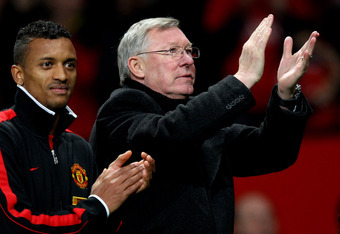 Alex Livesey/Getty Images
Sir Alex has definitely paid his dues to English football.
Those who criticize him have their points, but no one is perfect. He has been criticized for how he has signed players—sometimes at a huge cost to the club—only for them to turn out to be duds.
Players like Dimitar Berbatov and Owen Hargreaves come to mind. These players have been judged the most wonderful flops in United's history.
While the former has yet to break sweat since his multimillion dollar switch from Tottenham Hotspurs, the latter spent four injury-plagued seasons with United in which he made only a handful of appearances.
Sir Alex could be excused on that score. No one is perfect.