Michigan's Sugar Bowl Victory Marks Complete Turning of Page on Rich Rod Era
January 4, 2012
Kevin C. Cox/Getty Images
As a Brandon Gibbons field goal soared through the uprights in overtime, Michigan completed a changing of the guard and a "turning of the page" in the history of its football program.
Throughout the Rich Rodriguez era at Michigan, the first thing anyone thought about when facing Michigan was their offense.
But the Michigan Wolverines completed their improbable Sugar Bowl victory on Tuesday night, proving that they have completely turned the page on the Rich Rodriguez era.
How did they do it?
They did it with field goals on offense, and three forced turnovers on defense and another one on kickoff coverage.
Strong defense and stellar special teams dominated the night for the Wolverines, something that was noticeably missing throughout the three years that Rich Rodriguez was at Michigan.
Now don't get me wrong. In all fairness to Rich Rodriguez, his first team had little if any talent at major positions, such as quarterback.
But Rodriguez did not manage his defense the same way he managed his offense, and this showed throughout his three seasons at Michigan, during which his teams compiled a 15-22 record.
Michigan's defense was frequently among the worst in total yards and points given up.
Including their bowl game last year, Michigan gave up 35.2 points per game.
In the second quarter of games last season, they were outscored 194-83, and they were outscored overall 458-426 for the season.
This season was a different story entirely.
Michigan outscored opponents by over 200 points during the regular season, and they gave up just 206 points all year, good for 17.2 points against per game.
They averaged 106 yards more per game in total offense than their opponents, and they allowed just 317 yards per game on defense.
So, Rich Rodriguez, if you're sitting in your new home in Arizona, I would like you to take note of my favorite line from "How the Grinch Stole Christmas."
Michigan's Sugar Bowl win "came without ribbons. It came without tags. It came without packages, boxes or bags."
So, Mr. Rodriguez, I hope you don't "puzzle until [your] puzzler is sore," and "think of something that [you] hadn't before."
Because Michigan didn't need to put up 500 yards of total offense to win.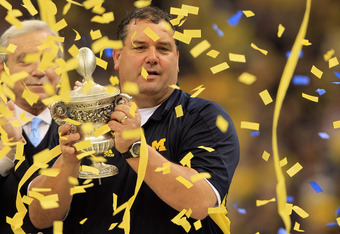 Matthew Stockman/Getty Images
In fact, they didn't need to even put up 200 yards of total offense to win.
Sure, it wasn't pretty. And yes, it wasn't an offensive slugfest.
But if I have one suggestion for Rich Rodriguez at his new job in Arizona, it's that he shouldn't forget about defense and special teams, as he seemed to do while head man at Michigan.
As for Michigan?
Well, they have fully turned the page. Michigan is back to "elite" status defensively, and "great" status on special teams.
And speaking of that defense and those special teams, I think I speak for all Michigan Wolverines fans when I say, "Welcome back."
For more article updates, Follow @isaacesmith91