NHL Video: The 10 Most Mismatched Fights of the Past 10 Years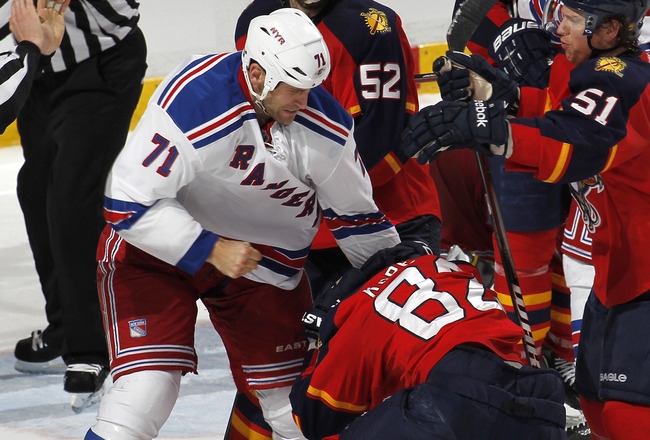 Joel Auerbach/Getty Images
After witnessing seasoned enforcer Mike Rupp beat the brain cells out of non-fighter Tomas Kopecky on Friday, I decided to compile a list featuring 10 of the most mismatched NHL fights of the past 10 years.
Unlike a previous list I compiled, which featured 10 fights with the biggest size mismatches, these mismatches are based strictly on fighting experience between two combatants.
These are the fights that ignore one of the most important rules in the fighters' code of conduct: experienced fighters do not fight non-fighters.
Here's the list.
Honorable Mention: Corey Perry vs. Pavel Datsyuk (October 8, 2010)
Corey Perry is far from a tough guy, but he does drop his gloves on occasion, I can't say the same about his opponent Pavel Datsyuk, though.
Datsyuk, the four-time Lady Byng Trophy winner (given to the most gentlemanly player), holds his own in this fight, which surprises everyone, especially Perry.
Andrew Ference vs. Sidney Crosby
Sean Avery vs. Ilya Kovalchuk
Brad Ference vs. Mario Lemieux
Ray Emery vs. Martin Biron
Ryan Wilson vs. T.J. Oshie
Ben Clymer vs. Jason Blake
Jamal Mayers vs. Marc Staal
David Backes vs. Jonathan Toews
Mike Richards vs. Alex Ovechkin
Theo Peckham vs. Claude Lemieux
Darcy Tucker vs. Mike Ribeiro
Matt Cooke vs. Jason Pominville
Nolan Pratt vs. Dany Heatley
Zdeno Chara vs. Vincent Lecavalier
Corey Perry vs. Henrik Sedin
10. Jim Vandermeer vs. Rick Nash (November 14, 2007)
Rick Nash receives just his third fighting major of his career in this bout against Jim Vandermeer, who picks up his 30th.
Vandermeer, who had gone toe-to-toe with the likes of Derek Boogaard, P.J. Stock and Shayne Corson before this event, was expecting to dominate against the non-fighter, but instead he found a formidable opponent in Nash.
9. Darcy Tucker vs. Alex Kovalev (March 25, 2006)
Alex Kovalev was probably the last player Darcy Tucker expected to get involved with that night, but after Kovalev caught him with an elbow, he decided to exact his revenge.
This is one of only five fights Kovalev has participated in during his 18-year career, while Tucker has been in over 100.
8. Tim Gleason vs. Nikolai Kulemin (January 24, 2011)
This was the first fight of Nikolai Kulemin's career, and most certainly his last.
Tim Gleason, who is no slouch in the fighting department, KO's the Leafs forward, who was still struggling to shake off his gloves.
7. Kevin Bieksa vs. Patrick Marleau (May 18, 2011)
During game two of last year's Western Conference semi-finals, tensions flared between two of the most unlikely combatants to ever toss the mitts: Patrick Marleau, known as one of the softest players in the game, and Kevin Bieksa, an experienced fighter.
That was Bieksa's 35th NHL fight and Marleau's eighth.
6. Wade Belak vs. Dan Cleary (February 11, 2003)
Established enforcer Wade Belak (R.I.P.) gets the obvious upperhand in this scrap against Oilers forward Dan Cleary, who was participating in one of his 12 career fights.
In comparison, Belak had 155.
5. Jeff Cowan vs. Chris Kelly (December 2, 2005)
Jeff Cowan has quite the impressive fighting resume, as he has fought many imposing opponents, including: Brad May, Jody Shelley, Derek Boogaard and...Chris Kelly?
Yes, Chris Kelly, who currently plays for the Boston Bruins, traded punches with Jeff Cowan in the first NHL fight of his career (his first of only three so far).
4. Brian Sutherby vs. Stephen Weiss (January 11, 2003)
Stephen Weiss picked up the only fighting major of his career in this altercation, which I don't believe he remembers.
The competent fighter Brian Sutherby knocked Weiss unconscious and earned probably the easiest victory of his career.
3. Arron Asham vs. Jay Beagle (October 13, 2011)
Jay Beagle learned the hard way that going up against one of the best fighters in the league in your first regular season NHL fight is not a wise move, no matter what size you are.
He missed 33 games as a result of that fight.
2. Chris Neil vs. Drew Stafford (February 22, 2007)
To avenge his injured teammate, rookie Drew Stafford challenged established enforcer Chris Neil to a fight and became his most perplexing opponent to date.
That was Stafford's first of eight career NHL fights and it came against one of the toughest players in the league at the time.
I greatly respect him for that, as 99 percent of players would not have approached Neil in that situation, let alone a rookie non-fighter.
Many players can learn something from Drew Stafford.
1. Daniel Carcillo vs. Marian Gaborik (January 21, 2010)
If you had asked me to name 10 NHL players who I would probably never see in a fight, Marian Gaborik would be atop my list.
But amazingly, he has fought twice, and more amazingly, both have been against high-calibre fighters: Daniel Carcillo (94 career fights) and Ian Laperriere (248 career fights).
Gaborik lost both of them, but it's not as much about winning a fight in the NHL, it's about showing up.
Here's a link to the Laperriere fight.
Keep Reading