Michigan vs. Virginia Tech: Ugly Wins Are Still Wins
January 4, 2012
Kevin C. Cox/Getty Images
Sometimes, it just isn't your day.
Sometimes, that doesn't matter.
It is hard to overstate just how thoroughly Virginia Tech controlled the majority of the first half against Michigan.  The Wolverines held the ball for all of 3.5 minutes in the first quarter and only had an interception to show for it.  Meanwhile, the Hokies seemed to have all the right moves between the 20-yard lines en route to a 6-0 lead.
Had it not been for Denard Robinson keeping the play alive and finding Junior Hemingway downfield for a late second-quarter touchdown it is very possible that the Wolverines would go into the half scoreless and reeling from 30 minutes of domination at the hands of Frank Beamer's Hokies.
But then that happened.
It is hard to qualify exactly what that is.  Is it Robinson being Robinson against all odds?  Is it the luck of the Wolverines in forcing a fourth fumble on a kick return in the last three games?
Whatever it is, the last few minutes of the half were all Michigan needed to jump back firmly in control of the game.
It wouldn't last.  Despite an incredible play by Frank Clark to intercept a screen pass, and another fourth-quarter touchdown by Hemingway, most of the momentum was with the Hokies and Logan Thomas.
Just reading the stat sheet, it would be easy to get caught up in Hokie-mania.  QB Thomas was 19-of-28 for 213 yards—more than the Wolverine offense gained for the game—while David Wilson ran for 80, a full 25 more than the Wolverine run game managed.  Receiver Danny Coale had perhaps the best game of all with eight catches for 118 yards.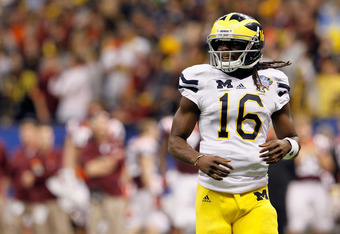 Kevin C. Cox/Getty Images
But it was the play Coale didn't make, and those of the like that really decided the game.  Virginia Tech, normally a dominant team in the special teams game, arguably lost the game when both the offense and defense took to the sideline.  Virginia Tech committed a key roughing the kicker penalty to set up the Wolverine's first touchdown.  Then the Wolverines forced a fumble on Virginia Tech kick return, then converted a fourth down on a tipped pass from a fake field goal that led to an actual field goal.  Later, Virginia Tech helped Michigan by faking a field goal after a timeout*.  
In the end, the missed field goal in overtime—Tech's third-string kicker's first miss of the night on five kicks—was almost immaterial.  The Hokies had already done plenty to lose the game, that kick was merely the embodiment of four quarters of sloppy play and missed opportunities.
Opportunities are what the game came down to.  Virginia Tech had more because, frankly, the Hokies played better for much of the game.  Michigan had no answer for Logan Thomas on long pass plays, and despite getting hit in the backfield on most plays, David Wilson was easily able to push ahead for three, five or eight yards.  Michigan, on the other hand, saw a small number of golden opportunities and seized each and every one or simply ripped new ones out of thin air.
This recap has been largely devoid of mentions of Denard Robinson, Fitzgerald Toussaint and the rest of Michigan's offensive playmakers, and for good reason: They did very little.  Robinson alternated a handful of great plays with runs for no yards and passes into the hands of Hokie defenders.  Toussaint started the game in his typical fashion, finding yards in microscopic creases but eventually hit a wall—a wave of Hokie defenders on each carry.
Now, the Wolverines have won the Sugar Bowl 23-20 in overtime and finished the 2011 season better than anyone could have hoped**.  This team has now won as many games as both the 2006 and 2003 Michigan squads that featured players like Braylon Edwards, Chris Perry, Mike Hart, LaMarr Woodley, David Harris, Chad Henne and Jake Long.  A group of players forged in the fires of the worst years in program history have become the unlikely champions of an improbably BCS bowl birth.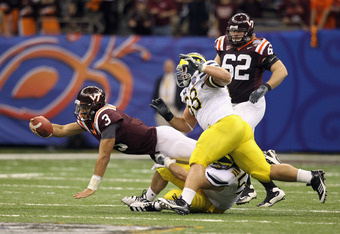 Matthew Stockman/Getty Images
There is nothing left to say.  Michigan won a game with less than 200 yards of offense, only 12 first downs and four third-down conversions.
Logic and reason don't exist here.  This is a different place, one where try as one might, things just happen.  For the first time in years it feels like those things are finally happening for the Maize and Blue.
Can Brady Hoke's luck hold up?  I would have bet against it a dozen times this year, but guess what?
I would have been wrong each time.
*(First rule of fake kicks/punts: Never do it after a timeout.  Never.)
**(Face it, even the most Maize-and-Blue-brainwashed fan couldn't have seen this coming.)