Sugar Bowl 2012: Highlights, Reaction from Michigan's 23-20 OT Victory
January 4, 2012
Kevin C. Cox/Getty Images
The Michigan Wolverines are officially back in the saddle again. After going through some tough times in recent seasons, the Wolverines have themselves a Sugar Bowl victory to tout around.
The Sugar Bowl had its ups and downs, but it ended up being a pretty thrilling game. The Virginia Tech Hokies put up a hell of a fight against the Wolverines, but they ended up falling short in overtime by the final of 23-20.
How exactly did the game get to that point?
Well, why don't we take a look.
Recap
For the first 29 minutes of the first half, Virginia Tech looked like the better team. The Hokies' defense frustrated Denard Robinson and Michigan's offense, and their offense managed to jump out to a 6-0 lead thanks to a pair of long field goals by Justin Myer.
Nevertheless, any team that keeps this Michigan offense within striking distance is pushing its luck. As it turned out, Virginia Tech's luck ran out with less than a minute to go in the first half.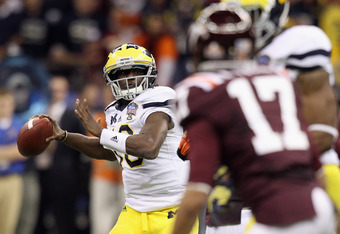 Matthew Stockman/Getty Images
That's when the Wolverines finally broke through. Robinson dropped back to pass on a third-and-long play from the Va Tech 45-yard line, eluded the rush and then tossed up a prayer.
Robinson's prayer was very nearly picked off, but it somehow ended up in the hands of Junior Hemingway. Once he had it, all he had to do was turn around and ramble in for a 45-yard touchdown reception. The extra point gave the Wolverines a sudden 7-6 lead.
Michigan's good luck stayed strong on the ensuing kickoff. Tony Gregory received the kickoff, but promptly coughed it up and the Wolverines recovered it at the Va Tech 26-yard line. A few seconds later, they tried a fake field goal that resulted in a fluky tip-drill catch by the long snapper.
That set Brendan Gibbons up for an easy field goal to give the Wolverines a 10-6 lead.
So in a span of less than a minute, Michigan went from being in a 6-0 hole to having a 10-6 advantage. It took a little luck for the Wolverines to get it, but they gladly went into the half with the lead.
The Wolverines would pad their lead early in the third quarter. A Frank Clark interception of Logan Thomas set Robinson and Michigan's offense up in Va Tech territory, and Robinson would look Hemingway's way again a few plays later.
Their connection is best presented in video form:
Hemingway's catch made this tweet from Myron Rolle a little too easy: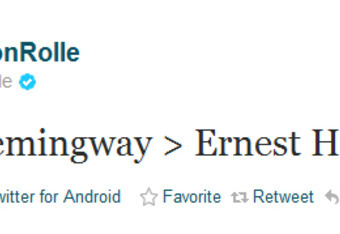 Despite Hemingway's heroics, the Hokies were not finished yet. They answered Michigan's second touchdown with a long drive that ended in a field goal to cut the lead to 17-9. That made it a one-possession game, but the Hokies were going to have to find the end zone.
Early in the fourth quarter, the Hokies found it. They started a drive with three minutes left in the third, and it ultimately resulted in a one-yard touchdown run by Logan Thomas. He hit Marcus Davis for the two-point conversion, and the game was tied at 17-17.
After forcing a three-and-out in Michigan's next possession, the Hokies had all the momentum.
Unfortunately, they gave it all back when Danny Coale fumbled the ball away in Va Tech's next possession. The fumble allowed Michigan to take over in Hokies territory, and Brendan Gibbons connected on a 39-yard field goal to give the Wolverines a 20-17 lead with four minutes to go.
The Hokies were only able to get the ensuing kickoff out to the 9-yard line, setting themselves up for a long drive to tie or take the lead.
But thanks to some nifty play from Thomas, the Hokies got it done. They marched all the way down to the Michigan 8-yard line, and Justin Myer connected on a game-tying 25-yard field goal, his fourth of the night, with mere seconds remaining.
Michigan won the toss and elected to defend in the first overtime possession. That decision looked like it was going to backfire when this brilliant catch by Coale gave the Hokies a six-point advantage:
Unfortunately for the Hokies, the replays showed the ball clearly hit the ground before Coale was able to gain possession. Instead of a six-point lead, the Hokies got nothing.
On the subsequent play, Myer finally misfired.
With the score still tied at 20-20, all the Wolverines had to do was get Brendon Gibbons in range. They played it safe by keeping the ball on the ground and in between the hashmarks. Three runs got them down to the Va Tech 20-yard line. On came Gibbons.
From 37 yards away, Gibbons nailed it.
Ball game. 23-20 in overtime. Drive home safely, folks.
Reaction
Well, it wasn't pretty, but the Wolverines got it done.
You typically look to laud the quarterback after wins like these, but the truth is that Denard Robinson did not have a good game. He completed just nine of his 21 passing attempts for 117 yards, and he only managed 13 yards on the ground.
He only threw one pick, but he threw at least two passes that should have been picked, including his first touchdown pass to Hemingway.
Because Robinson and the Wolverines' offense struggled so much, you have to give plenty of credit to Michigan's defense, which got to showcase just how far it came this season. Michigan allowed 377 total yards, but that doesn't seem like a lot when you consider the fact the Hokies controlled the ball for nearly 37 minutes.
The play of Michigan's defense was Brady Hoke's influence on this Wolverines team in action. He stressed a defensive attitude when he took over for Rich Rodriguez, and that attitude resulted in a BCS bowl win.
For that, you have to tip your cap to Hoke. He's legit.
Meanwhile, we know Frank Beamer is legit, and this heartbreaking loss is not going to change that. You can rest assured that the Hokies will be back next year. Beamer always has talent waiting in the wings, and there isn't exactly an abundance of challengers in the ACC.
In 2012, I would expect both of these programs to be strong once again. 
Who knows? Maybe we'll get a rematch.