The Mavericks' Delonte West: Profiles in NBA "Madness"
January 4, 2012
Mike Ehrmann/Getty Images
Bleacher Report NBA contributor Bethlehem Shoals recently wrote an interesting piece on Maverick's off-guard Delonte West, that causes one to consider how we think about NBA athletes and those with atypical minds. 
Madness has always been characterized by behavior and thoughts outside of social norms. And the NBA is a natural place to talk about madness. In reference to the recent lockout, former player turned writer Paul Shirley pointed out that guys don't make it to the NBA by being completely rational or normal (via the Wall Street Journal).
The same might be the said for the people who make it to the very top of any trade. But becoming an NBA player is an even more hit-or-miss thing. The 1,000th best lawyer in the world makes a great living, but the 1,000th best basketball player toils in obscurity, fighting for a paycheck.
Questions of what constitutes madness have often been related to how people respond to incentives. When being irrational means losing money and friends and general well-being, the less "mad" stop acting "mad."
But in the NBA, "mad" behavior isn't exactly punished. It's actively encouraged when it provides a good story or helps someone play ball. 
Like everywhere else, a typical "mad" narrative suggests the "madness" gives a person a special clarity, gift or talent. Ray Allen's OCD is talked about in these terms (via boston.com). It makes him the great shooter and player he is, and it just annoys Garnett a little when Allen seriously objects to how he dresses—too many Adidas logos. 
But then, "madness" can be more extreme and treated as a tragic flaw. Kobe Bryant and Michael Jordan are madly addicted to being winners, and it made them great players but, it too results in Kobe not letting Bynum get touches or Jordan giving that Hall of Fame speech.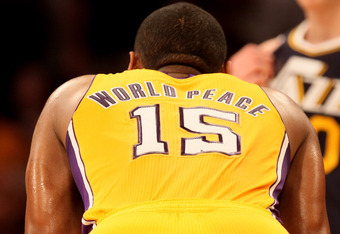 Stephen Dunn/Getty Images
Then, there is Vernon "Mad Max" Maxwell "madness." He got high before college games and beat up a fan (via theledger.com). But his "madness" or separation from our world gave him the confidence to think he could stop Michael Jordan. And it kind of worked. 
Another type of "madness" occurs in those whose detachment leads them to make Nietzschean like insights into our world. This may be the least extreme of "mads" and might be personified by Rasheed Wallace's  "as long as somebody cuts the check" remarks (via USA Today).
Ron Artest may have dealt with a lot of unhappiness and issues with his emotions. But he also seems to have fostered his image by bringing himself attention. When he walked into Kobe's shower during the 2008 playoffs, he must have known what he was doing was a bit kooky (via nbclosangeles.com).
Maybe it was part of turning fan fighting "madness" into "I'm just different 'madness,'" where he tried to have a positive influence in the mental health world. But it all blends together into the story of a guy who during the playoffs can chase after a Rocket's bus to the arena in his boxers but still effectively harass the hell out of Kevin Durant (via dimemag.com) and do weird photo shoots with models in his free time (via Sports Illustrated).
Delonte West's "madness" is much more interesting because it doesn't fit an easy narrative. We can't really connect carrying a gun in a guitar case on the highway under the influence of anti-psychotics to his play. It is tragic, and it is somewhat expository, but it's not really fun or redeeming (via CBS Sports).
Stephen Jackson has a scary grin, somewhat scammed the Warriors into paying him a lot of money, is never afraid to take a shot and was running to help Artest in the Palace. We know of his youth in Port Arthur and the memory of his brother dying in the ICU having been attacked from behind with a pipe and bottle during a fight (via ESPN).
We can understand why Jackson is "mad" and what that means. But we can't understand the "madness" of someone who is diagnosed with severe bipolar disorder, has struggled with medication, overcome legal troubles and stares into lockers before games (via deadspin.com).
West is "mad" because he stares into lockers, and he stares into lockers because he's "mad." Who knows what's going on in his head. Maybe he has a little 'Sheed in him, calling out Lebron James during film sessions when no one else would (via Yahoo! Sports). But maybe that has nothing to do with his bipolar condition.
Deadspin's Luke O'Brien wrote one of the year's most celebrated pieces entitled "Stay Soft, Dirk Nowitzki." His thesis: Dirk is laudable for being who he is, and commentators are idiots to demand athletes conform to the mold of vicious, egotistical superstars. 
Let's let our Mavericks' role players be who they are, too, even if that means accepting they are complex and a little crazy.