The San Diego Chargers 2012: Why Retaining Smith and Turner Is a Mistake
January 4, 2012
Doug Pensinger/Getty Images
After a tumultuous season and two days of deliberations, Dean Spanos has finally decided what to do about his acerbic GM and lightning rod head coach: Nothing.  A.J. Smith and Norv Turner will return in 2012.

Cause for celebration or a black day in Chargers football?  Actually, it's both.

A.J. SMITH
UPSIDE:  A.J. Smith has been on the job since 2003.  Before he took over, the Chargers had not had a winning season nor had they made the playoffs in seven years.  Since then, they have made the playoffs five times in nine years.  Tied for the best nine year run in team history (1960-1968).

DOWNSIDE: For all the team's successes, Smith's self-professed problem has been consistently filling the pipeline with talent.  Tops on that list: first-round draft selections.  In nine drafts (10 overall selections) only six picks are still with the team, and two of those (Castillio, English) are tenuous. That is not just a problem, that's a PROBLEM.  And for a team that says it wants to build through the draft, whiffing on impact players year after year is a bad way to go about it.

Grade: B-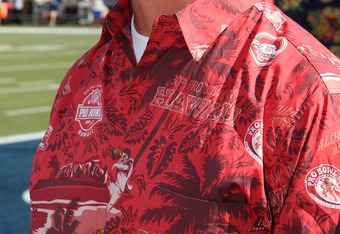 Paul Spinelli/Getty Images

NORV TURNER

UPSIDE:  In five years, Norv Turner has won the division three times and finished out of the playoffs twice.  He's compiled a 49-31 record, won three playoff games and gotten the Chargers to the AFC Championship game once.

DOWNSIDE:  Turner is one game over .500 in three of the last four years, has lost three playoff games, the last one in 2009 and hasn't made it to the playoffs since.  The Chargers under Turner are, at best, inconsistent, and at worst on the downward slide to obscurity.  With the playoffs on the line the past two seasons (against Cincinnati and Detroit), Turner's Chargers didn't show up. They may love their head coach, as they've publicly professed, but they sure don't play for him when it counts.  And even when they do, Turner somehow manages to bungle things by handling timeouts like nuclear waste.

Grade: C

THE VERDICT

Bs and Cs are passing grades, but not in this league.  Only A students make it to the Super Bowl.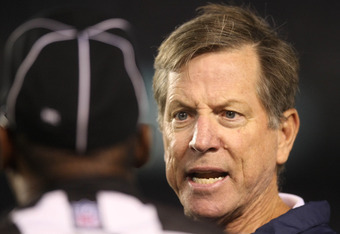 Donald Miralle/Getty Images

Dean Spanos not only made the safe call by retaining Smith and Turner, he made the easy one. Because it's easy to do nothing.  It's hard to rip things up and start over.  The problem is, things needed to be ripped up.  By any measurement: wins, playoff appearances or division titles, this team is on a downward slide.  Staying the course isn't the obvious fix, and it may not be any fix at all. Ultimately, it may be the trigger that sends the Chargers packing.

If the Chargers don't get out to a fast start next year, I foresee a season of blackouts.  A season. And when Spanos wonders where support for his stadium went come next November, he need not look any further than today.  To this decision.

In my opinion, Smith deserves another shot.  He's acerbic, blunt, and overbearing.  Which aren't altogether bad attributes for a GM.  He just needs to stop reaching for first-round picks and whiffing on head coaches.
Turner is another question.  For a variety of reasons.  If 2012 had started out with a new coach, it would have brought hope and interest.  Keeping Turner for another year brings apathy, lower ticket sales and blackouts.  Which leads to more apathy.  Fortunately, all it takes to cure apathy is a few early season wins.  But given Turner's track record, the prognosis is bleak.
 
In the end, the only person who mattered cast his lot with Smith and Turner.  And since there's not a lot any of us can do about it, I say we should celebrate by buying Smith and Turner a couple of "Glad You're Still Here" gifts.

For Smith: A subscription to Mel Kiper's newsletter.

For Turner: A set of Tony Robbins' motivational tapes and a copy of Clock Management for Dummies.