NFL Playoff Picture: 5 Players Who Will Solidify Themselves as Stars
January 3, 2012
Patrick McDermott/Getty Images
Big-time players make big-time plays in big games. Reputations are made or marred in the playoffs. Hall of Fame plaques are chiseled by postseason glory.
Aaron Rodgers solidified himself as a premier quarterback in the Packers' Super Bowl run last season. So what up-and-coming players will become stars in this seasons playoffs?
Glad you asked.
1. Matt Stafford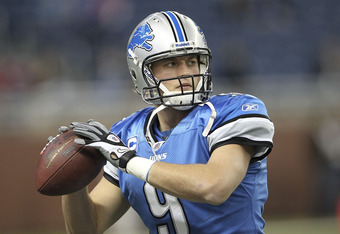 Leon Halip/Getty Images
Stafford and the Lions won't be able to score quite enough points to keep up with Drew Brees and the Saints this weekend. But it won't be because Stafford isn't capable—he fully proved that this year with his 5,038 passing yards and 41 touchdowns.
When we look back on the Lions high-scoring loss to the Saints, we'll blame the defense for blowing a fantastic effort from one of the game's brightest young stars at quarterback, Matt Stafford.
2. Von Miller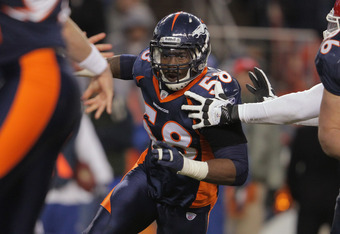 Doug Pensinger/Getty Images
The Broncos may not beat the Steelers, but it won't be due to their rookie sensation at outside linebacker, Von Miller. Look for the youngster to put pressure on Ben Roethlisberger all game long, finishing the game with multiple sacks.
In a game I feel will be a blowout win for the Steelers, Miller will likely be one of the lone bright spots for Denver and will solidify himself as one of the best defensive players in football early in his career.

3. Jordy Nelson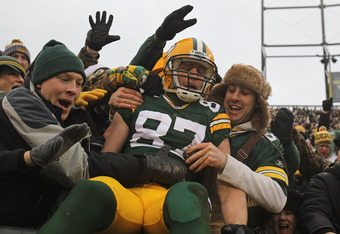 Jonathan Daniel/Getty Images
Did you know that Jordy Nelson had 68 catches this season for 1,268 yards and 15 touchdowns? Or that when the Packers play in the Divisional Round, fellow receiver Greg Jennings will not have played a game in five weeks?
If Jennings is a bit rusty, look for Nelson to become a focal point of the Packers passing game. I expect Nelson will make himself a well-known commodity to any fans who may not be aware of just how good he has been thus far this season.
4. Victor Cruz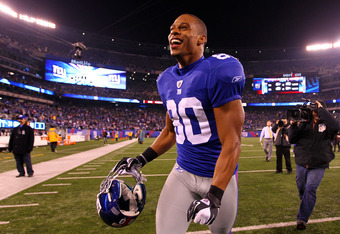 Al Bello/Getty Images
Will the Giants win a chip to go along with Cruz's salsa celebration this year?
No, they won't.
But will Cruz continue his breakout season against the Falcons this weekend, solidifying himself as one of the best young receivers in football.
Yes, I fully expect he will.
5. Navorro Bowman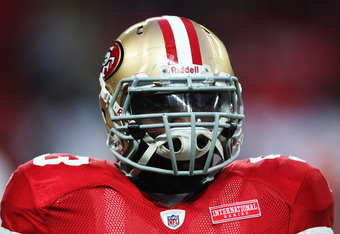 Warren Little/Getty Images
I don't believe the 49ers will beat the Saints in the Divisional Round—it goes against my beliefs to predict that a team led by Alex Smith will beat one led by Drew Brees—but they will slow down their offense and keep the game tight.
One reason the 49ers defense will have some success against Brees and company? Why, that would be the 49ers' young stud at linebacker, Navorro Bowman, who finished the season seventh in tackles with 143.
Look for Bowman to have several plays that causes the play-by-play announcer to call in the slow-mo replay and praise the young linebacker.
Hit me up on the Twitter—all the cool kids are doing it.