NFL Playoff Predictions: 5 Reasons Why Bengals Convincingly Beat Texans
January 3, 2012
Andy Lyons/Getty Images
Two rookie QBs and two teams that have made the playoffs a combined two times since 1991 meet on Saturday when the Houston Texans host the Cincinnati Bengals.
There are plenty of great storylines between these two teams. The Texans franchise is making their first playoff appearance in franchise history and this will be the first playoff game in Houston since 1991, which is the same year the Bengals last won a playoff game…against the Houston Oilers.
This will also be the second time this season that Jonathan Joseph plays his former team.
Once all of the dust settles on the pregame hoopla, it's pretty clear who the more talented team is.
Here are five reasons the Bengals are victorious in the re-match of the Texans 20-19 win in early December:
1. Andy Dalton
Dalton has slumped a bit in the second half of the season; but you can thank four games against the Steelers and Ravens for that. Dalton is incredibly poised for a rookie and will not be affected by the stakes. Remember last January when he shocked the world by leading his TCU Horned Frogs over the Wisconsin Badgers?
His ability to feel the pressure in the pocket is special and it has kept his fumbles down. I expect Dalton to handle the Texans pass rush with ease and systematically wear down the entire defense. Anticipate multiple drives that eat up plenty of clock.
Worth noting: Andy Dalton grew up about an hour from Houston.
2. Bengals Pass Rush Will Be Disruptive
The most underrated unit in the league has to be the Bengals front four. While nobody may be a household name, their eight man rotation ensures that the opponents QB is pressured for all four quarters. The Bengals defense is at their best in the second half because of their lack of fatigue. Playing on a short week certainly will help as well.
Worth noting: The Bengals had five sacks in their first meeting against the Texans.
3. Bengals Defense Will Contain Arian Foster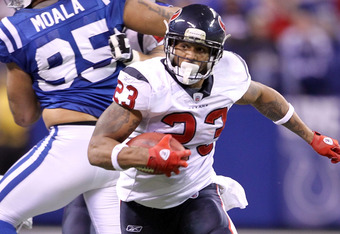 Andy Lyons/Getty Images
Notice I said contain and not stop because no team is able to completely stop the best running back in the league. Aside from his first game action of the year when he was only used part time as he returned from injury, Foster's worst game of the year came against the Bengals. He rushed the ball 15 times and was only able to muster 41 yards rushing (2.7 per attempt) and 33 yards receiving with a fumble lost.
As long as T.J. Yates doesn't break out for more than a handful of big throws, the defense will be able to stack eight in the box and suffocate Foster and backup Ben Tate. An incredibly stagnant offense will ensue.
4. A.J. Green> Jonathan Joseph
Green had five catches for 59 yards the first time around while dealing with a leg injury and is now as healthy as he's been in a while. Joseph has played tremendously well all season and solidified his case as one of the top corner in the game.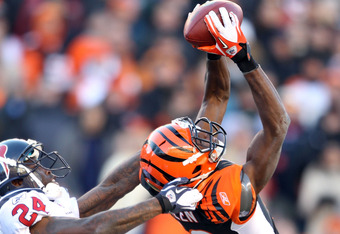 Andy Lyons/Getty Images
Yet if the Bengals can get in a one-on-one situation down field, I'm pretty sure the 6-4 Green can out jump the 5-11 Joseph.  I expect Green to create separation on at least one occasion that results in a huge play. Green will win any end zone battles as well.
5. Expect T.J. Yates to Struggle
While the Bengals best two players may be rookies, they are in much better shape than the Texans who have a fifth-round third-stringer that has a grand total of five career starts to his name at quarterback. After throwing for 300 yards against the Bengals, his production has dropped off significantly.
In his first two starts, Yates threw for 488 yards and three TDs with only one INT. In his last two games against bad teams (Panthers, Colts), he has thrown for 344 yards with zero TDs and two INTs before being knocked out of Sunday's game after throwing for just 44 yards.
Now that teams have multiple games of tape on him they are learning his tendencies and what he struggles with.
Combine that with a strong Bengals pass rush and I don't expect Yates, who is dealing with a banged up shoulder, to have any sort of success.
Prediction: Bengals 24 Texans 10