NHL Winter Classic 2012: For Bryzgalov Time Is Short to Prove Himself as Starter
January 3, 2012
Christopher Pasatieri/Getty Images
The NHL Winter Classic proved once again to be an exciting event.
Well, that is for those who played in it.
For Ilya Bryzgalov, "starting" goalie for the Flyers, his time was apparently better spent on the bench instead of between the pipes.
Bryzgalov addressed the media before the Winter Classic saying:
"OK, great news is I'm not playing tomorrow night and better news is we have a chance to win the game tomorrow night."
Great news that he's not playing and better news that they had a chance to win?
They couldn't be connected at all, or could they?
The fact is, the "Bryz" hasn't lived up to the hype, he has not brought stability to the Flyers' goal crease (the most unsettled of goal creases in the NHL), and his record is not reflective of how poorly he has played this season for the Flyers.
A 14-8-3 record looks respectable until contrasted against his 3.01 GAA and 88.9 save percentage.
Bryzgalov does have a shutout, but for how far away he is from being Philadelphia's No. 1 goaltender, he has effectively been "shut out" from his own crease.
The problem for Bryzgalov as far as Flyers GM Paul Holmgren should be concerned, is that Bryzgalov is distracting himself from playing as well as he could be.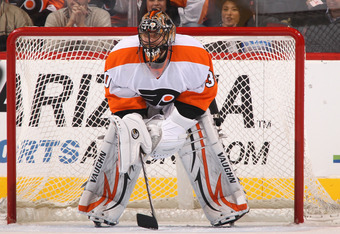 Christian Petersen/Getty Images
In Phoenix, Bryzgalov played well because of the Dave Tippett-coached teams that he played on were defense oriented.
Phoenix also does not have the media coverage for hockey that Philadelphia does.
Either way, Bryzgalov must stop acting the fool as he did on HBO's 24/7, because he is becoming a distraction to his team.
The "Bryz" may make $5.66 million a year and have a no-movement clause, but Bryzgalov must find his game or he could end up being bought out.
Bryzgalov must be focused, but must also want to play in games.
As for Philadelphia's GM Paul Holmgren, having your goalie say that it is "great news" that he is not playing, whether sarcastic or not cannot, inspire great confidence on any level.
With Philadelphia being pressed against the cap ceiling, the Flyers could buy out Bryzgalov if he will not accept a trade.
For more article updates, Follow @isaacesmith91