NHL Boston Bruins: 8 Players Who Must Stay Hot in 2012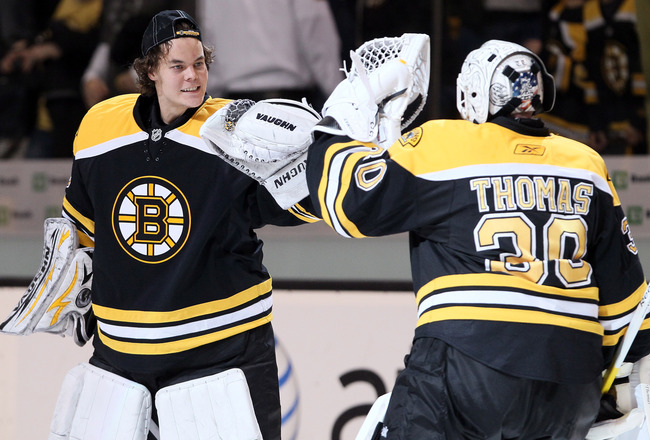 Elsa/Getty Images
When the Boston Bruins lost their final game of 2011 to the Dallas Stars on New Year's Eve, it provided a bitter taste to the end of an utterly spectacular year for the franchise. After a roller coaster Stanley Cup run that brought home the organization's first title in 39 years last summer, the Bruins flipped the page over and scribbled even more success onto the 2011 calendar.
They ring in the new year standing at second place in the Eastern Conference, trailing only the Winter Classic-winning New York Rangers. The Bruins, who own a 24-10-1 overall record, have gone a remarkable 21-3-1 in their last 25 games, righting the ship and asserting their dominance as one of the best teams in the NHL.
If the Bruins wish to stay atop the Eastern Conference and make a run at their second consecutive championship, they will need several key contributors—stars, role players and grinders alike—to sustain their high levels of play for the next several months.
Benoit Pouliot
Bruce Bennett/Getty Images
In the early stages of the season, Benoit Pouliot looked to be somewhat of a failed experiment for the Bruins. He was losing his roster spot to youngster Jordan Caron, and the coaching staff was consistently reminding him of his poor performance.
Since then, Pouliot has adapted to the Bruins' system. He has finally figured out his role, and you could argue that he fits that role even better than the departed Michael Ryder (although Ryder is lighting it up offensively with the Stars).
With points in five of his last seven games, Pouliot looks to be providing the consistent effort that Ryder never really provided. The Bruins' new third-line winger won't bury goals in bunches, but he will need to continue putting forth consistent efforts each night and give his coaching staff the confidence to put him on the ice.
In his first 17 games of the season, Pouliot saw fewer than 10 minutes of ice time on 10 different occasions. In the 13 games he has played since then, he has eclipsed that mark in each and every game.
Brad Marchand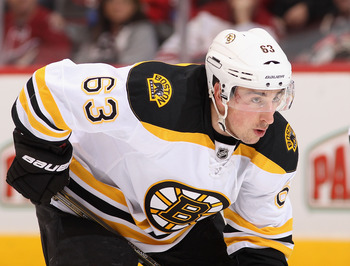 Christian Petersen/Getty Images
Now that's the Brad Marchand we remember!
After starting the year in somewhat of a sophomore slump, winger Brad Marchand has stepped his game up to the level his fans became accustomed to last summer. Marchand has notched 11 points in his last eight games, including his first career hat trick in a five-point explosion against the Florida Panthers.
Marchand's play is not only critical to the success of his forward line, but it is also vital to the success of the Boston's special teams. A consistent penalty killer and a member of the second power play unit, number 63 does it all for the Bruins.
If they are going to get back to the promised land, Marchand will be one of the players called upon to step up.
David Krejci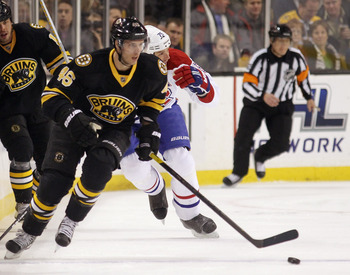 Bruce Bennett/Getty Images
Back around Thanksgiving, David Krejci heard his name mentioned in plenty of trade rumors. Speculators felt that the Bruins' top line center and leading scorer from last year's playoffs was not playing at a sufficient level to keep the Bruins atop the NHL.
Krejci has responded by tallying 14 points in his last 14 games, finding the playmaking touch he has always been known for. Boston needs its top line of Krejci, Milan Lucic and Nathan Horton to be productive if they are going to repeat as champions of the league.
Even with the recent hot streak, Krejci sports a concerning minus-one rating. Coupled with Horton's minus-two and Lucic's plus-five, the trio of forwards have the worst plus-minus ratings among Boston's top three forward units.
As good and as deep as this team is, their top line needs to play like their top line.
Chris Kelly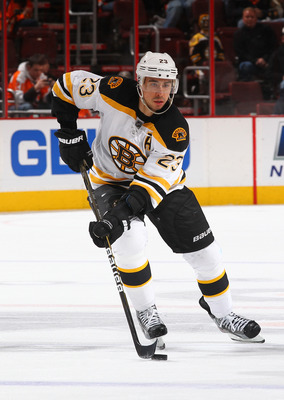 Al Bello/Getty Images
Who saw this one coming? Chris Kelly is one of the four Bruins who have notched double-digit goalscoring totals to this point in the season.
With 12 goals, nine assists and a plus-20 rating, Kelly has been all the Bruins hoped for in 2011. Newly labeled with the "A" on his jersey for road games, Boston's third-line center has embraced his role and thrived in the position.
The combined 25 goals provided by Kelly and his linemates, Benoit Pouliot and Rich Peverley, have been the difference between this year's version of the Bruins and last year's version. Consistent scoring up and down the lineup—highlighted by key contributions by the third line to spell the top two units—will be a key factor heading down the stretch this season.
Tyler Seguin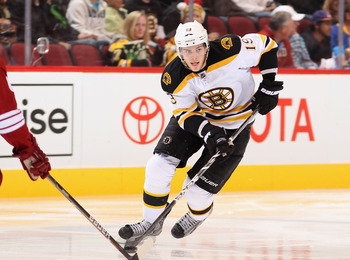 Christian Petersen/Getty Images
For a 14-game stretch from November 15th through December 14th, Tyler Seguin tallied just two goals and four assists for six points, marking his worst slump of the season thus far.
Fortunately for the Bruins, he has ripped off 26 points in his other 20 games played, including six points in his last five games of 2011.
When Seguin was red-hot and the rest of the roster was in sync, this Bruins team looked absolutely unbeatable. The talent and energy he can provide marks the biggest contrast from recent Boston teams and can be a huge spark-plug in a postseason series—remember those first two games against Tampa Bay last year?
Perhaps the most encouraging sign for Seguin has been his plus-27 rating, which ranks first in the NHL. For a kid that was said to have defensive liabilities last season, he has shown great strides in maturing and becoming a solid two-way player.
Providing his speed and skill within that two-way game is the biggest key that Seguin adds when at his best.
Zdeno Chara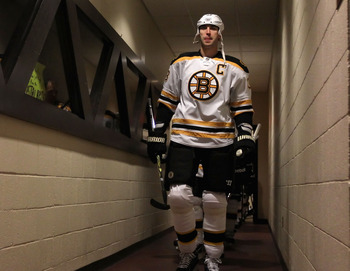 Christian Petersen/Getty Images
Everyone knows that Chara needs to be a lockdown defender for the Bruins. He is the centerpiece of their franchise, and he is likely their most irreplaceable player.
Staying hot on the offensive side of his game, though, will be a big factor in sustaining the success of his squad. Chara leads all Bruins defensemen in points (23) and leads the entire team in both shots on goal (101) and power-play goals (5).
When the offensive side of Chara's game slips, the team's offense as a whole suffers. Boston is built from the back end, and their game is executed from that same origin. Their offense starts with defense, their power play revolves around the point. It revolves around their captain, understandably.
The burden on Chara's shoulders is greater than just shutting down the opposition's most talented forward. He will need to stay hot offensively to ensure the Bruins remain a dominant team in the East.
Tuukka Rask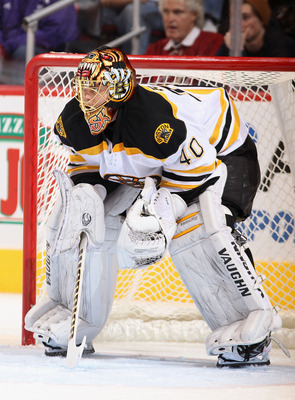 Christian Petersen/Getty Images
Just like he did two seasons ago, Tuukka Rask stands atop the NHL in the two major goaltending categories—saves percentage and goals-against average.
Sporting a gaudy .945 percentage and allowing just 1.61 goals against per game, Rask has undoubtedly been the best backup goaltender in the league. If it weren't for the also stellar play of Tim Thomas, he would likely be surging back to the top of the depth chart just like he did during the 2009-10 season.
Last season, Rask struggled in his limited opportunities. With a record of 11-14-2, he failed to capitalize on his opportunities and it prevented the Bruins from turning to him in critical fights for points in the standings.
This season, it will be vital for both of Boston's goaltenders to maintain their incredible levels of play. If having one star goalie is good, having two is unquestionably better.
Tim Thomas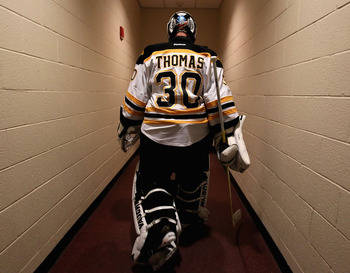 Christian Petersen/Getty Images
The importance of having Tuukka Rask is largely tied to the importance of keeping Tim Thomas fresh. Still, the 37-year-old All-Star will have to remain the hottest goalie in the world to give his Bruins the best chance at repeating history this season.
In all likelihood—thanks to the reemergence of Rask—the Bruins will elect to rest Thomas more in the second half of this season than they did during the second half of last season. While this will be good from a health standpoint, it will be crucial for Thomas to remain sharp and stay hot through any extended periods of rest.
He is rapidly making his case as, perhaps, the greatest goaltender to ever play for the Bruins. Another championship could start to etch his name into the stone. The team feeds off of his play, and the opposition is often flustered by his sensational performances.
Thomas was the formula for success last season, and he is the logical centerpiece for their success moving forward once again.
Be sure to follow Derek Robinson on Twitter: @DRobMachine
Keep Reading

Boston Bruins: Like this team?