Top 10 Fantasy Forwards: Star Players Getting Back on Track
January 3, 2012
Phillip MacCallum/Getty Images
Each week we will look at a Top 10 Fantasy Forward list. The list will be based on fantasy impact over the past few days and weeks.
Most elite stars are consistent scorers. There are several players who are very streaky. Keep an eye on their stats, so that you can dress them while they are on a hot streak.
10. Mike Knuble, Washington Capitals: Knuble is ice cold as the Capitals try to get their game on track. Knuble was pointless over the last nine games, and has a minus two rating over that span. 
Knuble has scored 20-plus goals over the last nine season, but that streak is in jeopardy this season as he is only on pace for just six goals.
9. Eric Staal, Carolina Hurricanes: Staal is hoping that the last two games was the start of getting his season back on track. Staal had two goals and five points in the last two games after going pointless in six games. 
Staal is on pace for lowest totals since rookie season, but is capable of scoring points in bunches.
8. Daniel Alfredsson, Ottawa Senators: Alfredsson looks to be fully recovered from the injuries that he has had to deal with over the last two seasons.
Since returning from a head injury, Alfredsson has had at least one point in 14 of the 24 games played. Over the last nine games he had five goals and 12 points.
7. Steve Downie, Tampa Bay Lightning: Downie may never score 20 goals again, but should consistently score around 15 goals and 40 points to go along with the 150-plus penalty minutes. 
Downie is on a three-game point streak with seven points. Downie is a great depth forward in hockey pools that use goals, points, and PIMs for stats. He is on pace for 13 goals, 36 points and 185 PIM.
6. Scott Hartnell, Philadelphia Flyers: Hartnell is enjoying the spotlight from the TV series 24/7 Road to the Winter Classic, as he is on a six-game point streak with eight points.
Hartnell has a career high of 30 goals and 60 points, both came in the 2008-2009 season.  Hartnell is on pace to smash both highs (37 goals and 76 points).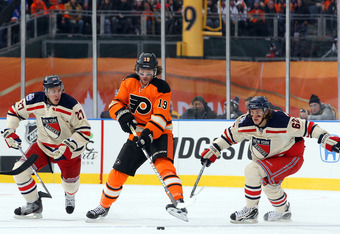 Bruce Bennett/Getty Images
5. Claude Giroux, Philadelphia Flyers: Giroux made a dramatic return from a concussion with a goal and four points in his first game back against the Dallas Stars. Since his return, Giroux has had at least a single point in all but one game, for a total of seven points in five games. 
Giroux is on pace for a 42 goal and 108 season.
4. Jordan Eberle, Edmonton Oilers: Eberle is definitely not going through the sophomore jinx, as he is just two points shy of his rookie totals. Since playing the Chicago Blackhawks on November 13, Eberle has recorded at least one point in every game but four.
That's points in 18 of 22. In those 18 games Eberle has 13 goals and 30 points.
3. Steven Stamkos, Tampa Bay Lightning: Stamkos is on pace for his third season with 45 or more goals and 90-plus point season. Despite the Lightning sitting out of the playoffs after a strong season last year, Stamkos is on pace for a career high of 57 goals. 
Stamkos has had goals in the last three games and goals in the six of the last eight games.
2. Alexander Ovechkin, Washington Capitals: Ovechkin has found his stride as he is on a six-game point streak with nine points over that time frame. During the first two months of the season Ovechkin finished with goals per game rate of 0.35 and points per game rate of 0.78. 
Last month, he finished with 0.57 goals per game rate and 0.93 points per game rate. If he can continue to score at the same rate as he had done in December, that would put him on pace to finish the season with 42 goals and 73 points. 
1. Henrik Sedin, Vancouver Canucks: Sedin continues to rack up points in Vancouver as he has had 29 of the 40 games so far this season. Only once has Henrik been held off the score sheet for two consecutive games. 
Henrik has scored two or more points in 12 games this season. Henrik is on pace for another 20 goal and 90-plus point season. The Sedin twins are proving to be sure bets for 90-plus points a season.
---------------------------------------------------------------------------------------------------
Aaron Brouwer is the co-creator of www.fantasyhockeycoach.com.  FHC is a free fantasy hockey service that developed a ranking system combining post-lockout statistics, current factors and our own hockey knowledge.  Brouwer writes about fantasy hockey on Bleacher Report. You can contact Coach Brouwer at brouwer@fantasyhockeycoach.com.