Cincinnati Bearcats Football: End-of-Season Report Card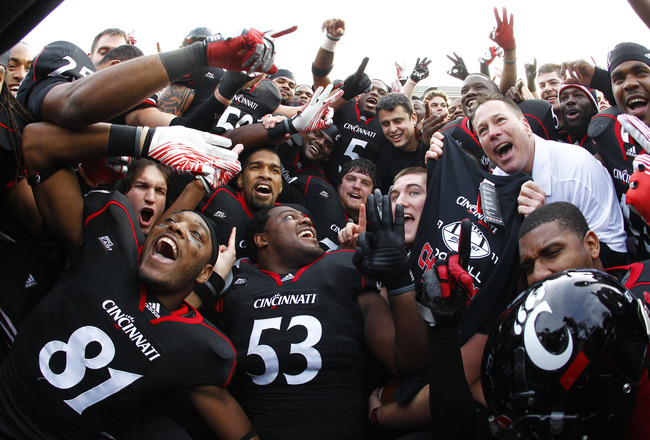 Tyler Barrick/Getty Images
The Cincinnati Bearcats capped off their fourth 10-win season in the past five years when they knocked off Vanderbilt 31-24 in the AutoZone Liberty Bowl.
The season is nothing short of a success for Cincinnati as they improved their win total six games over last year.
It is hard to say they underachieved at any position.
With that being said, here are the final position-by-position report card grades for the Cincinnati Bearcats.
One thing is for sure, their parents would be proud.
Quarterback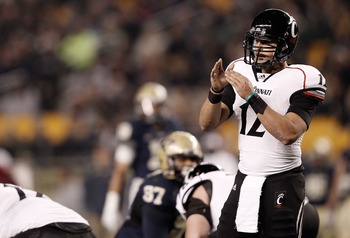 Jared Wickerham/Getty Images
The quarterback position was not as good for Cincinnati as it was in the previous four seasons, but Zach Collaros was still good enough to earn second team All-Big East despite missing virtually four games.
His backup, Munchie Legaux, filled in admirably and is the odds on favorite to be the starter next season.
Overall the two finished the season with 20 touchdown passes and 14 interceptions.
They threw for nearly 2,700 yards and helped Cincinnati lead a more balanced offense that improved the team on the defensive side of the ball.
Overall Grade: B
Running Back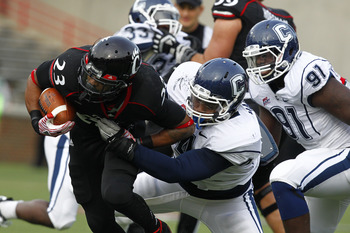 Tyler Barrick/Getty Images
Isaiah Pead not only rushed for 1,259 yards and 12 touchdowns, he also caught 39 passes for 319 yards and three touchdowns. This earned him Big East Offensive Player of the Year.
He averaged 5.3 yards a carry and scored in nearly every game.
His backup George Winn also filled in admirably with 219 yards and two touchdowns on 40 carries.
Overall Grade: A
Wide Receiver, Tight End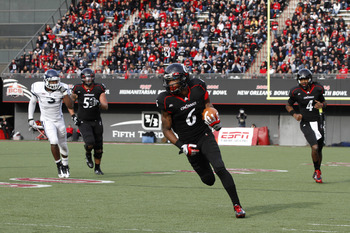 Tyler Barrick/Getty Images
The wide receivers and tight ends did not have the big plays this year that they had in years past, but made the plays when they needed to.
Some talented youth also emerged, including sophomore Anthony McClung, who led the team with 49 receptions, 683 yards and six touchdowns.
True freshman Alex Chisum was also impressive in limited action, with 302 yards and two touchdowns on 19 receptions.
Senior D.J. Woods had a disappointing year and finished with only 444 yards and two touchdowns on 37 receptions.
Tight ends Adrien Robinson and Travis Kelce combined for 25 catches and five touchdowns.
Overall grade: B+
Offensive Line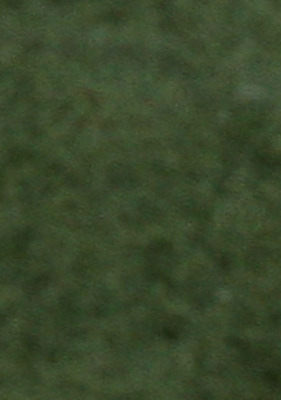 Jim McIsaac/Getty Images
The Cincinnati offensive line was vastly improved from a season ago, and that was one of the keys to the team's success.
They did not suffer the major injuries they did in 2010 and were anchored by seniors Evan Davis, Randy Martinez and Alex Hoffman.
The group consistently opened up holes that helped Isaiah Pead put up such big numbers.
The 21 sacks they allowed for the entire season was much improved from 2010 as was the entire group.
Overall grade: A-
Defensive Line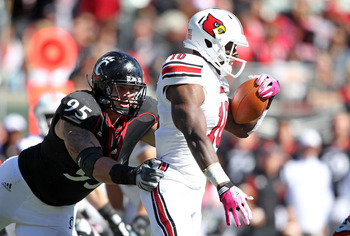 Andy Lyons/Getty Images
Perhaps the biggest key to the success of the Cincinnati Bearcats this season was the defensive line. The group helped the defense record 46 sacks, which was good for second in the nation.
Leading the way was second-team All-American and Big East Defensive Player of the Year Derek Wolfe.
The big man finished the year with 70 tackles, 21.5 tackles for loss and 9.5 sacks from the tackle position.
Simply put, he was one of the top three defensive tackles in the entire country.
Ends Walter Stewart and Dan Giordano combined for 11 more sacks and tackle John Hughes had five of his own to give the group 24.5. Reserve Brandon Mills who spent time as a starter in 2010 and is like having a fifth starter had 5.5 sacks on the year.
This group was far and away the best on the roster and helped Cincinnati finish sixth in the country in rushing defense at just over 96 yards a game.
Overall Grade: A+
Linebackers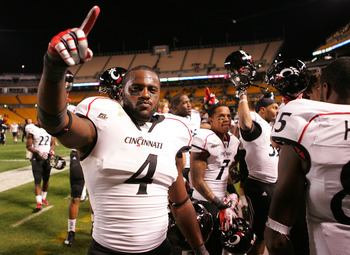 Jared Wickerham/Getty Images
With the defensive scheme Cincinnati played, most of the time there was only two linebackers on the field. Those two, Maalik Bomar and J.K. Schaffer, were impressive all year.
Schaffer led the team with 114 tackles, including 13 for loss and 4.5 sacks. He also had three interceptions.
Bomar had 61 tackles, 3.5 for loss and one sack.
True freshman Nick Temple also saw some playing time by the end of the season and had 35 tackles on the year.
Overall Grade: B+
Secondary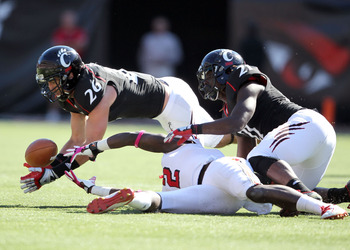 Andy Lyons/Getty Images
While the secondary for Cincinnati was probably the weakest link on the defensive side of the ball, but they were better than they have been in recent years and did an adequate job all season.
The group was led by fifth-year junior Drew Frey, who was second on the team with 73 tackles. He also had two interceptions.
Fellow safety Wesley Richardson was third on the team with 71 tackles.
The cornerback situation fluctuated a little bit with the season-ending knee injury to Dominique Battle for the second straight year.
Battle was the Bearcats best cover corner and was replaced by Devan Drane in the starting lineup. He filled in admirably along with Camerron Cheatham and Chris Williams in the three cornerback set.
Overall Grade: B
Special Teams
Jared Wickerham/Getty Images
True freshman Ralph David Abernathy IV did more than coaches could have imagined heading into the season.
He averaged 26.5 yards on 39 kick returns and took one to the house at the beginning of the fourth quarter of the Liberty Bowl to give Cincinnati the lead for good.
Punter Pat O'Donnell was a second team All-Big East selection. He averaged 44 yards a punt, with a long of 76 yards. Twenty-six of his 63 punts went inside the 20-yard line.
Kicker Tony Miliano had an up-and-down season going 17-of-25 on field goals and having four blocked.
Overall Grade: B
Coaching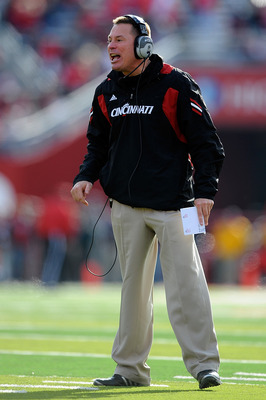 Patrick McDermott/Getty Images
Butch Jones may have done the best coaching job of his career, taking a team that won four games a year ago to a 10-win season.
He won the Big East Coach of the Year and is on a mission to build a program.
The balanced offensive attack that he promised last season finally came true this year.
He did as good a job as anybody in the country and is one of the biggest reasons Cincinnati succeeded in 2011.
Overall Grade: A
Keep Reading

Cincinnati Bearcats Football: Like this team?