2012 NFL Mock Draft: 3 Prospects Playoff Teams Should Have on Their Radars
January 4, 2012
Mike Zarrilli/Getty Images
The 12 teams currently in the NFL playoffs surely have more to be concerned with than the prospects in the 2012 draft. 
I'd say centering all their attention and effort on capturing the Lombardi Trophy is a bit more important, wouldn't you?
But come mid-February the focus will indeed shift to the draft and the scouting process will be of the utmost importance. 
Let's look at the three prospects playoff teams should have on their radar. 
Alfonzo Dennard, CB, Nebraska 
It's pretty safe to say many of the current playoff teams need help in their secondary, especially in the NFC. 
Aaron Rodgers, Drew Brees, Matthew Stafford, Tony Romo, Matt Ryan, Eli Manning and Cam Newton aren't going anywhere. 
Neither is the pass-heavy attacks of those quarterbacks' teams. 
Dennard projects into the latter half of the first round where the playoff clubs will select. 
He's not an instant lockdown corner, but with LSU's Morris Claiborne and Alabama's Dre Kirkpatrick likely gone, Dennard is the next best option. 
The Cornhusker standout is a bit undersized at 5'10'', but he weighs in at 205 pounds and should test between 4.4 and 4.5 at the Combine. 
With solid coaching he can become a great cover corner because of his instincts, athleticism and ability to jam receivers at the line of scrimmage.
Whitney Mercilus, DE, Illinois
What is another way to stymie a team's passing attack besides locking down the receivers? 
Getting to the quarterback.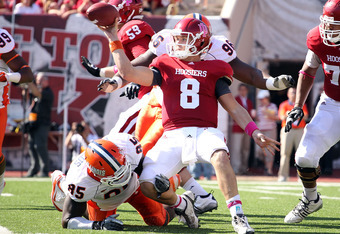 Andy Lyons/Getty Images
No one has experienced quite the rise in draft stock as Mercilus, who totaled a ridiculous 16 sacks along with nine forced fumbles in 2011. 
At 6'4'' and 265, he is scheme versatile, meaning he can play end in a 4-3 or even outside linebacker in a 3-4.
The only knock on this physical specimen is that he's a "one-year wonder" with only two sacks combined in his previous two seasons with the Fighting Illini.
Cordy Glenn, OL, Georgia 
Quarterbacks are the central theme of this breakdown and many of the playoff teams, who are set at most of the skill positions, will look to add depth to their offensive line.
With Stanford's duo of David DeCastro and Jonathan Martin likely unavailable, Georgia's Cordy Glenn will be a fantastic consolation prize. 
At 6'5'' and 348 pounds, Glenn projects either as a guard or right tackle at the next level. 
He's incredibly powerful, but has deceptively nimble feet and, overall, is a balanced blocker—good in the running and passing came. 
2012 NFL Mock Draft (Jan. 17th Update)
1. Indianapolis Colts: Andrew Luck, QB, Stanford
2. St. Louis Rams: Justin Blackmon, WR, Oklahoma State
3.  Minnesota Vikings: Matt Kalil, OT, USC
4.  Cleveland Browns: Trent Richardson, RB, Alabama
5.  Tampa Bay Buccaneers: Morris Claiborne, CB, LSU
6.  Washington Redskins: Robert Griffin III, QB, Baylor
7.  Jacksonville Jaguars: Alshon Jeffery, WR, South Carolina
8.  Carolina Panthers: Dre Kirkpatrick, CB, Alabama
9.  Miami Dolphins: Courtney Upshaw, DE/OLB, Alabama
10.  Buffalo Bills: Nick Perry, OLB, USC
11.  Seattle Seahawks: Whitney Mercilus, DE/OLB, Illinois
12.  Kansas City Chiefs: Michael Brockers, DE/DT, LSU
13.  Arizona Cardinals: Jonathan Martin, OT, Stanford
14.  Dallas Cowboys: David DeCastro, OG, Stanford
15.  Philadelphia Eagles: Vontaze Burfict, LB, Arizona State
16.  New York Jets: Melvin Ingram, DE/OLB, South Carolina
17.  Cincinnati Bengals (from Oakland Raiders): Lamar Miller, RB, Miami  
18.  San Diego Chargers: Riley Reiff, OT, Iowa 
19.  Chicago Bears: Michael Floyd, WR, Notre Dame
20.  Tennessee Titans: Zach Brown, LB, North Carolina
21.  Cincinnati Bengals: Kendall Wright, WR, Baylor
22.  Cleveland Browns (from Atlanta Falcons): Dont'a Hightower, LB, Alabama 
23.  Detroit Lions: Stephon Gilmore, CB, South Carolina
24.  Pittsburgh Steelers: Cordy Glenn, OL, Georgia
25.  Denver Broncos: Chris Polk, RB, Washington
26.  Houston Texans: Devon Still, DT, Penn State 
27.  New York Giants: Mike Adams, OT, Ohio State
28.  Baltimore Ravens: Luke Kuechly, LB, Boston College
29.  New England Patriots (from New Orleans Saints): Brandon Thompson, DT, Clemson
30.  San Francisco 49ers: Peter Konz, C, Wisconsin
31.  New England Patriots: Mark Barron, S, Alabama
32.  Green Bay Packers: Chase Minnifield, CB, Virginia