NFL Wild Card Round: Predicting the Outcome of Each Matchup This Weekend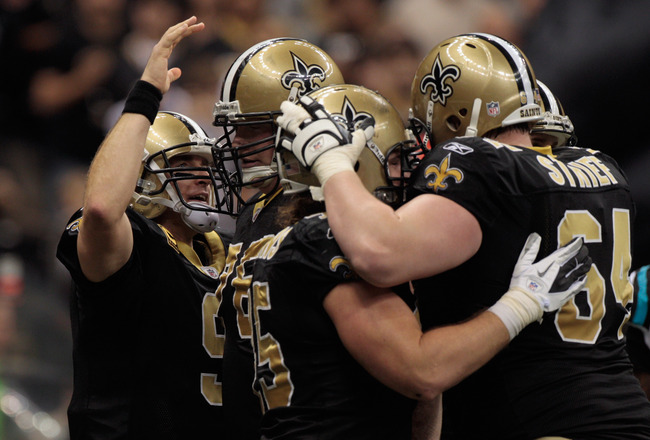 Chris Graythen/Getty Images
Wild Card weekend is shaping up to be a good one this year with some solid matchups. In the AFC we've got the Cincinnati Bengals going up against the Houston Texans, as well as the Denver Broncos going up against the Pittsburgh Steelers. Meanwhile, in the NFC we've got the New Orleans Saints matching up against the Detroit Lions while the Atlanta Falcons battle the New York Giants.
To me, every one of those matchups is a must-watch game. You want to know if Andy Dalton has what it takes to lead his young squad past Arian Foster's Houston Texans. Whether or not "Tebowmania" can run wild in the playoffs should definitely have you tuning in to the Steelers-Broncos game. Stafford vs. Brees and Manning vs. Ryan should have you at the edge of your seat as well.
I am going to try to determine a winner in each of these matchups by comparing both teams' offense and defense (with special teams included in defense). I'm also throwing in an X-factor that could change the whole ball game.
No. 3 Houston Texans vs. No. 6 Cincinnati Bengals (Offense)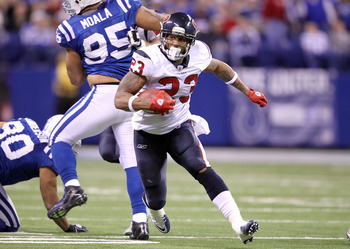 Arian Foster will try to lead Houston past Cincinnati in the Wild Card Round
Andy Lyons/Getty Images
It's hard to believe that Andy Dalton is only a rookie considering how good he looks this year. Dalton threw for 3,398 yards with season. He had 20 passing TDs and 13 INTs on the year, good for a QB rating of 80.4. I know these numbers are not jumping off the board, but keeping in mind that he is a rookie, this kid is going to be great. The question is, if he's good enough now, can he lead the Bengals over the Texans in the 1st round?
Dalton has some nice receivers on his team including A.J. Green, Jerome Simpson and Andre Caldwell. He also has a solid TE threat in Jermaine Gresham. Don't be fooled by the No. 20 ranked pass offense: They can hurt you.
Cincinnati's ground game isn't too bad either. Led by Cedric Benson who has 1,067 yards on the ground this year with a YPC average of 3.9, he has scored six rushing TDs on the year. Despite being the No. 19 ranked rush offense, Benson is dangerous when he gets going, so Houston's run defense better be on their game.
The Bengals' total offense is ranked 20th.
While Cincinnati might have a decent running game, Houston's running attack is incredible to say the least. Houston is the No. 2 ranked rushing offense in the entire league, behind the Denver Broncos. The Texans have the best one-two punch in the league in Arian Foster and Ben Tate.
Foster, despite some health issues early on in the season, still managed to put up a solid 1,224 yards on the ground this season with a 4.4 YPC average. He found the end zone 10 times this year. Ben Tate had 942 yards on the ground this season, scoring four times, and an average of 5.4 per carry. Houston will look to their talented RBs to win this game for them on the offensive side of the ball.
The Texans will also look to rookie QB T.J. Yates to have an impact on this game. Yates, who started off the season as the third string QB, has a chance to show what he's worth. After the injuries to starting QB Matt Schaub and backup QB Matt Leinart, Yates is now the one in command on the Houston passing attack which ranks No. 18.
Houston does have a great go-to receiver in Andre Johnson. However, Johnson has been troubled by an injury all season long and, despite saying he feels good, it's always a word. Walter and Jones provide to other good threats as well as TEs Owen Daniels and Joel Dreessen. Not to mention Arian Foster, who is an excellent receiving RB.
The Texans' total offense is ranked No. 13.
Advantage: Houston Texans
I am going to give the advantage to Houston here. Despite the passing game being up for discussion, there is no doubt in anybody's mind about how solid this rushing offense is. Houston has used that ground-and-pound offense to perfection all season and will do so yet again in this one.
No. 3 Houston Texans vs. No. 6 Cincinnati Bengals (Defense and Special Teams)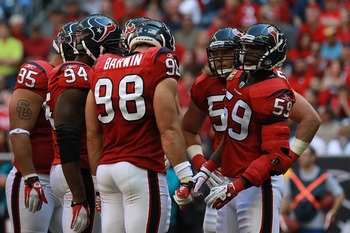 Ronald Martinez/Getty Images
Both of these teams are solid on the defensive side of the ball, but I do think one team has a clear advantage here.
Houston is ranked No. 2 in overall defense, right behind the Pittsburgh Steelers. They are ranked No. 3 in passing defense and ranked No. 4 in rushing. The Texans had 44 sacks and 17 interceptions this season. Needless to say, this is going to be a dangerous defense to play against. A team with a huge front line of defensive linemen will look to get into the Bengals backfield early and often, coming away with a few key sacks and forced fumbles.
Houston averages 10.4 yards on punt returns and 25.2 yards on kick returns. They allow 9.6 punt return yards and 22.4 kick return yards.
On the other side of the ball, Cincinnati is the No. 7 ranked defense in the NFL. They rank ninth against the pass and 10th against the run. They managed to get 45 sacks on the season, but only 10 interceptions. The Bengals are going to have some good chances to pick off the ball in this one; however, as they are playing a rookie QB that has shown some signs of greatness, they have been disappointed at times as well.Their run defense is really going to be tested when they face one of the best running backs in the league: Arian Foster.
The Bengals average 11.5 yards on punt returns and 22.8 yards on kick returns. They allow 7.2 and 20.8 yards on punt and kick returns.
Advantage: Houston Texans
As I mentioned earlier, these are both solid defensive teams, but when you're going up against the No. 2 ranked defense, no chance. Houston's special teams are also more dangerous in my mind. They've got some dangerous return men and will look to use that to their advantage.
X-Factors and Final Prediction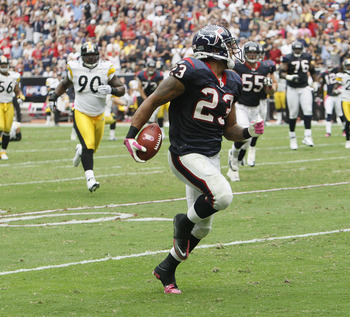 Foster will look to be key for the Texans.
Bob Levey/Getty Images
For Cincinnati, I'm giving the X-Factor to A.J. Green. Green seems to do something spectacular in every game he plays. He had a great rookie season and can really be a game changer for Cincinnati. If he can perform well and grab a few nice ones for touchdowns, I could see Cincinnati maybe upsetting the Texans.
Is there any surprise that the X-Factor for the Texans is Arian Foster? A dynamic RB, personally my favourite, will have a lot to do with the outcome of this game. Foster is a great runner and has proven to be a good receiver out of the backfield as well. He is the workhorse for this offense and needs to have a solid 100+ rushing yards and a few catches as well, with one or two scores.
Projected Impact:
A.J.Green-75+* yards, one touchdown
Arian Foster-125+ rushing yards, two rushing touchdowns, 25+ receiving yards, one receiving touchdown
* + means at least the number given
I'm calling a monster game for Arian Foster in this one. Look for him to carry his team to the next round.
Projected Final Score: Houston Texans 24, Cincinnati Bengals 10
No. 4 Denver Broncos vs. No. 5 Pittsburgh Steelers (Offense)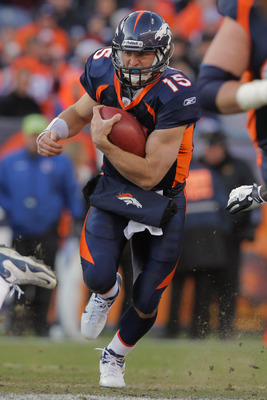 Tebowmania looks to run wild against the Pittsburgh Steelers
Doug Pensinger/Getty Images
Who would've thought that a Broncos team that started the season 1-4 would make the playoffs? I bet Tim Tebow did. Tebow has turned the team around and has gotten them into the playoffs, with a little help from the San Diego Chargers. However, defenses are starting to catch up to Tim Tebow. They don't allow him to run freely anymore, forcing him to stay in the pocket and throw. If Denver wants a win, Tebow will need to make the necessary adjustments going in their matchup against Pittsburgh.
Tim Tebow and the passing attack rank awfully at No. 31 in the league. However, that is not to say they can't make an impact and are not good in general. The Denver offense doesn't have them throwing the ball as much as other teams. It is a run-heavy offense, with not many throw attempts being made until the 4th quarter. This is something that they might have to change for the game vs. the Steelers.
I'm not saying to not do what you do best and run, I'm just saying you need to have Tebow throwing the ball more in the first three quarters of the game. Obviously he won't get that many chances to take off anymore, as teams don't allow that anymore. He needs to take more throws and get a good feel for the game. It'll also help the receivers get in sync.They've got some good targets like Eric Decker, Demaryius Thomas, Eddie Royal, Jeremiah Johnson and Dante Rosario. You could even throw to the RB on a screen pass. Denver has had success with that.
Watching the Broncos/Chiefs game, one commentator said telling a wide receiver to go out there and not make catches until the fourth quarter is like telling a SG not to shoot the ball until the fourth quarter. Adjustments need to be made.
To Denver's credit, their running attack is ranked No. 1 in the entire league. McGahee, Lance Ball and Tim Tebow running the ball effectively could be the key in a low-scoring defensive battle. If that is the way this game goes (a battle of defenses), their running attack could have a huge upside. McGahee had a good season rushing for 1,199 yards, averaging 4.8 YPC and scoring four times. Ball ran for 402 yards this season, avergaing 4.2 YPC and scoring once. QB Tim Tebow ran for 660 yards, averaging 5.4 YPC and scoring six times on the ground. These men will be key to the getting the running game going against a solid defense.
Denver ranks 23rd in total offense.
On the other side of the ball, Big Ben and the Steelers will look to really give it to the Broncos. Roethlisberger, who is still recovering from an ankle injury, will aim to get the passing game going early. Ben has some solid targets in Mike Wallace, Antonio Brown, Jerricho Cotchery, Heath Miller and company. Pittsburgh's passing attack ranks 10th in the league. Pittsburgh has been a pass-happy offense this season. They should be able to really stick it to a Broncos team that defends the run first and could be without Brian Dawkins.
A big loss for Pittsburgh has been the injury to Rashard Mendenhall. Mendenhall did not have the year most were expecting of him, but he still rushed for 928 yards, had 4.1 YPC and scored nine times. He will definitely be missed. Taking over is Isaac Redman who had 479 yards this season, averaged 4.4 YPC and scored three times. Not the worst replacement, but still no Mendenhall. The Broncos should not back off regardless against a Steelers team that ranks 14th in the league.
Pittsburgh ranks 12th in total offense.
Advantage: Pittsburgh Steelers
Even with the injury to Mendenhall, the Steelers are still the better team on the offensive side of the ball. However, if Denver manages to get going in the passing game and still runs the ball effectively, this one could swing in their direction. For the time being though, Pittsburgh has this one.
No. 4 Denver Broncos vs. No. 5 Pittsburgh Steelers (Defense and Special Teams)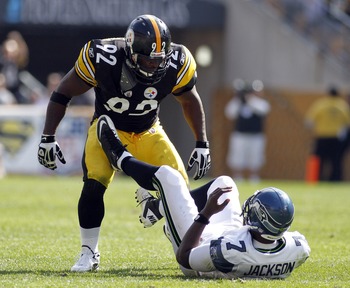 Justin K. Aller/Getty Images
That picture should tell you all about the Pittsburgh defense. Hard-hitting, intimidating and always imposing their will on their opponents. Pittsburgh's total defense ranks No. 1 in the entire league. They are the best pass defense in the NFL, which is kind of useless against the Broncos' run-heavy offense, but will come in handy come the fourth quarter if the game is still close. They are eighth against the run, which is still pretty damn solid. They have 35 sacks this season along with 11 interceptions.
The Steelers are going to have to keep a QB spy to make sure Tebow doesn't take off. They are going to want to bring more men in close to pressure the run. They can afford to leave their corners one-on-one with the two receivers.
Pittsburgh's punt return average is 10.5 yards while their kick return average is 25.1 yards. They surrender 8.4 yards on punts and 23.7 yards on kick returns.
The Broncos' total defense ranks 20th. They rank 18th against the pass and 22nd against the run. Now don't let those numbers fool you—The Broncos are a much better defense than those rankings might suggest. They also have 41 sacks and nine interceptions on the season. Broncos safety Brian Dawkins is doubtful for the matchup against Pittsburgh which makes this game so much more difficult for Denver. They're going to need to force some bad throws, preferably heading Champ Bailey's way for a pick. Sacks will help too.
Denver averages 12.7 and 24.5 yards on punt and kick returns. They surrender 11.5 and 24.6 yards on punt and kick returns.
Advantage: Pittsburgh Steelers
It's really easy picking the advantage in this one. Can't really go against the No. 1 defense in the league.
X-Factors and Final Prediction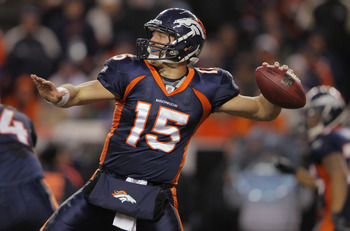 Doug Pensinger/Getty Images
You almost want to list the fourth quarter as the X-Factor for Denver, but that's not a player, so we'll have to go with Tim Tebow here. What he does in this game will be of the utmost importance for Denver. A few touchdown passes in the first three quarters goes a long way to making it a winnable game in the fourth. Tebow is a big-game player, and every playoff game is a big game.
On the other side of the ball, I'm giving the X-Factor to linebacker James Harrison. This is the man I believe will be keeping track of Tebow all day, making sure he sticks to passing and not running. Look for him to get in the backfield a few times as well as shut down the runs when an opportunity presents itself.
Projected Impact:
Tim Tebow-200+ passing yards, one passing touchdown, 30-50 rushing yards, one rushing touchdown
James Harrison-4 tackles, one sack, one forced fumble, one fumble recovery
Look for Tebow to have an impressive game, but his team will still lose. Harrison will have a huge game, a few good tackles, one sack and a fumble that he will force and recover himself. Steelers win.
Projected Final Score: Pittsburgh Steelers 20, Denver Broncos 14
No. 3 New Orleans Saints vs. No. 6 Detroit Lions (Offense)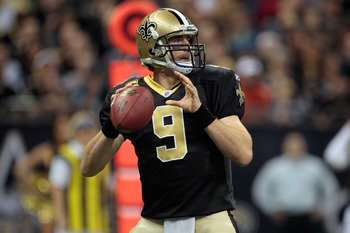 Chris Graythen/Getty Images
What a season it has been for QB Drew Brees. He set a new NFL record for single-season passing yards with 5,476, breaking Dan Marino's old record. On top of that, Brees also threw 46 touchdowns this season with 14 INTs. His QB rating this year? 110.6, quite a season if you ask me. On top of all this, Brees and the Saints are looking to book themselves another trip to the Super Bowl. Matthew Stafford and the Detroit Lions stand in his way this week.
The New Orleans Saints have the best offense in the league, ranked No. 1 in total offense. They rank first in the league through the air and sixth running the ball on the ground. Needless to say, this offense is lethal when at their best. Brees loves spreading out the ball on offense and why wouldn't he? With guys like Jimmy Graham, Marques Colston, Darren Sproles, Robert Meachem and others, they have a solid receiving crop.
To say they're deep in the backfield is an understatement. Despite the injury to Mark Ingram, they still have three solid options in Pierre Thomas, Chris Ivory and Darren Sproles. Ivory can carry the running load as the other two are great receiving options out of the backfield. Sproles and Thomas will get their carries as well, but Ivory is like the feature back against Detroit. No matter who plays though, New Orleans can do damage with whichever runner they choose to play.
Looking at their opponents, the Detroit Lions aren't exactly a horrible offense either. Detroit ranks fifth in total offense, four spots down from New Orleans. Their passing attack is ranked fourth in the NFL, but their running game is ranked 29th! Ouch.
Despite being No. 29, make no mistake about it: Kevin Smith can have a big impact on the game if given the chance. Smith, who is looking healthy enough to get the bulk of the carries, can be a dangerous back if not kept in check. Maurice Morris serves as a decent second option.
It's clear that the passing attack is the heart of this offense though. Matthew Stafford really took a big step this season and has joined the elite QBs in the league (at least in my mind). Stafford had 5,038 yards on the season, with 41 TDs, 16 INTs and a QB rating of 97.2. Those are elite level numbers.
His favourite target? Megatron Calvin Johnson. Johnson was the best wide receiver this season with 1,681 receiving yards and 16 touchdowns. This man had triple coverage on him at times and still caught the ball. Needless to say, he's going to draw a lot of attention from New Orleans. While that happens, that might open the window for fellow WR Nate Burleson and TE Brandon Pettigrew.
New Orleans might find it difficult to keep all these guys in check.
Advantage: New Orleans Saints
Similar to the situation with the Steelers' No. 1 ranked defense, you can't exactly go against the No. 1 ranked offense. Plus, the difference on the ground is too huge to ignore. The Saints get the nod.
No. 3 New Orleans Saints vs. No. 6 Detroit Lions (Defense and Special Teams)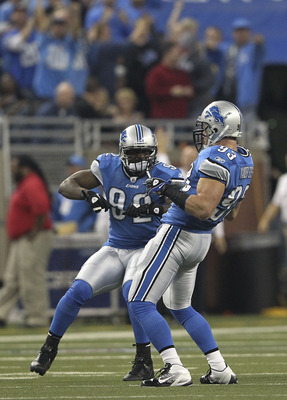 Leon Halip/Getty Images
The Saints' defense has not lived up to expectations this year. You would think a team as good as New Orleans would have a solid defense, but that's not the case. New Orleans ranks 24th in total defense, 30th against the pass and 12th against the run. They have 33 sacks this season and only nine interceptions.
This defense can step it up when needed to keep their team in the game, but this is not an elite level of defense. The fact that they have such an awful pass defense really does them no good going up against the duo of Matthew Stafford and Calvin Johnson. New Orleans will have to give it 100 percent.
New Orleans returns punts for 10.1 yards on average and kicks 26.5 yards. They allow only 6.2 yards on punts and 25.8 on kick returns.
The Lions' total defense ranks 23rd in total defense, one above the Saints. They are 22nd against the pass and 23rd against the run. Despite the numbers, I think you'd have to give the Lions' defense much more credit. They had a good defense this season, much improved from the last. They registered 41 sacks and 21 interceptions, which is a lot more than the Saints had. You can say that the total defenses are close, but in the end if Detroit has 21 INTs, it means all those yards have no meaning to them and that's the mark of a good defense.
The Lions return punts for 7.9 yards and kicks for 24.0. They allow punt and kick returns of 13.4 and 25.6 on average.
Advantage: Detroit Lions
Despite only being ranked one spot above the Saints in defense and despite having worse special teams, I'll give the Lions the nod here. I think their ability to get turnovers will be key in this one.
X-Factors and Final Prediction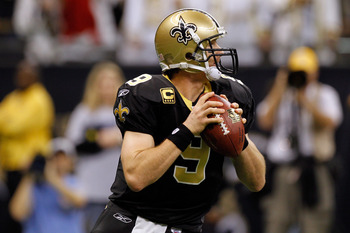 Chris Graythen/Getty Images
Hello shootout. Look for this one to be a high-scoring affair between the two teams. In games like these, your X-Factors can only be your QBs.
Projected Impact:
Drew Brees-400+ yards, five passing touchdowns, five rushing yards
Matthew Stafford-370+ yards, four passing touchdowns, three rushing yards
Look for the Saints' prolific offense to carry them to a victory in a good old-fashioned shootout between the two teams.
Projected Final Score: New Orleans 42, Detroit Lions 35
No. 4 New York Giants vs. No. 5 Atlanta Falcons (Offense)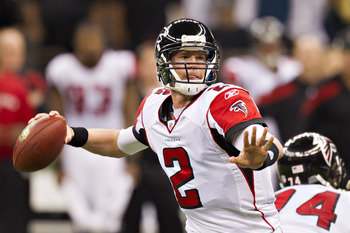 Wesley Hitt/Getty Images
After fighting for their playoff lives on Sunday Night Football, the New York Giants will host the Atlanta Falcons this week. The Giants did battle with the Dallas Cowboys in Week 17, a battle they could've lost, but a few big catches from Victor Cruz and it was all Giants going forward. With that challenge behind them, they now have a much more dangerous opponent ahead.
The Atlanta Falcons, returning to the playoffs, have hopes of advancing past the Wild Card Round and hopefully playing spoiler come Divisional Playoffs. The Falcons are led by non other than QB Matt Ryan. Ryan had a solid season, throwing for 4,177 yards, with 29 touchdowns and 12 interceptions, good for a QB rating of 92.2. Despite starting off slow, Matt Ryan caught fire down the stretch and had a great season.
The Falcons' offense ranks 10th in total offense, eighth in passing the ball and 17th in rushing. The Falcons' solid pass offense really helps out a guy like Michael Turner, who is still as solid a running back as any other, but knows that the clock is ticking. Turner still had a solid season with 1,340 rushing yards, an average of 4.5 YPC and scored 11 times. Not bad for the seasoned veteran.
Turner does not have to worry about being the workhorse with Ryan in town though. Ryan has some solid options to throw to on offense with WRs Julio Jones, Roddy White and Harry Douglas as well as the TE that keeps defying the age factor, Tony Gonzalez. I think it's safe to say that Atlanta is very complete when it comes to the offensive side of the football.
The Giants' offense is one to be feared as well. They rank eigth in the league when it comes to total offense, fifth in the league throwing the ball and surprisingly, 32nd in the league running the ball.
It really surprised me when I saw that the Giants were 32nd in the league in running. Brandon Jacobs and Ahmad Bradshaw are two solid backs who combined for 1,230 yards this season, splitting the duties. They combined for 16 touchdowns while Bradshaw ran for 3.9 YPC while Jacobs had 3.8.
Then again, I could understand it considering Michael Turner's total is more then both of theirs, combined.
Either way, where the Giants really excel is through the air. I mentioned Victor Cruz before: He and Eli Manning are quite the duo. Cruz is a player that worked his way up and has now become Eli Manning's favourite target. Cruz had a breakout season of 1,536 yards receiving along with nine scores. Cruz, Nicks and Manningham are all solid receivers and it's hard to keep them in check. You can't put your focus on just one or two because the third will eat you alive if you do, especially with a quarterback like Eli Manning throwing the ball.
Manning had 4,933 yards this season along with 29 touchdowns and 16 interceptions. That's good for a QB rating of 92.9 on the season. What's been the most impressive about Manning is his fourth quarter performances. Manning had 15 touchdowns in the fourth quarter this year, which set a new NFL record (previously held by Johnny Unitas and brother Peyton Manning). You can sure as hell bet Eli felt great about that one. You can bet it's going to be a tough game for the Falcons' defense dealing with this offense.
Advantage: None
This one is much too close to call if you ask me. Both teams have solid QBs, great receivers and some good RBs.
No. 4 New York Giants vs. No. 5 Atlanta Falcons (Defense and Special Teams)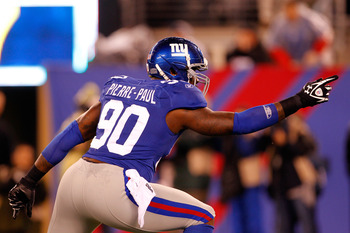 Rich Schultz/Getty Images
The Giants' defense currently ranks 27th in total defense, 29th in defending the pass and 19th in defending the run. They have 48 sacks and 20 interceptions on the season. Don't let that 27th ranking fool you: The Giants' defense has really improved in recent games and will be a problem for Matt Ryan and the Falcons.
You know Jason Pierre-Paul and Justin Tuck are going to be on Matt Ryan's radar all game.The Giants have got some good personnel on their defense that will be looking to disrupt Atlanta's offense. They'll look to get in the backfield to get Matt Ryan shaken up early. Their 48 sacks on the season are tied for third with the Ravens.
The Giants' return punts for 6.1 yards and kicks for 23.3 on average. They surrender 9.9 and 22.9 yards to punt and kick returns.
Atlanta ranks 12th in total defense. They are 20th against the pass and 6th defending the run. The Falcons have 33 sacks on the season and 19 interceptions. Despite being ranked much higher than the Giants, I don't think there is that big of a gap between the two teams.
Curtis Lofton and John Abraham are going to be key players for the Falcons' defense. They'll need Abraham to get in for at least a pair of big sacks and maybe turn one of them into a forced fumble.
Atlanta returns punts for 9.5 yards and kicks for 23.5 on average. They surrender 4.8 and 24.8 yards to punt and kick returns.
Advantage: None
Screw the rankings, it's easy to see the Giants D-Line has a huge advantage over Matt Ryan's offensive line. However, the Falcons do have those solid rankings for a reason: They work for it. No advantage called here. It's coming down to the X-Factors, I guess.
X-Factors and Final Prediction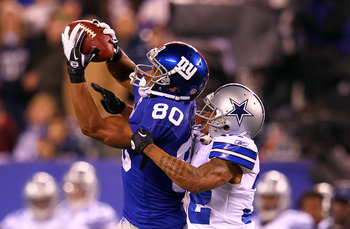 Al Bello/Getty Images
For the Giants, I'm thinking their big play receiver, Victor Cruz, will be key. Cruz put up 164 yards and one score against the Jets when the Giants needed the victory. Next week, do-or-die against Dallas, Cruz puts up 178 yards and one score. Clearly, he's made for those big moments, and there's no bigger moment than the playoffs.
For the Falcons, it goes to Matt Ryan. Ryan has been labelled "Matty Ice" because of his ability to close out and ice (pun intended) ball games. He'll have the spotlight on him as his Falcons look to move on.
Projected Stats:
Victor Cruz-125+ yards, two touchdowns
Matt Ryan-300+ yards, two throwing touchdowns, 15-20 rushing yards
Projected Final Score: Atlanta Falcons 24, New York Giants 21
My pick for the closest ball game of the week. This one will come down to the wire and will be settled by a Matt Bryant field goal which will be good for a Falcons victory.
Keep Reading