St. Louis Rams Should Draft Quarterback Robert Griffin III, Trade Sam Bradford
January 3, 2012
Ronald Martinez/Getty Images
The St. Louis Rams have been this high in the draft several times in recent years—most recently, two years ago when they drafted quarterback Sam Bradford. After a great freshman season, it looked like the Rams had their man of the future in the gunslinger who played his college ball in Oklahoma. 
However, after a very disappointing sophomore campaign in which the Rams lost all but two games, it is now clear that the organization needs to go in a new direction. They have already started the process by eliminating the GM and coach. Next needs to be the quarterback. 
The upside to Sam Bradford is that he is a true NFL-type pocket passer. He fits in the mold of Aaron Rodgers and Matthew Stafford, and that is exactly the type of player most coaches want behind center.
The downside to Bradford is his giant contract. He came out of college the year before the new labor agreement and coinciding rookie pay scale went into effect. That means he will be making about double what last year's first pick, Cam Newton, and this year's likely first pick, Andrew Luck, will be making. 
So, what do the Rams do? Should they hold onto their top pick and build around him, or ship him off to another team, clear themselves of his contract, and let a new coach and GM start over? The answer would be easy if not for a certain person who may just be one of a new breed of superstars in the NFL, Robert Griffin III. 
Over the past year, RGIII has shown that he is one of if not the best prospect coming out of college. Sure, Luck has always been considered the top pick (even in last years draft), but if you look back on the situation and you were the Panthers, who would you rather have today, Luck or Newton? I'm guessing the Panthers would choose Newton. 
Now, I am not saying that Griffin will be better than Luck, I am not saying he should be taken ahead of Luck, and I am not saying he is better than Newton. What I am saying is that he has all the potential to be a game-changer, much like Newton has proved to be.
When comparing Newton and Griffin, there is not much difference. Both have the required height and arm strength to succeed in the NFL. While Newton has ideal physical size and strength, Griffin has world-class speed and has shown a better ability (in college) to throw the deep ball.
If I was a GM or coach looking to build the next great team, I would do anything to have a playmaker (with an NFL skill set) like Newton or Griffin. In fact, I would probably take RGIII over Luck.
I don't think there's any way the Colts or any other team would do that (it would be a PR nightmare), but I think the upside is so much higher for Griffin because of the way the position of QB is shifting in the NFL from pocket passers to play-makers.
So, if the Rams draft Griffin, what do they do with Bradford? Well, there is no way they coexist. They are two young, talented players who need an offense built for them and an opportunity to be on the field making plays.
If the Rams choose to go this route, they would have to trade Bradford. Of course, his contract is the biggest obstacle. If not for his contract, I could see several teams trading their first-round pick for Bradford. However, with this obstacle, I would still consider him to be worthy of a second-round pick.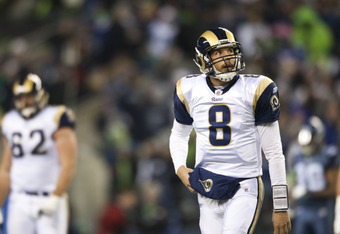 Jay Drowns/Getty Images
Imagine you are Miami, San Francisco, Denver or Washington and in desperate need of an elite, NFL-caliber passer. Would you trade your second-round pick for a guy who went first overall just two years ago?
Bradford is not JaMarcus Russell and is not a bust. He has huge upside and is still young enough to lead a team for another decade. Remember what the Bears gave up for Cutler? (By the way, they gave up two first-round picks and a third, plus their backup QB). I think Bradford should be worth just as much.
Will the Rams make this move? I think its 50-50 and mostly depends on the new coach/GM and what style of play they are looking for. It also depends on if Washington or Miami is interested in trading for such a high-priced player. Dan Snyder has done it before, and if he hangs a second-round pick in front of the Rams, I think they have to take the bait.
Sam Bradford is good, but I just don't see him ever being great. For that reason, if I am GM, I take a player who, like Cam Newton (and Mike Vick if he were 10 years younger), could help revolutionize a new era of offensive strategy and quarterback play—a dual-threat, strong-armed and accurate passer. I think Robert Griffin III is the real deal.