Arkansas State vs. Northern Illinois: Spread, Line and More for GoDaddy.com Bowl
January 3, 2012
Mark A. Cunningham/Getty Images
The Arkansas State Red Wolves and the Northern Illinois Huskies will do battle on the gridiron in the GoDaddy.com Bowl, and it should be a great second-to-last game of the postseason. 
The final bowl game before the BCS National Championship, these two schools will be viewed by many for the first time ever, and they're not going to disappoint. 
Red Wolves head coach Hugh Freeze left to coach Ole Miss, which could be a big factor in how Arkansas State performs. 
Both schools are coming into this postseason matchup playing very well, with the Huskies on an eight-game win streak and the Red Wolves on a nine-game win streak. 
It's been an astonishing season for both schools, as the Huskies won the Mid-American Conference Championship for the first time since 1983 and the Red Wolves won the Sun Belt Conference for the first time since 1986. 
Two red hot teams going head-to-head is just the kind of game fans need to tune into right before the BCS title game. 
With that said, let's get to some specifics of this postseason showdown. 
When: Sunday, Jan. 8 at 9:00 p.m. ET 
Where: Ladd Pebbles Stadium, Mobile, AL
Watch: ESPN, ESPN3.com 
Key Storyline 
Will Arkansas State win without Hugh Freeze? 
The new head coach for Mississippi helped the Red Wolves find great success this year, but without him things could be difficult. 
Assistant coach David Gunn will lead the way for Arkansas State, and they should still be able to put up a good fight against Northern Illinois. The Red Wolves will most likely miss Freeze in the high pressure situations, which means the players need to step their game up. 
Spread 
According to vegasinsider.com, the Red Wolves are favored at -1, which means it's basically a pick game.
Expect a lot of offense in this game, as both teams excel at scoring. The Red Wolves have the stronger defense, so I'd pick them to cover. 
Over/Under 
According to vegasinsider.com, the over/under is set at 63, and I like it to go over. The Huskies averaged 38 points per game this year and the Red Wolves averaged 33. 
Despite not having their head coach, the Red Wolves should still play well. Each team has great offensive firepower, which means there will definitely be some quick scores and big plays in the GoDaddy.com Bowl. 
Who Might Not Play for Arkansas State? 
*According to USA Today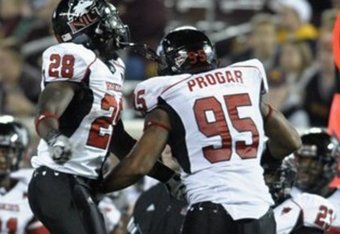 No injuries to report. 
Who Might Not Play for Northern Illinois? 
*According to USA Today
DL Ron Newcomb (leg): Questionable
DL Frank Boenzi (undisclosed): Questionable 
WR Anthony Johnson (suspension): Out
DE Sean Progar (suspension): Out 
What They're Saying
David Gunn, the Red Wolves interim coach, told reporters that the Huskies are a solid team. 
Northern Illinois is obviously a very good football team. You can't say enough about their offense and they are very solid defensively. The have more of a bend but don't break attitude, and they aren't going to beat themselves. They are a well-coached and experienced football team and its going to be a great challenge that we look forward to.
It's a tough task for Gunn, having to step in at the tail end of the season. However, he's had a lot of time to prepare, and his players should feel no different about this game just because he's coaching. 
Arkansas State's approach to this game needs to be about winning, and the players mindset must stay this way even though their head coach is no longer with them. 
Huskies head coach Dave Doeren told reporters how great and important it is to get to play in a bowl game. 
Anytime you can extend your season, you create an opportunity for additional practices for your football team, which is huge in the development of our young players. It is like having an additional spring ball. This is also a reward for our fans, boosters, players and families who have the opportunity to travel to a bowl site and enjoy all the events and activities surrounding the game.
This is the first season as head coach for Doeren, and he's done an excellent job of preparing the Huskies to win games this year. 
With the extra time, Northern Illinois has been scheming on how to take down the Red Wolves, which will help make this a great game. 
Arkansas State Player to Watch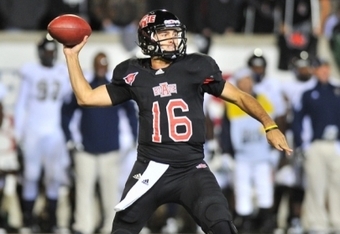 Red Wolves' quarterback Ryan Aplin has thrown for 3,235 yards this season, but he did have 18 touchdowns to 13 interceptions. 
He'll have to be smart with the ball and make sure he connects early and often with top receiver Dwayne Frampton, who reeled in 90 receptions for over 1,100 yards and six touchdowns. 
Northern Illinois Player to Watch 
Chandler Harnish does it all for the Huskies, leading the team in passing and rushing. He's rushed for over 100 yards five times this season, and in a few of those games he also threw close to, if not over, 300 yards. 
Harnish is what makes Northern Illinois' offense click, and he'll need to be on his A-game if the Huskies hope to win the GoDaddy.com Bowl. 
Key Matchup 
Arkansas State's defense has to find a way to shut down Harnish. The Hukies QB does it all, throwing for over 2,900 yards and rushing for 1,300. 
Harnish scored a total of 37 touchdowns on the year, and if the Red Wolves find a way to limit his production, they'll easily win this game. 
Prediction 
Despite losing their coach, the Red Wolves will still be highly competitive. Offense will be in full swing in the GoDaddy.com Bowl, so expect a high scoring affair. 
In the end, I like the Red Wolves to get the victory because they'll make better defensive plays in the clutch. The Huskies will depend on Harnish too much, and it will cost them a close one. 
Arkansas State 38, Northern Illinois 35