New York Giants Report Card: Grading Every 2011 Starter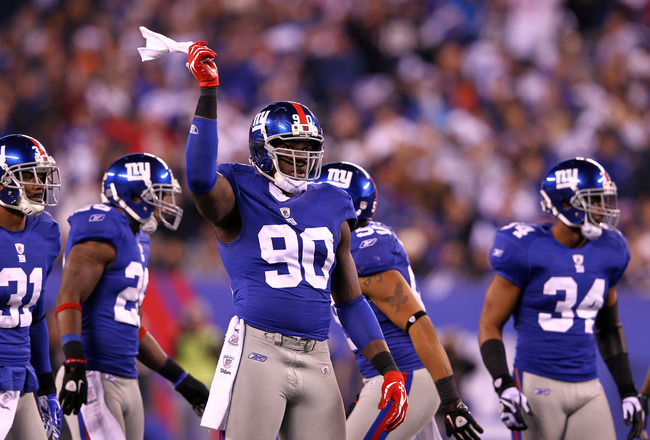 Al Bello/Getty Images
The New York Giants finished the 2011 season 9-7 and the champions of the NFC East division, and now we can take a look back at who brought them there and who held them back from a better record.
This slideshow will grade every starter's performances from 2011. A few of the players were not starters at the beginning of the season or did not finish as the team's starter, but these guys started the bulk of the games at their position.
Some of the grades may surprise you, and others you will not be surprised at all to see. If you feel differently about the grades, feel free to comment below.
Eli Manning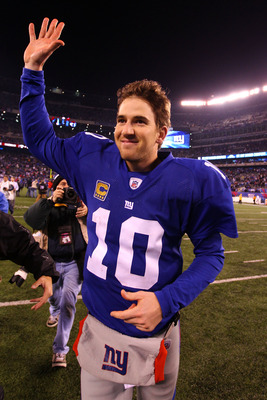 Al Bello/Getty Images
Stats: 4,933 yards, 29 touchdowns, 16 INTs, 92.6 QB rating, six comeback wins
Eli Manning had a career year this season, all the while carrying the New York Giants on his back. Without his comeback performances the Giants would not have even sniffed the playoffs.
Grade: A+
Ahmad Bradshaw
Al Bello/Getty Images
Stats: 171 att, 659 yards, nine touchdowns; 34 rec, 267 yards, two touchdowns
Ahmad Bradshaw had a down year by his standards, with the offensive line not blocking well in the first half of the season on top of missing four games.
In the games he did play, he made an impact most of the time. He scored 11 touchdowns in 12 games this year.
Grade: B
Henry Hynoski
Al Bello/Getty Images
Hynoski did not carry the ball or get a whole lot of receptions, but he did a fine job in his rookie season as the team's starting fullback.
He missed a couple games due to injury, but most importantly he improved as the season went along.
Grade: B-
Hakeem Nicks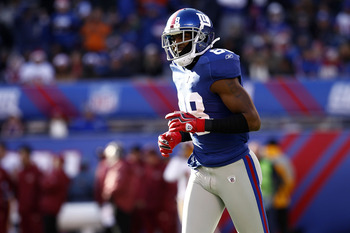 Jeff Zelevansky/Getty Images
Stats: 76 rec, 1,192 yards, seven touchdowns
Hakeem Nicks had a great season, obviously, but his impact for the offense was felt all over the field with more than just his catches.
He was able to open up the offense for others and did so on many occasions while playing hurt.
Grade: A
Victor Cruz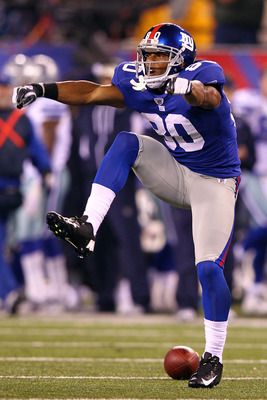 Al Bello/Getty Images
Stats: 82 rec, 1,536 yards, nine touchdowns
I realize Mario Manningham was the starter before the season, but it felt like Victor Cruz won that job and got more playing time down the stretch.
Cruz had a fantastic, Pro Bowl worthy season but was snubbed because he was not eligible for the fan voting part of the process.
He has emerged as a top 10 wide receiver in the NFL thanks to an exceptional combination of speed and elusiveness.
Grade: A+
Jake Ballard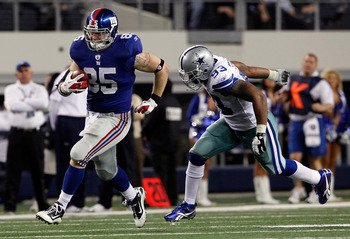 Tom Pennington/Getty Images
Stats: 38 rec, 604 yards, four touchdowns (in 14 games)
Jake Ballard missed the final two games of the season and exited a couple others with injury but was still able to out-perform any total yardage Kevin Boss ever had and came just four catches short of Boss' season high as a Giant.
Jerry Reese obviously knew what he was doing.
Grade: A
Kareem McKenzie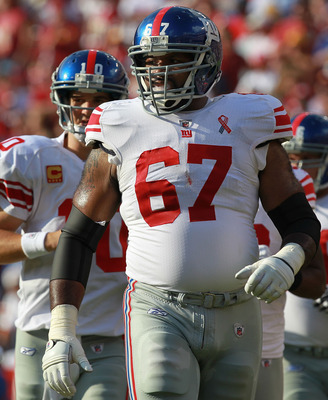 Ronald Martinez/Getty Images
Kareem McKenzie had a solid season this year despite the offensive line as a unit having a sub-par year. The veteran is still able to protect Eli Manning at a high level, but unfortunately the time is going to come soon when he has to be replaced.
Such is what happens when guys get old.
Grade: B-
Chris Snee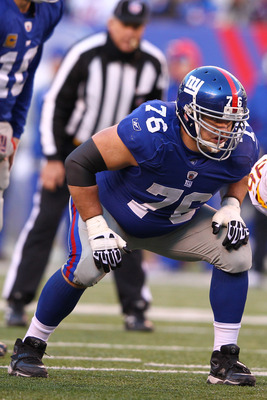 Al Bello/Getty Images
Chris Snee struggled early but has come on late and helped lead a resurgence for the Giants offensive line. Unfortunately the Pro Bowl voters noticed his struggles, and he did not make the Pro Bowl for the first time since 2007.
Grade: B-
David Baas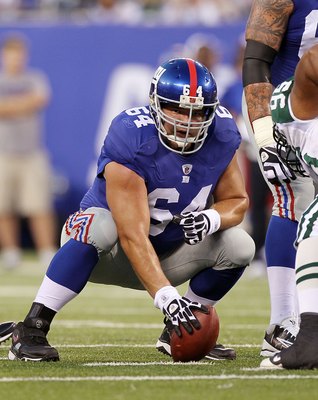 Jim McIsaac/Getty Images
David Baas struggled and battled injuries all season long. To me, he did not live up to the lucrative contract the Giants gave him this offseason.
Grade: C-
David Diehl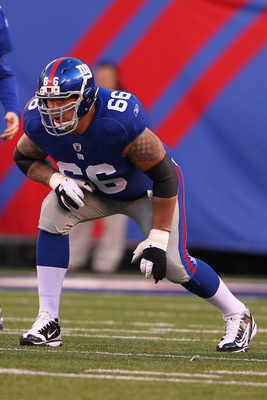 Al Bello/Getty Images
David Diehl played poorly in terms of run blocking while he started the first 10 games at left guard, but he seems to actually have improved after moving back to left tackle when Will Beatty was injured. Still, it took him a while to get going, and the run game suffered for the first three quarters of the season.
Grade: C
Will Beatty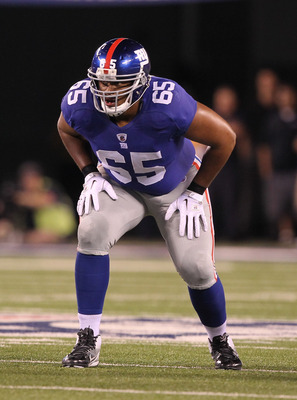 Al Bello/Getty Images
Will Beatty started the bulk of games at left tackle, and while he did an above-average job keeping Eli Manning clean, he was nowhere near the run blocker the Giants hoped he could be. Since he exited the lineup, the Giants have run the ball much better.
Grade: C-
Lawrence Tynes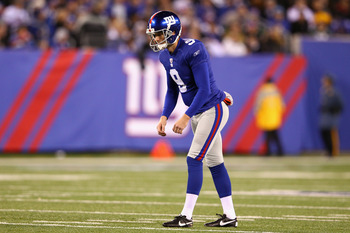 Al Bello/Getty Images
Lawrence Tynes finished 22nd in the NFL in field-goal accuracy, mostly because of a weak finish to the season. For the longest time the only two field goals he had missed were blocked, but he missed two field goals in the final three games and hurt his percentage.
Tynes finished 19-of-24 with two blocked and a long of 50.
Grade: C
Justin Tuck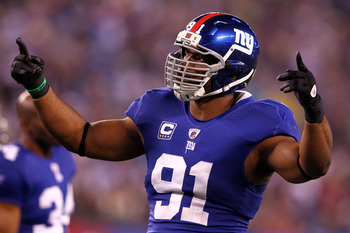 Al Bello/Getty Images
Justin Tuck only had 37 tackles and five sacks this season, but he missed four games and played through multiple injuries when he was playing.
His impact is felt on the field even when he is not getting sacks—you could clearly see the difference in the Giants run defense without Tuck on the field.
He came on strong in the final two games—hopefully that means he is finally healthy.
Grade: B
Linval Joseph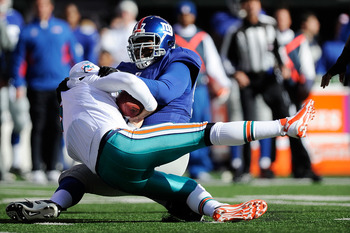 Patrick McDermott/Getty Images
Linval Joseph did about as good a job replacing Barry Cofield as anyone could have expected. You never heard much about the second year defensive tackle, but sometimes that is a good thing with interior lineman.
The East Carolina product had 49 tackles and two sacks.
Grade: B
Chris Canty
Al Bello/Getty Images
Chris Canty has been one of the more underrated players in the entire league since joining the Giants. After he battled injuries in his first season with the team in 2009, he has come on to make a huge impact in the previous two seasons.
This year he finished with 47 tackles, four sacks and six tackles for loss.
Grade: B+
Jason Pierre-Paul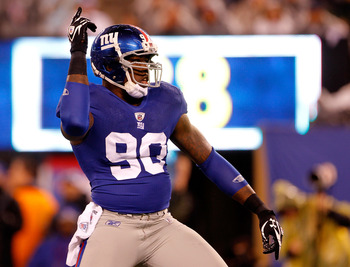 Rich Schultz/Getty Images
Although Osi Umenyiora was the starter before the season, Jason Pierre-Paul has been the man on the Giants defense and taken that starting position from Osi.
JPP finished with 86 tackles, 16.5 sacks, two forced fumbles, a safety and a blocked field goal.
Grade: A+
Michael Boley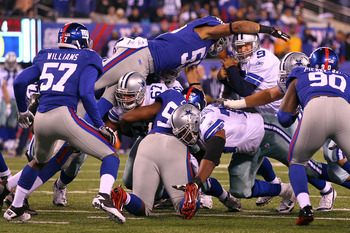 Al Bello/Getty Images
Michael Boley has thrived in his role as the defensive leader, primary play-caller and adjustment maker for Perry Fewell's defense.
One of the more underrated players on the Giants defense, he finished second on the team with 93 tackles, one sack, one forced fumble, three fumble recoveries and a touchdown.
Grade: B+
Mathias Kiwanuka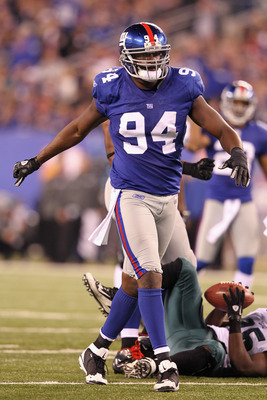 Al Bello/Getty Images
The versatility Mathias Kiwanuka brings to the table has been a huge help for the Giants defense this season.
Kiwanuka was a monster in run defense, totaling 84 tackles and 12 tackles for loss and also made his mark in the passing game with 3.5 sacks, two pass deflections and one interception.
Grade: A-
Jacquian Williams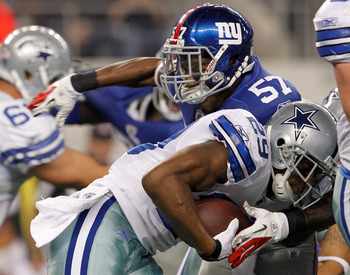 Tom Pennington/Getty Images
Jacquian Williams played much better than anyone could have expected in his rookie season but definitely looked like a rookie at times.
He finished with 78 tackles and one sack but was also Johnny on the spot with three fumble recoveries.
Grading him on normal standards would be unfair, in which case I would probably give him a B+ or A-, but that wouldn't be fair to the rest of the starters.
Grade: B-
Corey Webster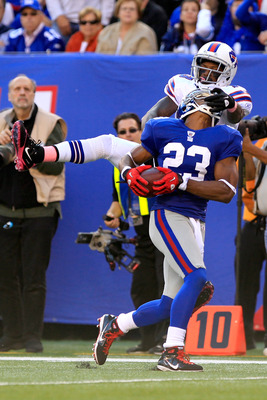 Chris Trotman/Getty Images
This is where we start getting to the ugly part of the defense. The secondary was pretty bad this season and only looked good when the defense was getting pressure up front.
Corey Webster had an OK season but seemed to regress. That could have been the product of playing some of the most prolific passing offenses, but I didn't like what I saw from him at times.
He did finish with 16 pass deflections and six interceptions, but I would have liked to see him play better in coverage.
Grade: C+
Aaron Ross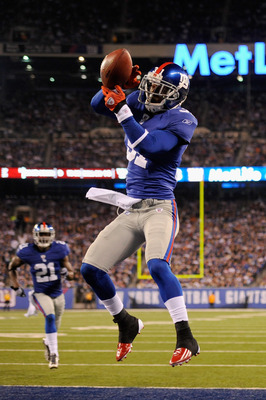 Patrick McDermott/Getty Images
Aaron Ross had a good game or two this season, but overall he was atrocious. He had just about as bad a season as you could have in my opinion, with a couple good games making his stats look good.
The one thing I will say is I am impressed with his tackling ability, but it does not make up for how bad he is in coverage.
Hopefully the Giants can continue to disguise his poor play with stout pressure up front.
Grade: F
Antrel Rolle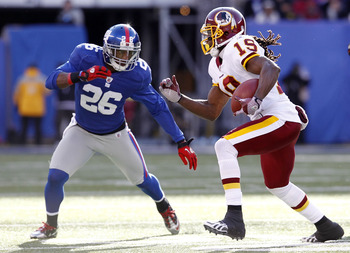 Jeff Zelevansky/Getty Images
Antrel Rolle took a step back this season as well, but mostly because the Giants changed what his role was for much of the year.
They played him a lot as the nickel corner and that does not suit his skill set very well. He has gone back to more of a safety role in recent weeks, and it has not only helped the defense but seemed to motivate him as well.
Rolle's leadership on and off the field cannot go unnoticed either. He has never shied away from calling out his own teammates or coaches, and his most recent rant after the loss to the Redskins obviously motivated the Giants.
Grade: B-
Kenny Phillips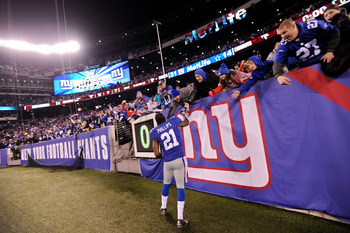 Michael Heiman/Getty Images
Kenny Phillips has been the lone bright spot in the Giants secondary, but not because of him playing outstanding, more because he has not been beaten as much as the other players.
He had four interceptions and 82 tackles on the year and has a knack for finding the ball carrier in run defense. He has come a long way since 2009, when it appeared his career could be over with a knee condition. Phillips is a great young talent who can keep getting better the more he recovers from that knee injury.
Grade: B
Steve Weatherford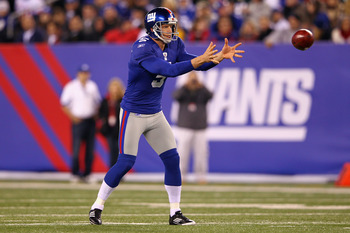 Al Bello/Getty Images
Steve Weatherford has been a breath of fresh air since coming to the Giants. After suffering through a season of Matt Dodge, it was nice to have a punter who could actually control where he punted the ball.
His directional punting and ability to pin teams deep was a huge difference this year. The special teams unit improved drastically, and I believe it started with the addition of Weatherford.
Grade: A
Keep Reading

New York Giants: Like this team?