Raheem Morris and 4 Other NFL Coaches Axed: There Could Be More to Come
January 3, 2012
Kevin C. Cox/Getty Images
The 2011 regular season has come to a close, but not before plenty of head coaches were shown the door.
Tony Sparano, Todd Haley and Jack Del Rio were all fired during the season, while Steve Spagnolo and Raheem Morris were allowed to finish the season before being asked to leave.
The Tony Sparano firing came as a surprise to me.
The Dolphins got off to an 0-7 start and looked like the worst team in football. However, after their first five losses, they started to play much better. In fact, if not for blowing fourth quarter leads to Denver and the New York Giants, the Dolphins would have finished 8-8.
Moreover, after those first five games the Dolphins went 6-5 and four of those losses were by three points or less. It seemed as if Miami had finally gotten some things figured out, but apparently it wasn't quite enough to keep Sparano around.
I believe whoever ends up with the Miami head coaching gig will make Miami a wild-card contender next season.
Todd Haley was another questionable firing in my opinion. Last season, he and the Chiefs shocked the football world by winning the division.
Then this year, season-ending injuries to some of their best players did them in. Losing Jamaal Charles, arguably a Top Five running back; Eric Berry, one of the best young defensive players in the game and potential future star tight end Tony Moeaki was just too much for Kansas City to overcome.
Nonetheless, they continued to compete and once quarterback Matt Cassel went down, so did their playoff hopes. I know every NFL team deals with injuries, but I didn't think Todd Haley deserved to lose his job.
I think the Chiefs' head coaching job is one of the most attractive ones available because I believe they have an excellent shot at winning the division next season when their players are healthy.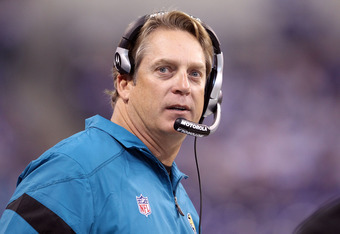 Andy Lyons/Getty Images
Jack Del Rio of the Jaguars was also fired midseason, and even though I'm not sure I agreed with it, I at least understood it. It's been quite some time since the Jags were relevant and perhaps it was just time to let someone else give it a shot.
Whoever takes over the Jags will have a superb running back to work with  but will have some major work to do with one of the worst passing offenses in all of football.
Steve Spagnolo was shown the door in St. Louis, and I'm still not sure whether or not I agree. He took the Rams to within one game of the playoffs last year with a rookie quarterback (albeit with a sub .500 record).
However, the Rams were expected to take the next step this year and took five steps backward instead. Injuries were a factor but when all was said and done, the Rams won just two games. The Rams undoubtedly need to improve their weapons on offense, specifically in the passing game.
Whoever winds up in St. Louis could have this team competing in the very near future, but one has to wonder how much mileage Steven Jackson has left on those legs.
Lastly, Raheem Morris in Tampa Bay was relieved of his duties. I can't say I disagree with this one. Even though he should have been Coach of the Year last season, his team almost couldn't have gone any further backward this season, ending the year with 10 straight losses.
I'm inclined to think last year was more of a fluke than this year however. Of their 10 wins last year, nine came against losing teams, while their only win against a winning team came against a Saints team in Week 17 that had nothing to play for.
The Bucs remain as one of the youngest teams in the league, but whoever takes the reins of this team could be in for a rough ride, as Tampa is clearly the worst team in perhaps the toughest division in all of football.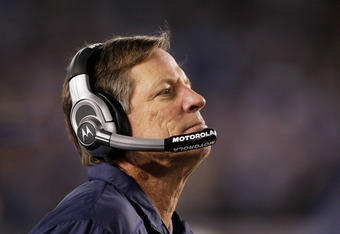 Jeff Gross/Getty Images
That concludes all the NFL coaches that have been fired thus far, however there are a handful more that may or may not be with their same teams next season. Mike Shanahan, Norv Turner and Jim Caldwell are three coaches that appear to be the likeliest to go, while Leslie Frazier, Andy Reid and Jason Garrett appear fairly safe.
It would be tough to argue against the firing of Shanahan or Turner, but I could also understand Caldwell. Sure, he lost Peyton Manning for an entire season, but they still had numerous other players with talent on that team. Even though they were bad, they probably should have been a lot better than just two wins.
There has been a lot of talk so far of who might replace all these head coaches, and so far the hottest names include Bill Cowher, formerly of the Steelers and Jeff Fisher, formerly of the Titans. Jon Gruden has also been mentioned but he has stated he plans on staying right where he is with the Monday Night Football crew.