How Jerry Angelo's Firing Affects the Contract Status of Matt Forte
January 3, 2012
Chicago Bears fans aren't used to sweeping changes but heads are rolling at Halas Hall where the biggest news of the day is Jerry Angelo has been relieved of his duties.  Following him out of the door is Bears offensive coordinator Mike Martz who reportedly http://www.chicagotribune.com/sports/football/bears/chi-mike-martz-out-as-bears-offensive-coordinator-20120103,0,4029196.story resigned due to philosophical differences.  What in the name of Jay Cutler is happening to the Bears?
Is Lovie Smith next?
The latter question will be answered once a new general manager is in place, but the most important question for now is how does the Angelo firing affect the contract status of Matt Forte?
Matt Forte is the first offensive player in the Jerry Angelo regime to be named to the NFL Pro Bowl.  That says a lot about Angelo's eye for talent.
Many recall the public contract negotiations between Forte and the Bears brass.  The original sentiment was for Forte to hold out, which is a risky proposition.  Players such as the Tennessee Titans' Chris Johnson held out and got paid; others, such as the Philadelphia Eagles' DeSean Jackson, held out and didn't get paid.  Forte decided to remain a good soldier and report to training camp with good intentions only to be injured in the Kansas City game in Week 10.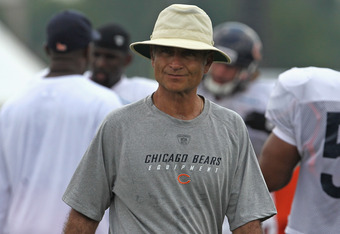 Jonathan Daniel/Getty Images
During this time, DeAngelo Williams ($21 million guaranteed) and Frank Gore ($13 million) both got paid.  Neither one of them are in the same class with Matt Forte.
That's not to say that Forte is elite, though the only thing that separates him from the Adrian Peterson's of the world is his touchdown numbers.  He is right on the cusp of elite status. 
That may change with Mike Martz stepping down.  I wonder, how does one step down when their contract was up?  It sounds as if the "resignation" was a way to save face.
The next GM must decide what Forte's true worth is.  Carolina overpaid for Williams, where Forte stands is between the $17-21 million range.  Perhaps the next GM will add some incentive clauses in this deal; maybe something along the lines of extra perks for touchdowns scored and receptions per season.  These incentives could sweeten the pot and entice Forte to sign.
The Bears must sign Forte to a new deal.  It is paramount as the offseason is beginning and prospective free agents will monitor the progress of a potential Forte deal to help them decide whether they should sign with the Bears or elsewhere.  Franchising Forte may permanently damage the perception of the Bears, which is something they can ill-afford.
Whomever the next GM may be, they must take care one of their own first.