Early Thoughts on This Young NBA Season
January 3, 2012
Mike Ehrmann/Getty Images
Well, I know it's early, but I'm going to give my first impressions of this young NBA season.
Borrowing the oft-used Dennis Green quote "They are who we thought they were!" the Miami Heat are exactly what we expected them to be—a better, more cohesive bunch that is really putting together a legitimate title contender. 
LeBron James and Dwyane Wade seem more focused than ever this season, and Chris Bosh is playing with a chip on his shoulder and has really come out of the gates well this year.
I'm not ready to panic about the defending NBA champion Dallas Mavericks just yet, but early on it seems as if losing Tyson Chandler to the New York Knicks and J.J. Barea to the Minnesota Timberwolves might take some getting used to. 
The Mavs still have Dirk, though, not to mention much of the same core that won the last title,  albeit slightly older versions.
Speaking of Chandler, he was a good addition for the Knicks, but this team is all over the place right now. 
It doesn't help that Amare Stoudemire has missed two games with a sprained ankle, but this team is definitely still a work in progress. 
As much as I love Mile D'Antoni's coaching style, it always seemed to fit better in Phoenix, where he had Steve Nash to run the show.
The Chicago Bulls look great so far. Is there anybody that can legitimately stop Derrick Rose right now? 
The defending MVP is leading this veteran bunch to a strong start, and their stifling defense is where it all begins.
The Oklahoma City Thunder are still getting better, with Kevin Durant's scoring over 30 in four of the first five games and James Harden's making his early bid for the sixth-man award. 
Westbrook isn't even in his groove yet, and this team looks scary. 
I may be a little biased here, but I still see the Thunder as championship material after they've suffered through their bumps in the road the past few seasons.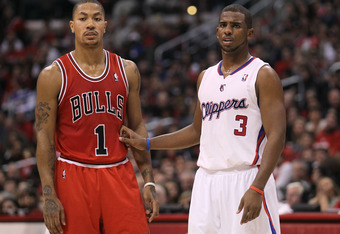 Stephen Dunn/Getty Images
The Denver Nuggets have been a fun team to watch this year, and I love teams with the type of depth that this one has. Ty Lawson is showing that he can handle the reigns of this squad, and everybody contributes to this team efficiently. 
Another team in the West that I'm impressed with is the Portland Trailblazers.
This team has great depth, as well, with Raymond Felton, Wes Matthews and Jamal Crawford's all lighting it up against the Nuggets the other night.
The verdict is still out on Mike Brown and the Los Angeles Lakers, who played their first four games without Andrew Bynum. 
And the Lob City Clippers, while fun to watch, are going to need time to gel, although I think that comes easier with a point guard like Chris Paul at the helm.  DeAndre Jordan says he wants to be the defensive player of the year, and its hard not to believe him when he has 3.5 blocks and 1.5 steals per game.
The San Antonio Spurs started off strong, but with Manu out with an injured hand, they are going to struggle to score, as evidenced by their recent loss to the young Timberwolves.
That's the second time I've mentioned them, so maybe I'll gloat about the Minnesota Timberwolves for a minute.
I loved this team when I was younger, and why? I'm not even really sure why. 
Anyway, I'm excited to see the Ricky Rubio transition going well, and I think that Rick Adelman is handling it the right way by easing him in to the NBA game. Derrick Williams has been exciting to watch so far, although his time has been limited. 
Beasley has played okay but has the potential to play better, and, of course, the slimmed-down Kevin Love is a monster on the court, averaging 25.5 points and 15.2 rebounds a game. 
I'm not predicting any championships or anything; I'm just saying that they could be on to something in a few years/
I'm a little disappointed with the Memphis Grizzlies because I was impressed with their showing last season as a scrappy bunch that clawed its way within one game of the Western Conference Finals. 
It's still plenty early, though, so I'll give them a pass for now.
I guess I've rambled on enough, I mean it is just the first week or so of the season right?  Feel free to comment on your feelings about the season so far cause I know I've left out plenty.