Denver Broncos: How Tim Tebow's Success Hurt the Franchise's Future
January 8, 2012
Doug Pensinger/Getty Images
Few stories over the past year have captivated the sports world quite like the emergence of Denver Bronco quarterback Tim Tebow. With his unorthodox playing style, last-minute heroics and a knack for on-field prayer, Tebow has become a sort of pop icon and one of the nation's most fascinating athletes. 
Unfortunately for Denver, being fascinating doesn't always lead to success on the football field. The Broncos' midseason decision to name Tebow their starting quarterback is one they will likely regret for quite some time.
While it was easy to understand Denver's rationale in turning to Tebow after an ugly 1-4 start to their season, the Broncos bought into the young quarterback's early success far too much. As the team began to win game after game in magical fashion, the entire Bronco franchise became caught up in the moment. 
Sure, Tebow looked brilliant as he led Denver to seven quick victories and catapulted the team to the top of the AFC West, but he has finally begun to show his true colors as of late. The guy is an unbelievable athlete, but an incredibly flawed quarterback.
Just look at the numbers. Over his past three starts, all Denver losses, Tebow has completed just 40 percent of his pass attempts while turning the ball over seven times and posting a league-worst 46.3 quarterback rating.
Why the sudden downfall? Simply put, he seems to be running out of tricks.
The Broncos found midseason success by implementing a brand new, run-heavy game plan that highlighted Tebow's ability to escape the pocket and make plays with his legs. While opposing defenses were caught off guard by the scheme at first, more and more teams have gotten a good look at it and have found ways to stop it. Now, without the surprise factor of a new-look offense on their side, the Broncos have been left to depend more on Tebow's ability to throw the football.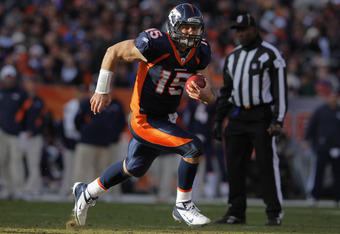 Doug Pensinger/Getty Images
That's just scary.
Even more concerning is that Denver may just be stuck with Tebow for the long run. Having cut former starting QB Kyle Orton in an effort to fully embrace Tebow as their main man, the Broncos essentially have no choice but to cross their fingers and keep him under center.
Should they elect to trade Tebow, they would likely get little in return. Should they decide to bench him, they would face endless questions regarding their decision to use a first-round draft pick on him in the first place. Should they simply cut Tebow, all hell may just break loose on the streets of Denver.
My advice for the Broncos? Maybe they should all try a little "Tebowing." They could use all the help they can get as they prepare for 2012.