Houston Texans Year in Review: Handing Out the Best Of and Worst Of Awards
January 3, 2012
Rob Carr/Getty Images
After 16 games over 17 glorious weeks, the NFL regular season has come to a close. I said it before and I'll continue to say that it is a travesty that the best sport in this country is so short.
But even with the regular campaign coming to a close, it isn't business as usual for us Texans fans. Instead of beginning our annual look at the NFL draft, we are, for the first time, going to experience the wait for the first playoff game in the young history of the franchise.
In fact, watch out for a full in-depth preview of the matchup against the Bengals coming later this week. But before we get there, we need to look back on the season that was the best in Texans history and hand out some hardware.
Best Offensive Starter
Matt Schaub—I know it isn't the popular pick, but look how the offense was rolling with him and how they are stagnant without him. If he's healthy, the Texans are a Super Bowl contender in the AFC this year.
Worst Offensive Starter
Eric Winston—It's hard to criticize an offensive line that just might be the best in football, but Winston is easily the fourth best guy on said line. He cost Matt Leinart his comeback bid and almost got T.J. Yates killed last Sunday.
Best Defensive Starter
Johnathan Joseph—Most high dollar free agent signings are busts, but Joseph was anything but. Just by stepping foot on the field, he changed arguably the worst secondary in the league into one of the best. He is the defensive MVP this season, and it isn't close.
Worst Defensive Starter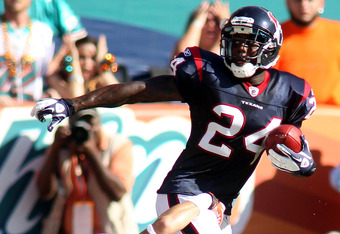 Marc Serota/Getty Images
Kareem Jackson—This one shouldn't even need to be explained, really. Yes, the guy has shown significant improvement over his disastrous rookie season, but the fact remains is that he was a first-round pick that has yet to show even once a flash of deserving to be.
Special Teams Player of The Year
Jacoby Jones—Say what you want about how big of a disappointment the guy is at catching the ball as a wide receiver, but he is a pro bowler when it comes to returning punts. He doesn't fumble the ball anymore and he's almost always good for positive yardage when he doesn't try to run backwards.
Best Rookie 
J.J. Watt—This one was close between Watt and Brooks Reed, but his dominant performance that he was robbed of against the Colts really pushed him into the lead here. What's scary to think is that the guy is only going to get better. An absolute smash hit of a pick by Wade Phillips.
Worst Rookie
Brandon Harris—I know it seems kind of harsh to get on a rookie when he hasn't even played much. But to constantly be inactive means you aren't even doing your job in special teams. I hope he is just a victim of the numbers game and not another blown high draft pick on a corner.
Best Free Agent Signing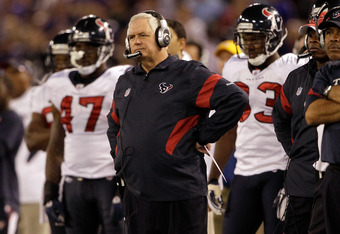 Rob Carr/Getty Images
Wade Phillips—I know this is kind of cheating here, but since I already gave the defensive player nod to Johnathan Joseph, I'm going to bend the rules a little bit. It's really simple, to take one of the worst defenses in league history and have them in the top three all season long is remarkable. The team needs to do everything possible to see that he retires in Houston.
Worst Free Agent Signing
Matt Leinart—I know that this one is completely unfair, but the Texans really didn't make any mistakes in free agent spending and someone has to take this position. With the emergence of Yates, Leinart is likely looking for another job next season just a year after signing a two-year, $5.5 million deal.
Best Moment of The Year
Comeback Win in Cincinnati—This is tough because there have been so many in 2011. Beating the Steelers, crushing the Titans in Tennessee and winning seven in a row were all considered. But to win a game they had no business winning in dramatic fashion in Cincinnati with a rookie quarterback was something special.
Worst Moment of The Year
Losing Schaub—Upsetting that this one took place off of the field, but when I heard about the Schaub injury it was met with a feeling of wishing you would wake up from a bad dream.
When he went down, the Texans had the No. 1 defense in the league paired with the sixth-best offense. That team was beginning to crush opponents every week and looked to be the AFC favorite. Absolutely devastating. Shades of the 2008 Houston Rockets, who lost Yao Ming in the midst of a 22-game winning streak.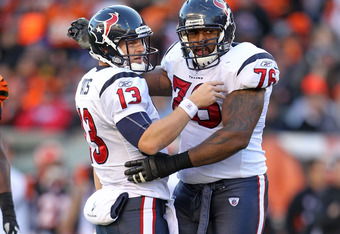 Andy Lyons/Getty Images
Best Victory of The Year
Week 4 vs. Pittsburgh—I know that the Cincinnati game is going to be the popular answer, but for a team that was always accused of never being able to get over the hump against good teams and "playing soft," they won that game playing Steelers style football. That showed me something.
Worst Defeat of The Year
Week 16 at Indianapolis—As much as I wanted to pick the Week 3 game against the Saints, because I wanted that game badly, to lose to the worst team in football is unacceptable. In their only nationally televised game of the year, they gave off the vibe of "same ol' Texans" for the first time all season.
And there we are. The only thing I might change is if I can change the Best Victory of The Year to "Hasn't Happened Yet" after next week.
Mike Kerns is a featured columnist for the Houston Texans at Bleacher Report. Feel free to follow him on Twitter and catch his latest Texans podcast at State of The Texans.