LeBron James Engagement Ring: A Closer Look at the One Ring in LeBron's Life
January 3, 2012

Ronald Martinez/Getty Images
By now, I'm sure you've heard that LeBron James proposed to his longtime girlfriend, Savannah Brinson, on New Year's Eve (which also happened to be his 27th birthday). Before we go any farther, let's get two things out of the way, starting with @TheFakeESPN: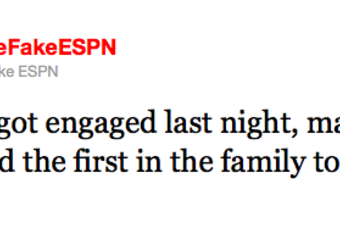 Of course, Zach Lowe of Sports Illustrated would like you to know something: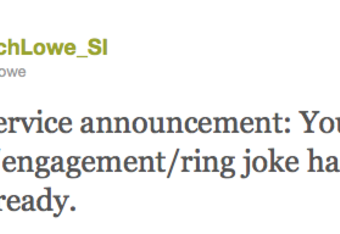 And he's right, so I'll try to abstain for the rest of the post.
LeBron had his two famous teammates along for the proposal, and main squeeze Dwyane Wade can even be credited for a ring assist. From SLAM Magazine:
Wade's job was hold the ring. He finally got his assist shortly after midnight. "Trying to catch her off guard, obviously," Wade said of the tactics used by James, who has been dating Brinson since they were at St. Vincent-St. Mary High School in Akron, Ohio, a decade ago and who has children, LeBron Jr., 7, and Bryce, 4, with her.

"They've been together for a while. I'm sure they had many discussions of marriage and the possibility. So I thought he did a good job of catching her when she least expected it even if she did expect it. He kind of caught her in a moment right after New Year's after we all did the countdown when everybody was (yelling), 'Happy New Year.' Then he got her. So it was good. To me, it felt like he was on his knee for an hour. It probably was like 35 seconds. It was great."
Awwwww. Here's the ring D-Wade was charged with protecting.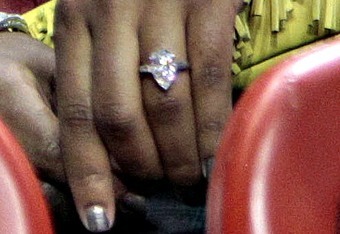 And here's what happened to LeBron when he got too close to the ring and suddenly realized he desperately wanted one of his own.
Crap—I promised I wouldn't make a ring joke. Sorry.
Chris Bosh was there too, and he just thought the whole thing was nice, real nice. From the Daily Mail:
"It was beautiful," Heat teammate Chris Bosh said. "I told him, 'Good luck.' It was nice. It was real nice."
But here is where it gets interesting.
"I had no idea it was coming," Bosh said. "I just heard some commotion, and yeah, there it was. It was nice. It was real cool."
So D-Wade was a part of the engagement plot and Bosh was in the dark, huh? Can you say "third wheel?"
Finally, for those of you interested in the details of the ring, well, you should get a life. But here are the details of the ring nonetheless, from US Weekly:
"LeBron rules, on and off the courts! He scored a slam-dunk with this magnificent platinum and diamond engagement ring, featuring a 7-carat pear-shaped center diamond with classic tapered baguette sides," jewelry expert Michael O'Connor told Us Weekly. "We haven't really seen this style of ring with a large pear-shaped center diamond since another great love affair: Richard Burton and Elizabeth Taylor!"
Aslam Bakshi, owner of Diamond Images U.S.A., Inc. told Hollywood Life the ring is valued somewhere between $250,000 and $300,000.
And I would talk about that price tag more, but I'm not going to lie—"pear-shaped center diamond with classic tapered baguette sides" made me hungry. Now if you'll excuse me, I think I'll have myself a open-faced club sandwich.
Hit me up on the Twitter—all the cool kids are doing it.