Winter Classic 2012: Why Sergei Bobrovsky Is the Key to the Flyers' Season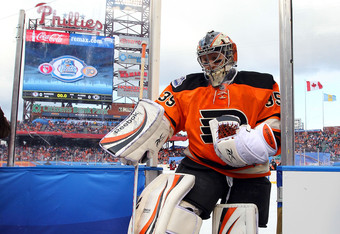 Bruce Bennett/Getty Images
For the 2012 NHL Winter Classic, goaltender Ilya Bryzgalov sat on the bench, earning roughly $122,000 for not doing his job.
Bryzgalov's nine-year contract is paying him $10 million for the opening season ($122k per game), a campaign in which the former Vezina nominee has failed to maintain consistency and confidence.
Last season's starter and this season's backup for the Philadelphia Flyers, Sergei Bobrovsky, started in favor of Bryzgalov for the big outdoor game.
Bobrovsky has been a much more reliable goaltender for this season; he has a better win-loss record at 8-4 to Bryzgalov's 14-11. His save percentage of .914 beats Bryzgalov's abysmal .890 and he has a better mark at 2.56 than Bryzgalov's 3.01 goals-against average.
During the Winter Classic, Bobrovsky was outdueled by Henrik Lundqvist of the New York Rangers. This was no surprise; Lundqvist is a perennial Vezina Trophy candidate and one of the league's best goaltenders.
Still, Bobrovsky cannot be faulted for the loss. He made 30 saves in the game, including stopping a flurry of shots by the Rangers in the final 10 minutes of the third period.
The second goal Bobrovsky gave up was indeed a soft goal, but on the first he was screened by Philadelphia defenseman Andrej Meszaros.
During the sequence leading up to the Rangers' third goal, terrible defense by Andreas Lilja and poor defensive positioning by forward Claude Giroux left Brad Richards wide open for the shot.
The play started when Rangers captain Ryan Callahan carried the puck behind the Flyers' net.
At this point, New York's Brandon Dubinsky was to Bobrovsky's right along with Meszaros. New York's Brad Richards was to Bobrovsky's left along with Giroux. Lilja covered the front of the net.
Meszaros attempted to pressure Callahan, leaving his position in front of the net. Lilja was left to cover Dubinsky.
At the same time, Callahan stopped. Giroux skated towards him, leaving Richards wide open to Bobrovsky's left. Giroux likely expected Callahan to reverse direction, in which case Giroux would have had an opportunity to take the puck away.
However, Callahan instead got off a pass to Dubinsky, who Lilja had allowed enough time to get two whacks at the puck. The second bounced off Bobrovsky's leg pad and deflected toward Richards.
With Bobrovsky covering the right post (as he should have), the left side of the net was open. With Giroux behind the net, it was easy for Richards to put the puck in the net.
This loss cannot be pinned on Bobrovsky. He played well on a heavy stage despite only being a backup goaltender.
What the Flyers can expect from Bobrovsky is a consistently good performance; not great, not spectacular, but the man they call "Bob" does not have a history of following a stretch of great games with a stretch of terrible games like Bryzgalov has done this season.
If Bryzgalov continues to be inconsistent and unreliable, the Flyers will need Bobrovsky to hold down the position and provide stability.
This article is
What is the duplicate article?
Why is this article offensive?
Where is this article plagiarized from?
Why is this article poorly edited?

Philadelphia Flyers: Like this team?