MMA's Biggest Upsets of 2011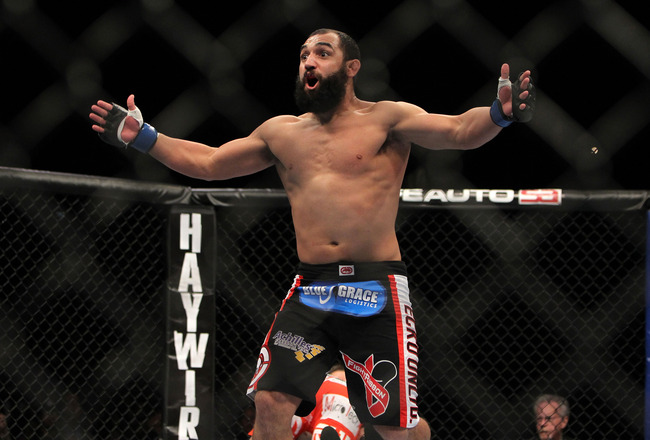 Josh Hedges/Zuffa LLC

With two UFC events already come and gone in 2012, the new year is in full swing. Though 2011 is fading in the rearview mirror, it's still not too late to take a look back at some of the memorable moments that made the past year one of the greatest in MMA history.
One of the most enthralling things about MMA is its unpredictability. It is far from uncommon for heavy favorites to fall at the hands of major underdogs as a result of a single punch.
In 2011, many unexpected victors sent some of the world's top fighters into a career tailspin. The following upsets represent the most unforeseen fight outcomes of the year that was.
20. Brian Stann vs. Chris Leben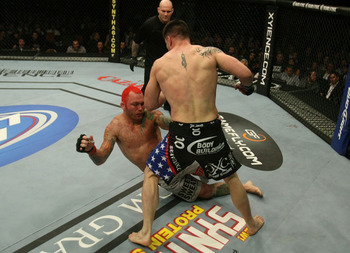 Josh Hedges/Zuffa LLC
Heading into 2011, Chris Leben was in the midst of one of the best winning streaks of his career. Three straight victories, including a dramatic submission win against Yoshihiro Akiyama, had many wondering if Leben could make a run at the middleweight title.
Meanwhile, Brian Stann had just recently made the move to 185 pounds after being outclassed by Phil Davis. Heading into his clash with Leben at UFC 125, Stann was coming off of a submission victory over Mike Massenzio in his middleweight debut, so the former U.S. Marine had some promise at his new weight, but he was still a significant underdog against the more proven fighter in Leben.
Though Leben was widely recognized for his granite chin, Stann rocked "The Crippler" in the opening round of the fight. Unable to recover, Leben was defeated via knockout for only the second time in his career, with his only other knockout loss coming against UFC middleweight champion Anderson Silva.
A decision victory would have been impressive for Stann, but the fact that he was able to put away a fighter like Leben in the opening round made the win a coming-out party for the new face in the middleweight division.
The knockout immediately propelled Stann into contender status. While his title hopes were put on hold with a loss to Chael Sonnen later in 2011, most still consider Stann a Top 10 middleweight based on his upset performance against Leben.
19. Bart Palaszewski vs. Tyson Griffin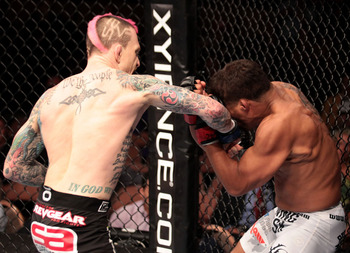 Josh Hedges/Zuffa LLC
After suffering three straight losses in 2010, Tyson Griffin kept his UFC career alive by making a move to the featherweight division and defeating Manny Gamburyan. The win over Gamburyan, a former challenger to Jose Aldo in the WEC, immediately put Griffin near contention for a shot at the 145-pound champ.
In his following fight, Griffin welcomed Bert Palaszewski to the UFC and featherweight division. Though he hadn't fought in nearly one year and had never experienced the bright lights of competing inside the Octagon, Palaszewski overwhelmed Griffin and scored a knockout less than three minutes into the bout.
The win bounced Griffin down the featherweight ladder and put Palaszewski in position to earn a title shot. With a win over the highly-touted Hatsu Hioki in his next fight, Palaszewski could very well earn the right to challenge Aldo for the belt.
18. Diego Nunes vs. Mike Brown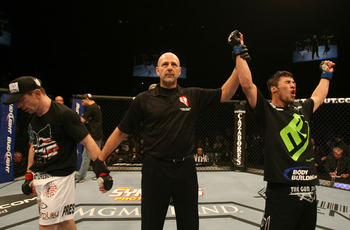 Josh Hedges/Zuffa LLC
Heading into UFC 125, Diego Nunes was the owner of an impressive 15-1 record. The Brazilian had plenty of potential, but he was a significant underdog in a matchup against former WEC featherweight champion Mike Brown.
Brown was on the rebound from a disappointing knockout loss to Manny Gamburyan and hoped a win over Nunes would put him back on track to earning another title shot.
In the opening round, Brown looked to be on his way to victory, using his wrestling to control Nunes. However, Nunes stormed back in the later rounds, keeping Brown at distance and landing flashy kicks.
The bout came down to a narrow decision, but Nunes walked away with the victory and one of the biggest upsets of 2011.
Nunes parlayed the win into a fight with Kenny Florian to determine the top contender in the featherweight division. Unfortunately for Nunes, Florian earned a unanimous decision victory and stole the Brazilian's title shot hopes.
17. Rani Yahya vs. Mike Brown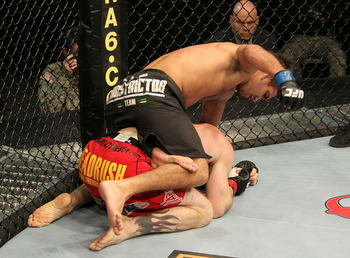 Josh Hedges/Zuffa LLC
Heading into his UFC debut, Rani Yahya had lost two straight fights and was facing a Mike Brown hungry to get a win after his disappointing loss to Diego Nunes.
The cards were stacked against Yahya, who was a heavy underdog and could have been cut from the UFC had he been defeated by Brown. The jiu-jitsu ace made the few who did bet on him very happy, though, as he out-grappled Brown and picked up an even more decisive win over the former WEC champ than Nunes did a few weeks prior.
The victory over Brown earned Yahya a bout against up-and-coming contender Chad Mendes. A win over Mendes would have helped Yahya take a big step toward a title shot, but the Brazilian had no answer for his opponent's wrestling.
Brown turned things around after the loss to Yahya by defeating Nam Phan in a fight where his spot on the UFC roster very well may have been on the line.
16. Alexis Vila vs. Joe Warren
After winning the Bellator featherweight title in 2010, Joe Warren set his sights on capturing the organization's 135-pound crown. To accomplish that goal, Warren would have to battle his way through Bellator's tournament format.
Taking on the relatively unknown Aliexis Vila in bantamweight tournament's opening round, Warren was fully expected to move onto the semifinals with ease.
In a stunning upset, Vila landed a counter left hook that left the featherweight champ unconscious only one minute into the bout.
Vila proceeded to the tournament final, where he suffered a decision loss to Eduardo Dantas. Though he came up short of earning a title shot, Vila exited the tournament with much more attention than he was receiving heading into his Bellator debut against Warren.
As a result of his loss, Warren will now have to return to the featherweight division to defend his belt against Patricio Freire and Pat Curran in 2012.
15. Dustin Poirier vs. Josh Grispi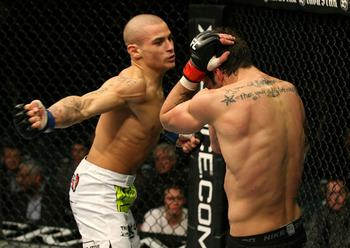 Josh Hedges/Zuffa LLC
Heading into 2011, Josh Grispi was considered featherweight champion Jose Aldo's biggest threat. A bout between Grispi and Aldo was even booked for UFC 125 on New Year's Day.
An injury forced Aldo out of the title fight, though, which left Grispi to face Dustin Poirier, an unproven fighter one fight removed from a loss to Danny Castillo.
Though expected to win handily and move back into position to fight Aldo, Grispi was thoroughly dominated by Poirier for three rounds.
Since then, Poirier has replaced Grispi as one of the brightest young stars in the featherweight division, winning two more fights against Jason Young and Pablo Garza.
14. George Roop vs. Josh Grispi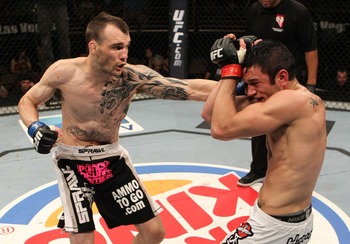 Josh Hedges/Zuffa LLC
Josh Grispi's free fall continued five months later, when he met an inconsistent George Roop at the TUF 13 Finale.
In a fight that was supposed to put him back on track for title contention, Grispi couldn't find an answer to Roop's reach advantage. After taking a beating for two-and-a-half rounds, Grispi was stopped with a body punch.
Roop moved on to welcome Japanese star Hatsu Hioki to the UFC. In a controversial decision, Roop was narrowly defeated by Hioki, but the lengthy featherweight proved he could be a force in the division for a long time by hanging close with one of the top 145-pound fighters in the world.
13. Dennis Siver vs. George Sotiropoulos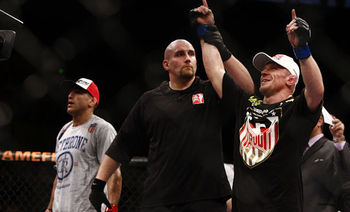 Heavy MMA
A winner of eight consecutive fights leading up to his bout against Dennis Siver, George Sotiropoulos was on the verge of clinching a lightweight title shot.
Competing in his home country of Australia at UFC 127 was icing on the cake for a fight Sotiropoulos was supposed to win by taking a supposed one-dimensional kickboxer to the ground.
Once the fight started, things didn't go nearly as planned for the Australian, though. Siver easily stuffed telegraphed takedown attempts and picked Sotiropoulos apart in the striking department.
12. Rafael Dos Anjos vs. George Sotiropoulos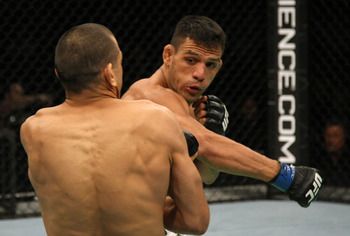 Josh Hedges/Zuffa LLC
Just when it appeared things couldn't get any worse for George Sotiropoulos, he proceeded to suffer a second straight defeat just four months after his deflating loss to Dennis Siver.
Eager to show he could hold his own in the stand-up, Sotiropoulos was hit with a looping right hook from Rafael dos Anjos. The punch left the Australian unconscious and completely out of the race for a shot at the 155-pound title.
Sotiropoulos has not returned to the Octagon since the defeat.
11. Brian Ebersole vs. Chris Lytle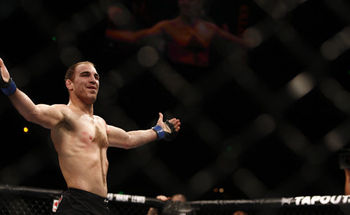 Heavy MMA
It took 62 fights and 30 years, but Brian Ebersole finally received a call to compete inside the Octagon in February 2011. A Carlos Condit injury allowed Ebersole to fill in as a late replacement for a fight against Chris Lytle.
Though Ebersole had a wealth of experience, the equally veteran Lytle was expected to walk through the Australian resident with relative ease.
In the fight, though, Ebersole's unique style confused an opponent who had not had a chance to prepare for his style. The bout was closely contested, but Ebersole did enough to walk away with a huge upset win.
Since beating Lytle, Ebersole has picked up two more victories, stretching his unbeaten streak to 10 fights. With another win or two, Ebersole could find himself in the mix for a welterweight title fight.
10. Jake Ellenberger vs. Jake Shields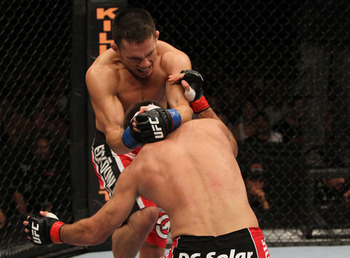 Josh Hedges/Zuffa LLC
Coming off of a loss to UFC welterweight champion Georges St-Pierre, Jake Shields was scheduled to meet rising contender Jake Ellenberger in September 2011.
Shortly before the fight, Shields' father passed away, making the former Strikeforce champion's ability to focus on his upcoming fight near impossible. Whether the loss of his father had anything to do with the fight's outcome or not, Shields was quickly beaten down by Ellenberger.
With the victory, Ellenberger became one of the top contenders in the welterweight division. With another convincing win over Diego Sanchez in his upcoming fight, Ellenberger should be considered for a title shot.
9. Rick Story vs. Thiago Alves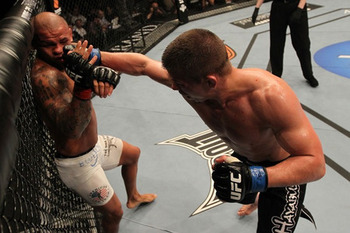 Josh Hedges/Zuffa LLC
Save for fights against Georges St-Pierre and Jon Fitch, Thiago Alves was undefeated since Novemeber 2005 heading into his UFC 130 bout with Rick Story.
A winner of five straight fights, Story was looking to make a huge move into a role as a welterweight contender with an upset victory over Alves.
By putting the pressure on and not allowing Alves to put together his dynamic striking game, Story was able to score the biggest victory of his young career via decision.
Unfortunately, Story would suffer a massive upset loss of his own in his next Octagon appearance.
8. Michael Chandler vs. Eddie Alvarez
Undefeated in his first eight professional fights, Michael Chandler battled through a Bellator lightweight tournament to earn a title fight against Bellator lightweight champ Eddie Alvarez.
In a fight worthy of consideration for Fight of the Year honors, Chandler ended a back-and-forth war by submitting the world-ranked Alvarez midway through the fourth round of action.
With the win, Chandler stole Alvarez's belt and his spot on many Top 10 lists for the best 155-pound fighters in MMA.
7. Antonio Silva vs. Fedor Emelianenko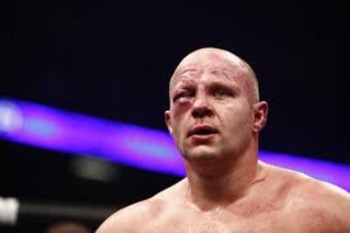 Esther Lin/Strikeforce
After losing legitimately for the first time in his MMA career against Fabricio Werdum, Fedor Emelianenko was booked for a fight with Antonio Silva in the opening round of the Strikeforce Heavyweight Grand Prix.
Because many considered his loss to Werdum a fluke, since he had rocked the Brazilian moments before getting caught in a submission, Emelianenko was widely expected to bounce back against Silva and make a run at winning the highly-anticipated tournament.
In another shocking defeat that sent his career into a tailspin, Emelianenko was unable to overcome the size disadvantage that Silva presented. After surviving SIlva's ground-and-pound for a large portion of the second round, Emelianenko's eye was swollen shut to the point that the ringside doctor was forced to stop the fight.
Emelianenko proceeded to lose his next fight against Dan Henderson, resulting in the heavyweight legend's release from the organization.
6. Luke Rockhold vs. Ronaldo Souza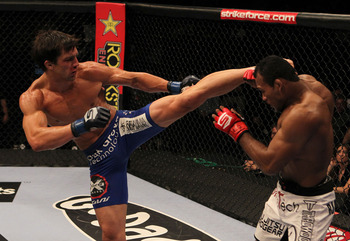 Esther Lin/Strikeforce
After beating Paul Bradley in February 2010, Luke Rockhold spent more than 18 months on the shelf due to injury. Despite the long layoff, Rockhold was given a title shot against Strikeforce middleweight champ Ronaldo Souza upon his return.
Many believed Rockhold was undeserving of the title fight, but the American Kickboxing Academy product quickly proved those doubters wrong by giving Souza everything he could handle.
Although the scorecards could have read in either fighter's favor, Rockhold walked away from the fight with the belt around his waist and one of the biggest upset wins of 2011.
5. Charlie Brenneman vs. Rick Story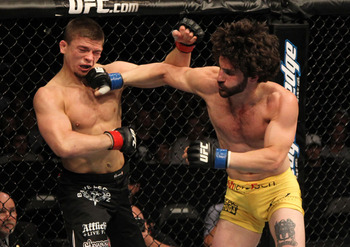 Josh Hedges/Zuffa LLC
Originally expected to face Nate Marquardt at UFC on Versus 4, Rick Story faced a late change in opponents when Marquardt was released from the UFC due to his removal from the fight for testing at elevated levels of testosterone.
In a story straight out of a movie script, Charlie Brenneman stepped in on one day's notice to fight one of the top welterweight contenders in front of his hometown fans in Pittsburgh. In the short time that he had to prepare, Brenneman put together the perfect game plan to defeat Story by using his wrestling.
The unique sequence of events made Brenneman's victory over Story one of the great stories of 2011 in MMA. Though Brenneman would lose his next fight to Anthony Johnson, "The Spaniard" gained a massive fan following for his performance.
4. Joe Lauzon vs. Melvin Guillard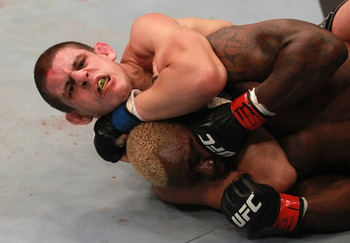 Josh Hedges/Zuffa LLC
With five straight victories under his belt, Melvin Guillard booked a fight with Joe Lauzon at UFC 136. The fight was simply supposed to be a fight that would keep Guillard active until a bigger opportunity opened up for "The Young Assassin" to compete for a title shot.
Unfortunately for Guillard, Lauzon is not the type of fighter to be taken lightly. Known for a massive upset of Jens Pulver earlier in his career, Lauzon recorded another unexpected win over Guillard by landing a left hand that left the Greg Jackson-trained fighter rocked.
Making the most of an opening, Lauzon took Guillard's back and locked up a rear naked choke. Guillard was forced to tap, prompting many to wonder whether or not the elite lightweight had been looking past Lauzon.
3. Chan Sung Jung vs. Mark Hominick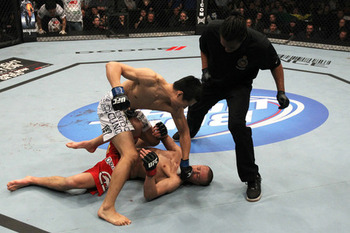 Josh Hedges/Zuffa LLC
Prior to his bout against Chan Sung Jung at UFC 140, Mark Hominick had become recognized as one of the world's top featherweights for an admirable performance against UFC featherweight champion Jose Aldo.
For that reason, Hominick was a heavy favorite of "The Korean Zombie" in a fight that was supposed to put the Canadian back on track for another championship bout and potential rematch with Aldo.
In a downright unbelievable outcome, Jung seated Hominick seven seconds into the fight with a counter, giving the Korean one of the fastest knockout wins in UFC history.
2. Johny Hendricks vs. Jon Fitch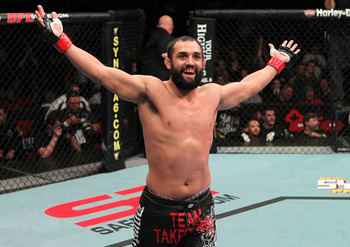 Josh Hedges/Zuffa LLC
Only two fights removed from a loss to Rick Story, many pundits weren't giving Johny Hendricks much of a chance to defeat long-time welterweight contender Jon Fitch by many pundits.
However, a two-time NCAA champion wrestler, Hendricks posed a tough stylistic matchup for Fitch, a fighter often able to overwhelm opponents with his own wrestling.
Perhaps over-prepared to defend the takedown, Fitch left himself open for a big left hand in the first 12 seconds of the fight. The punch handed Fitch his first knockout loss since December 2002. Outside of a loss to Georges St-Pierre, the fight also marked Fitch's only other defeat since that last knockout loss to Wilson Gouveia.
With the win, Hendricks now moves into a position to seriously contend for the welterweight title.
1. Tito Ortiz vs. Ryan Bader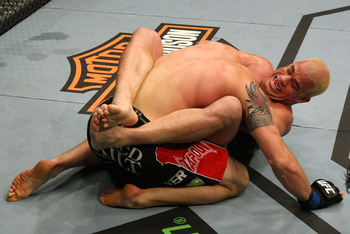 Josh Hedges/Zuffa LLC
Personally, this writer didn't consider Tito Ortiz's win over Ryan Bader at UFC 132 to be that much of an upset. Yes, Bader was considered one of the brightest young fighters in the division, but Ortiz's five-fight winless streak was made up of very competitive fights with elite competition.
That being said, Ortiz was simply counted out by too many people for me to consider his win over Bader to be anything but the greatest upset of 2011.
With his UFC career riding on a victory, Ortiz rocked Bader early in the fight and secured a guillotine choke for an incredibly dramatic win.
Unfortunately, Ortiz proceeded to lose his next two fights against Rashad Evans and Antonio Rogerio Nogueira, but the fight with Bader at least reminded MMA fans why Ortiz was once considered one of the best fighters in the world.
Sean Smith is a Featured Columnist for Bleacher Report MMA. For the latest insight and updates on everything MMA, you can follow Sean on Twitter @SeanSmithMMA.
Keep Reading