Can Oklahoma City Thunder's James Harden Be the Next Manu Ginobili?
January 3, 2012
Christian Petersen/Getty Images
The Oklahoma City Thunder's James Harden's off the court existence is worthy of many words. Hipster hero. Best beard since Baron circa 2007.
Wee-Bey in the Simmons' Durant-Westbrook, Stringer Bell, Avon Barksdale narrative?
He was the L.A. kid UCLA really should have offered and signed. (As if Westbrook, Collison, Love, Josh Shipp, and Luc Richard Mboute weren't enough.) 
But Harden on the court, may be even more interesting. Two names always come to mind watching him. Paul Pierce and Manu Ginobili. Lefty wing guys that can handle, create, pass, rain threes, finish around the basket and have a mix of craftiness and non-conventional athleticism. 
Pierce comes to mind when you see Harden's hesitation moves and use of his wide frame. 
Manu is the more common reference and the fact they both primarily play as shooting guards and were somehow under the radar entering the league may be the cause. 
I'm not sure whether his "I got fouled" face contains more Pierce-like disgust or Ginobili-like feigned incredulousness. 
The Manu comparison gets really interesting with how they are used. Oklahoma City and San Antonio have some connections. OKC GM Sam Presti used to work under R.C. Buford in the San Antonio front office. 
The year the Spurs last won the championship in 2006-07, they had three players with Win Shares over 9.6, including Ginobili at 10.6 who played under 28 minutes a game and did not start.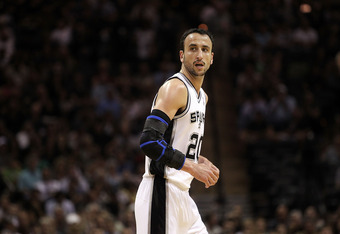 Ronald Martinez/Getty Images
Look at the Spurs' advanced team stats and you see three players at over 27 percent Usage, while also assisting on at least 18 percent of possessions and scoring with a TS percentage over 57. Astounding stats indicating how capable offensively each of San Antonio's three stars were. 
But three stars, especially with health concerns, cannot play 48 minutes a game. So you typically start the three, finish the game with them and sub out in rotation in the middle. 
If you have three stars you can play 30 minutes a game, you will average 90/48 or 1.875 stars on the floor at a time. 
But having three on the floor at the same time is inefficient because they are high volume, efficient scorers and do not need the presence of two others to maintain that. Having zero on the floor is inefficient because no one on the floor will create scoring.
Therefore, it is best to have one or two stars on the floor at all times except at the end of games when optimal performance is needed. 
The Thunder are beginning to look an awfully lot like the Spurs. Two superstars and one that might be getting close. Though he had only 20 percent Usage last year, Harden had a very high .598 TS percentage. Through five games this season, he has an outstanding .634 TS percentage, while maintaining a 20 percent Usage Rate.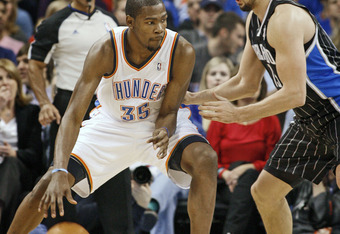 Brett Deering/Getty Images
Even more impressively, he has been assisted on only 42 percent of his baskets. Dwyane Wade was on 37 percent of his baskets last year, Joe Johnson on 47 percent.
With Westbrook and Durant on the floor, Harden may be relegated to spot-up shooter and Sefolosha's defense may be of greater need so Harden's minutes should be saved for when they count most. 
And this year 49 percent of Harden's time on the court has come with neither Durant nor Westbrook off the floor. That number should fall as the season progresses but will remain a very significant figure to watch. Ginobili never played close to 49 percent of his minutes as the lone star on the Spurs teams.
It seems very likely that Harden's stats will start moving towards Ginobili levels this year. But will the Thunder continue to keep him coming off the bench and playing as the lone "star" for heavy minutes? 
Harden, as of now, like Ginobili, doesn't seem to have any ego trouble with it. Harden, like Ginobili, may benefit from this. He may not have Westbrook and Durant always helping him out when he's on the floor but he gets to play against backups much more than those two. 
In the next few years, we should see a Thunder big three battle with the Heat, Bulls and Clippers. The Thunder three seem a better match for each other than the Heat's stars, but may not be perfect.
Rumors of trading Westbrook for the likes of Steph Curry will continue and may even accelerate as Harden becomes more of a trusted playmaker.