Rex Ryan: Shut Up and Learn Something from Joe Girardi, Tom Coughlin
January 3, 2012
J. Meric/Getty Images
The inevitable finally happened this past weekend, as the New York Jets collapsed on their faces when the fans were promised a Super Bowl, again.
Anyone—other than delusional Jets fans—saw this one coming because Jets coach Rex Ryan has made this promise for three years now and has not delivered.
What started out as inspiring for a franchise that makes the Mets look legit, Ryan went overboard and wouldn't stop.
See, Ryan spent time trying to make everyone else believe they could win except the Jets players. All you have to do is look at the results.
Ryan had no set rules that applied to everyone. He wanted to be seen as one of "the boys" that works like a charm at the get-go because it's fun. It never lasts because it leaves a shade of grey that becomes confusing to the players, the fans and anyone else who feeds into his mantra when it's all BS.
In high school, I played three varsity sports and the most successful years were when the coach was in charge. All it took was one moment of a coach attempting to be cool and the team would lose focus.
Convincing everyone that the Jets are Super Bowl bound would entail Ryan leading them to one. The plain and simple fact is the Jets had no legs to stand on in the first place, and it is as simple as "actions speak louder than words."
The fact that Ryan did not realize the internal issues brewing between his players is because when they needed a coach to lead them, not curse and make promises that were being broken.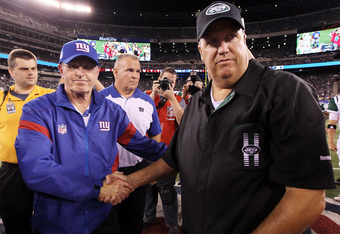 Jim McIsaac/Getty Images
And don't even get me started of the interaction Ryan had with Giants running back Brandon Jacobs, because that about sums it up. A coach does not tell a player to essentially "F-off" after losing a game—ever—and what example does that set for the rest of the Jets? 
Whatever you hear about Giants coach Tom Coughlin or Yankees manager Joe Girardi running tight ships by making their players behave accordingly might not be as fun day in and day out, but it makes them play and it makes them win. It is not ironclad, but it certainly works for the long haul and keeps players aiming to earn their respect.
Girardi and Coughlin are not there to be fun. Both are optimistic but realistic, and certainly not delusional. 
And that, Rex Ryan, is how you get everyone else to believe, by making your players believe it first.