What to Do with the NHL's Winter Classic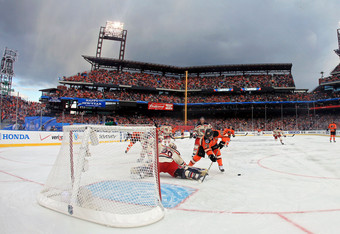 Rob Carr/Getty Images
The NHL's Winter Classic has wrapped up again with a 3-2 New York Rangers victory over the hometown Philadelphia Flyers before 45,000 fans and good television ratings.
The outdoor NHL hockey event, introduced in 2008 to please NBC and Versus television is the offspring of the similar Heritage Classic game that was played in 2003 in Edmonton between the Oilers and the Montreal Canadiens.
The idea is rooted in (mostly Canadian) childhood nostalgia of kids growing up learning to skate and play hockey on a frozen outdoor pond or backyard skating rink.
To that end, the players play in uniforms from an earlier era, there is an alumni game, and the event is supposed to be a celebration of the spirit of hockey.
The fact that the fans are in reality miles away from the action as opposed to an indoor arena and can't follow things too closely except on a big screen, that weather conditions can be quite uncomfortable, and that the game itself can be tilted unfairly or even completely ruined by external weather conditions hasn't hurt attendance or television ratings.
It more resembles outdoor events from the 1960s, like the Beatles at Shea Stadium which was packed to "see" a group that looked like ants and "heard" over the stadium's public address system.
The Winter Classic is contracted to run to 2021 and is now an eagerly sought after event in which every team in the league has offered to either host it or be a participant in the game.
It is rumoured to be held in Detroit next year followed by Washington and then Yankee Stadium in New York. Neutral site games have also been proposed.
Rob Carr/Getty Images
Even Florida wants to host the game though how it can be staged in hot climates seems quite daunting.
As noted above, the Winter Classic was the product of American television with American fans in mind and though the game is broadcast right across Canada by the CBC, ratings fell every year there because it was started to be seen as an American event because no Canadian teams were involved.
So in 2011, the Heritage Classic was revived in Calgary with the Flames hosting the Montreal Canadiens which was a sell out and drew good television ratings on both sides of the border.
So what to do to keep everybody happy? Have both a Winter Classic and Heritage Classic every year?
Or why not try this solution.
The NHL has now swung around to increasing its Canadian franchises, with Winnipeg returning to the league, Quebec rumoured to be the front-runner for acquiring the Phoenix Coyotes, and a second southern Ontario team is always a possibility. Why not make the game an unofficial championship for a new NHL trophy, the North American Cup between an American team and a Canadian team, especially if Quebec and Hamilton join the league.
Since the Americans have improved at the game since the 1972 Canada vs. USSR series, hockey rivalry between the countries has grown considerably, culminating in the 2010 Olympic final in Vancouver.
In February, there is "Hockey Day In Canada" staged for Canadian television in which all the Canadian NHL teams play each other (now that there are seven teams, Pittsburgh is being designated as an honorary Canadian franchise this year), but why not have one NHL outdoor game to celebrate hockey in both countries?
Rob Carr/Getty Images
Pick a matchup between two of the better NHL teams on both sides of the border.
The game could be staged like the international team golf events, played one year in Canada and the next in the United States.
The fact that the game would be played with some Americans on the Canadian team and some Canadians on the American team with a mixture of Europeans thrown in shouldn't make any difference.
Though American television likes to proclaim it only wants to televise games between American teams (except when forced to do so in the playoffs), surely they can suspend their policy for one game a year.
Canadians after all have no problems watching all-American matches occasionally and even all-European ones in international tournaments.
As for external events, the alumni game and the traditional uniforms can be kept. It is probably too close to the World Junior Championships for a Canada vs. USA junior game, but why not hold a Canada vs. USA game between the bitter rival women's teams?
It's an interesting concept that at least merits a trial to see if it can work.
This article is
What is the duplicate article?
Why is this article offensive?
Where is this article plagiarized from?
Why is this article poorly edited?