Minnesota Timberwolves Roster Questions: Too Many Bench Players
January 3, 2012
The Minnesota Timberwolves have gotten off to an impressive 2-3 start in the 2011-2012 season. That's included three straight losses to the Thunder, Bucks and Heat by an average of three points each, and two big wins against Dallas and San Antonio.
Now that we've had a good viewing of the Timberwolves, we can see where a lot of their issues lie.
The biggest problem is their starting lineup. Darko Milicic, Kevin Love, Michael Beasley, Wesley Johnson and Luke Ridnour make up the Timberwolves starting five. Assuming that Love is in the right spot, obviously, let's break them down.
Milicic did better than his trade value implied when he arrived in Minnesota. Analysts laughed at the $4,776,500 per year contract he was handed by the Wolves, but true fans stuck by that when they saw how well he played for the Wolves.

However, now that we are winning games, we realized that Milicic has nothing to do with it. Milicic plays some okay defense in the middle, has many struggles on offense and is an analyst distraction as the second overall pick bust he is. He should not be an NBA team's starting center.
Next, there's Johnson and Ridnour. Both are quality players in the NBA. Both can shoot from anywhere on the court, and each have other positive attributes. Johnson is an above-average defender, and Ridnour brings an experienced vibe to the Wolves starters.

However, only on teams like the Lakers and Heat with superstar-studded teams would they ever start on a playoff NBA team, and even then it wouldn't be together. They are bench players at best, and should be placed there.
Don't get me started on Beasley. He could easily be the single-handed blame for at least one of the three Minnesota losses in the beginning of the season with his 22-of-56 shooting (which includes 1-of-5 from three, and doesn't even include his poor 6-for-13 from the free-throw line). He doesn't need to be put on the bench—he needs to be put on another team's bench.
Derrick Williams and Ricky Rubio have both either played to expectations, or at other times have exceeded them. They should replace Ridnour and Beasley in the starting lineup ASAP, and will thrive with the extra confidence that that is sure to place on them.
If you put Johnson and Milicic on the bench as well (in your head), you are left with three starters on the Wolves: Williams, Love and Rubio. Take out Nikola Pekovic, and analyze the rest of the roster.
We're left with 11 quality bench players.
JJ Barea, Beasley, Johnson, Brad Miller, Ridnour and Martell Webster have all proved to this league that they can contribute to a team in more aspects than one, and belong on a playoff team's second unit. Additionally, Wayne Ellington, Malcolm Lee, Milicic, Anthony Randolph and Anthony Tolliver have proved to people who actually watch multiple Wolves games that they can also be depended upon to contribute to a winning Minnesota franchise.
Let me reiterate after that analysis: we're left with 11 quality bench players.
Let's say that we keep seven of those players. Tolliver and Lee are two players who shown in winning games that they have some very interesting potential, and who won't get nearly the Wolves' current value in a trade. Ellington is getting close to that same general area; let's keep him. Barea cannot (by league rule of free agency) and should not be traded. That leaves sevem players currently exposed: Beasley, Johnson, Milicic, Miller, Randolph, Ridnour and Webster.
The Wolves need to package around four of those players, and try to get an NBA-quality starter in return. The other starter we can find down the road, or hopefully find a diamond in the rough on our current bench. But the Wolves need to let Love, Williams and Rubio grow together in the starting lineup, and find some starters to put them next to.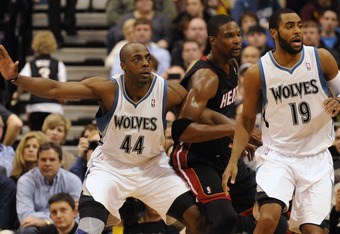 Hannah Foslien/Getty Images
I would suggest to try a DeMarcus Cousins trade, but this small market team doesn't need a basket case in the locker room. Still, a (better) center would be a great move for the Wolves to make to boost their starting five. A package of Beasley, Johnson, Randolph and Ridnour may be enticing enough for a team looking to go younger to give up a starting center in order to start rebuilding a little.
New Orleans may be willing to let go of Emeka Okafor's hefty contract or Chris Kaman's expiring one in order to get some young help off of the bench, as well as some players with potential for greatness. Utah has too many frontcourt men and not enough backcourt presence, and may be willing to part with one in exchange for the other. Phoenix is another team with a crowded frontcourt, and would be the most willing to part with a slightly lower quality player like Channing Frye or Robin Lopez.
If the Wolves wanted to make a run at shooting guard, they should look into Golden State or Portland's wing position logjam, or try to make a run at the ever-rumor filled Minnesota draftee O.J. Mayo.
Still, the biggest reason why Minnesota is only 2-3 and not any higher may have been the schedule. We played the two teams that started 5-0 this season, and the only game we played against a non-2011 playoff team, our coach couldn't make the game. Despite having a monumental climb back, we still got pretty close.
However, the Wolves are stuck with a lot of players of quality, but not enough star power. They need to replicate the work of the Grizzlies and Thunder and start acquiring a quality five-man rotation to start their games. They have enough players to give good minutes off the bench, but they need to find some more to give them the edge from the get go.
Love, Williams and Rubio have made the Wolves exciting to watch again this year, and Barea, Tolliver and others have made the second unit one to be feared. But if one transaction needs to be made this year, it needs to be one to get us one more starter-quality player.