2012 NFL Draft Order: 3 Teams Who Screwed Themselves By Winning
January 3, 2012
Al Messerschmidt/Getty Images
Sometimes you don't want to win in the NFL.
When the playoffs are out of the question, all of the focus turns to the follow year. Winning a meaningless game to give you five wins instead of four does you absolutely no good.
These three teams screwed themselves because they wanted to play for pride down the stretch:
No. 7 Jacksonville Jaguars
The Jags have the double-whammy of not only winning their final game and losing two prime positions in the draft, but they also ensured the Colts the No. 1 pick. They are now forced to play against Andrew Luck twice a year for the next decade because they won a meaningless game on the first day of 2012.
From potentially getting the fourth pick to No. 7, the Jags just screwed themselves out of getting Justin Blackmon. Better draft secondary help to prepare for Luck.
8. Miami Dolphins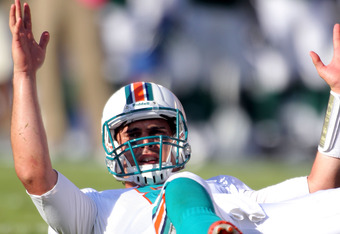 Marc Serota/Getty Images
The 'Fins were 0-7 and on track to land the No. 1 pick and snag Luck. Instead, they decided to spoil several teams' seasons en route to winning six of their last nine games and are now going to either have the eighth or ninth pick depending on the coin flip.
Luck will be gone, as will Robert Griffin III so it looks like it will be another year of Chad Henne/Matt Moore in Miami. Oh boy!
11. Kansas City Chiefs
This team fired its coach, Todd Haley, after it seemingly quit in a 37-10 blowout at the hands of the Jets.  The team was 5-8 and poised to secure a pick in the six-to-seven range.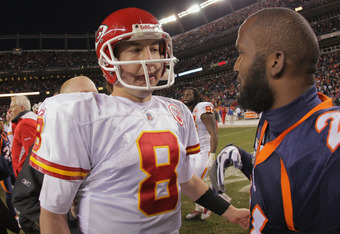 Doug Pensinger/Getty Images
Instead, they decided to ruin the Packers perfect season and almost keep the Denver Broncos out of the playoffs. The solid play down the stretch knocked them back seven or so picks.
All of that just to finish 7-9 and in last place in the AFC West, with the Broncos still going to the playoffs.
Here is the updated draft order courtesy of NFL.com:
Team                                       W-L     SoS
1.  Colts                                   2-14    .539
2.  Rams                                  2-14    .590
3.  Vikings                                3-13    .559
4.  Browns                                4-12    .531
5.  Buccaneers                         4-12    .551
6.  Redskins                             5-11    .477
7.  Jaguars                               5-11    .500
8t. Panthers                              6-10    .504<
8t. Dolphins                              6-10    .504<
10. Bills                                    6-10    .520
11t. Chiefs                                7-9     .512<
11t. Seahawks                          7-9     .512<
13. Cardinals                            8-8     .469
14. Cowboys                             8-8     .473
15. Eagles                                 8-8     .488
16. Jets                                      8-8     .500
17. Bengals from Raiders          8-8     .504
18. Chargers                              8-8     .516
19. Bears                                    8-8     .527
20. Titans                                   9-7     .461