WWE&TNA Roundtabler: Undertaker Is the Most Valuable Veteran in WWE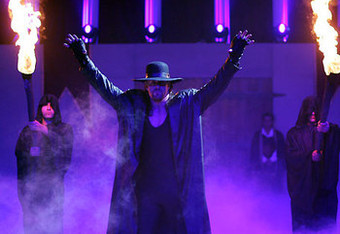 Jon Fisher -- The Undertaker
World Wrestling Entertainment and Impact Wrestling consist of a roster complied from people all around the world. That roster has specific pieces that add to the proverbial puzzle. Some are newcomers ready to make an impact, others are established starts always putting on a show and then the veterans come into play.
This roundtable is attempting to find the most valuable veteran in professional wrestling right now. You can look no further than the McMahon camp and find Mark Callaway as that man.
A man with all the respect and legendary tales more than anyone in World Wrestling Entertainment, he has made a true impact on all of his fans and peers. Taker has more of a responsibility than most veterans in the business.
As a professional, he has seen and done it all. A streak that is insurmountable, an accomplishment list that will never be exceeded and a demeanor that is respected by all in the business, Undertaker fits the mold to perfection.
His bouts with Shawn Michaels, Triple H, Edge, Batista and many veterans and hall of famers along the way, Taker triumphed them all.
To be a veteran in this business, you must have the key "ingredients", if I may.
1. Clean record (as in no trouble)
2. Is willing to put over young stars
3. Does his talking inside the ring
4. Longevity in the business
If I missed one, please tell me, but those are the factors needed to be a well-respected veteran in this business.
He never has used his power as a veteran unwillingly or in a certain fashion that would skew your viewpoint on the man. It is very difficult to find a veteran who fits all of the criteria. Kurt Angle has had problems with drinking and driving.
As for the other participants such as Kane and Sting, they are also anomalies to the rule, but Undertaker is head and shoulders above all of them.
The Undertaker has made strides incomparable in this business. He will be remembered for his contributions in and outside of the ring. Mark Callaway is the most valuable veteran in this business.
Wrestling is art, therefore art is passion.
Most recent updates:
This article is
What is the duplicate article?
Why is this article offensive?
Where is this article plagiarized from?
Why is this article poorly edited?