NBA Trade Rumors: Ideal Landing Spots for Immature DeMarcus Cousins
January 3, 2012
Streeter Lecka/Getty Images
Second-year center DeMarcus Cousins is on the verge of destroying his career and taking the Sacramento Kings with him. 
The player, whose draft stock slid due to questions of maturity, is rumored to be clashing with his coach and getting into shouting matches. This is no way to build the foundation to a promising career. 
It may soon become in the best interest of the Kings and second-year Cousins that they part ways. 
Cousins has definitely showed potential on the court. As a rookie he averaged 14.1 points and 8.7 rebounds per game. In four games this season he is averaging 13 points and 11.3 rebounds per game. 
It is clear though that Cousins is going to need a change of scenery to fully realize his potential. There are three teams that would be an ideal fit for Cousins. Before we get to that, let's take a look at the rumors. 
The Rumors
Cousin reportedly got into a shouting match with coach Paul Westphal. This was said to have ended with Cousins demanding a trade.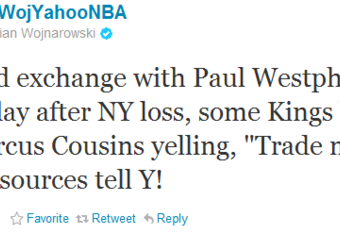 This news must have circulated quickly because teams began contacting the Kings.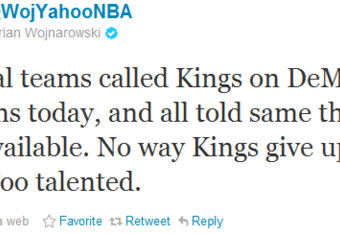 While they may not be ready to give up on Cousins, he can certainly force their hand. You can only have so much dissension before it rips a team apart. 
The Kings need to begin thinking about getting some value for Cousins.
Ideal Landing Spots
Miami needs to call up the Kings and offer a trade package centered around Chris Bosh. This would be solid value for the Kings. 
It would also give Cousins a spot with a strong veteran leadership group to help keep his attitude in check. Cousins is going to be a lot less likely to explode with LeBron James and Dwayne Wade in the locker room. 
Cousins is also a better fit with them on the court than Bosh. Cousins is a beast on the boards. He likes to play down low, he has a developing post game, and he brings an element of nasty that Bosh will never have. 
Cousins would be able to focus on doing the dirty work initially as his offensive game develops, and with all the attention James and Wader are going to get, he will get plenty of open looks. 
Houston is desperate for a young center to fill the void created by Yao Ming's balky feet. They have young talent and draft picks they are ready to trade. 
Cousins could join the Rockets and play for one of the most skilled big men in history in Kevin McHale. 
This move would be somewhat of a risk as Houston doesn't have the veteran presence that will help keep Cousins in check, but they should be able to institute a system that will help him utilize his talents and keep him happy.