2011 NFL Draft
2012 NFL Mock Draft: What Would the Draft Look Like Without Early Entry?
Chris Trotman/Getty Images
January 2, 2012
The topic of early entries has been been a sensitive one for years now, spanning all sports. In the NBA, college players are leaving to the professional level only one year removed from high school and in the MLB, players are heading to the professional level before spending a single day on a college campus. 
The NFL remains committed to its eligibility requirements and college players will have to spend three years in school to get into the pros for the foreseeable future, a rule that I wholeheartedly support. 
However, what happens if we consider the possibility of even more strict draft eligibility rules, requiring players to spend four years out of high school before heading to the NFL.
The results of each draft would be dramatically different, whether it was for the better or worse. 
Let me make it clear that this is something I do not expect to see in my lifetime barring widespread controversy regarding past players' post-football preparedness—talk about alliteration—to enter the working world without degree's. You could leave it to lawyers to bring up how the system pressures juniors to leave before getting their degree's and cause some uproar and potentially a change in the system. 
Let's explore what the first round of the NFL might look like without early entries. This means any junior or draft eligible sophomore is excluded. Trust me, the results are pretty shocking. 
1. Colts (2-14): Quinton Coples, DE, North Carolina
2. Rams (2-14): Michael Floyd, WR, Notre Dame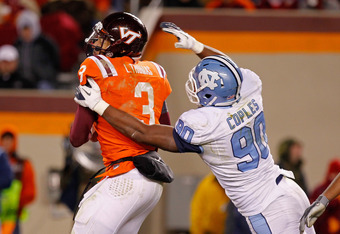 Geoff Burke/Getty Images
3. Vikings (3-13): Janoris Jenkins, CB, North Alabama
4. Browns (4-12): Zach Brown, OLB, North Carolina
5. Buccaneers (4-12): Alfonzo Dennard, CB, Nebraska
6. Redskins (5-11): Ryan Tannehill, QB, Texas A&M
7. Jaguars (5-11): Devon Still, DT, Penn State
8. Panthers (6-10): Brandon Thompson, DT, Clemson
9. Dolphins (6-10): Mark Barron, S, Alabama
10. Bills (6-10): Melvin Ingram, DE/OLB, South Carolina
11. Chiefs (7-9): Courtney Upshaw, OLB, Alabama
12. Seahawks (7-9): Cordy Glenn, OG, Georgia
13. Cardinals (8-8): Kendall Wright, WR, Baylor
14. Cowboys (8-8): Chase Minnifield, CB, Virginia
15. Eagles (8-8): Audie Cole, ILB, North Carolina State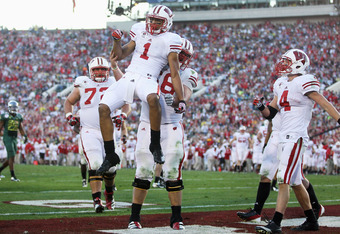 Jeff Gross/Getty Images
16. Jets (8-8): Zebrie Sanders, OT, Florida State
17. Bengals (from Raiders) (8-8): Kevin Zeitler, OG, Wisconsin
18. Chargers (8-8): Mike Adams, OT, Ohio State
19. Bears (8-8): Nick Toon, WR, Wisconsin
20. Titans (9-7): Jared Crick, DE, Nebraska
21. Broncos (8-8): Alameda Ta'amu, DT, Washington
22. Bengals (9-7): Doug Martin, RB, Boise State
23. Giants (9-7): Kelechi Osemele, OT, Iowa State
24. Texans (10-6): Jeff Fuller, WR, Texas A&M
25. Browns (from Falcons) (10-6): Andre Branch, DE, Clemson
26. Lions (10-6): Lavonte David, OLB, Nebraska
27. Ravens (12-4): Trumaine Johnson, CB, Montana
28. Steelers (12-4): Vinny Curry, DE, Marshall
29. Patriots (from Saints) (13-3): Michael Brewster, C, Ohio State
30. Patriots (13-3): Billy Winn, DT/DE, Boise State
31. 49ers (13-3): Nate Potter, OT, Boise State
32. Packers (15-1): Coby Fleener, TE, Stanford
Like the new article format? Send us feedback!