Sugar Bowl 2012: Dominant Performance Will Make Denard Robinson Heisman Favorite
January 3, 2012
Gregory Shamus/Getty Images
Before the 2011 season started, Michigan quarterback Denard Robinson was on the short list to win the Heisman Trophy. Things did not work out for him, but he can get right back in the mix for next year with a dominating performance against Virginia Tech in the Sugar Bowl on Tuesday night. 
In case you forgot, Robinson had one of the greatest seasons in college football history in 2010. He had over 4,200 total yards from scrimmage and 32 touchdowns. But because Michigan's defense was so bad, there was no way he was going to win the Heisman. 
This year, the defense improved by leaps and bounds but Robinson regressed. His passing wasn't as strong as it was in 2010, and that led to diminishing returns on his awards season campaign. 
But make no mistake about it, he is still one of the most electric players in the country. He is a junior and could declare for the NFL draft if he wanted to, but he told Kyle Meinke of the Ann Arbor News that he plans to return for his senior season.
So Robinson can catapult himself right back to the forefront of the Heisman race, and he has the right matchup to do it.
Virginia Tech usually boasts one of the top defenses in the country, and certainly the stats this year would have you believe that was the case again. But against the few good teams that the Hokies actually played, they gave up a lot of points.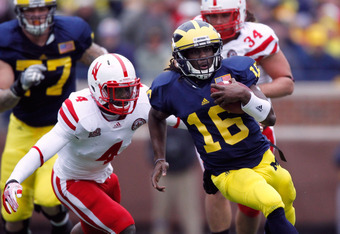 Gregory Shamus/Getty Images
They played three games against teams that were ranked—Clemson twice and Georgia Tech—and they allowed 87 points. In their other 10 games, they allowed a total of 137 points. 
Robinson is going to have plenty of chances to rack up yardage and touchdowns in this game. He does have to prove that his throwing accuracy is not going to be a long-term problem, but considering how well he runs, I am not worried about his passing that much. 
Next year's Heisman race is going to be wide open with Andrew Luck, Robert Griffin III, Kellen Moore, Brandon Weeden and Trent Richardson likely going to the NFL. Only Matt Barkley really stands out among the players we know are coming back.
A lot of things are going to happen between now and next year's Heisman ceremony, but Robinson has a chance to get back to the level where he was at before this season started if he can exploit Virginia Tech's defense like a number of other quarterbacks already have.