NFL Playoffs 2012: Previews and Predictions for the Wild Card Round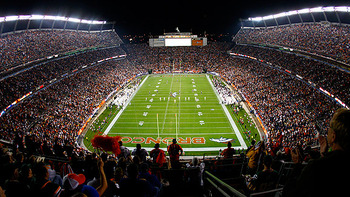 Now that the NFL playoffs are finally here, look no further for information on when, where, who and what will happen in each of the games this Wild Card Weekend.
We have bouts that will feature such methodical ground attacks as the Denver Broncos that you might think you've taken a step back into time.
But at the same time, we have others that highlight the most prolific passer of any regular season in the history of the NFL, Drew Brees.
You'll get your playoff football fix with games that cover virtually every possible strategy, but until then, I hope this preview will tide you over.
Cincinnati Bengals at Houston Texans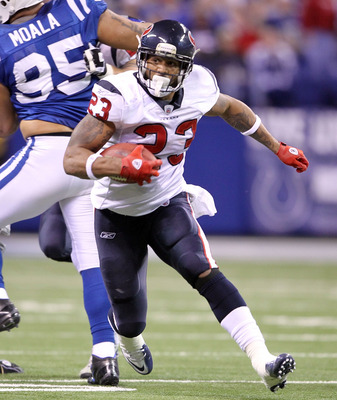 Andy Lyons/Getty Images
When: Saturday, Jan. 7 at 4:30 PM ET
Where: Reliant Stadium in Houston, TX
What: The AFC South saw the Houston Texans win its first division title, earning them a home playoff game against the sixth-seeded Cincinnati Bengals from the AFC North.
In 10 years as a division, the AFC South has seen the Indianapolis Colts win the division seven times, but after Peyton Manning's well-documented neck injury, the crown was up for grabs. A much-improved Houston team, especially on the defensive side of the ball, snatched it.
The Texans limp into the game without either of their top two quarterbacks and best defensive linemen. Matt Schaub and Matt Leinart went down with season-ending injuries earlier this season, leaving the quarterback position up to rookie T.J. Yates. Veteran Jake Delhomme is ready in the wings.
Mario Williams, Houston's Pro Bowl defensive end, went down much earlier this season as well. Star running back Arian Foster and wide receiver Andre Johnson have both dealt with injuries, too. Houston may have won the division, but they may have lost the war.
Cincinnati is a team full of youth. Rookies Andy Dalton and A.J. Green are going to be a great duo for years to come. They are perhaps the two most important reasons for why the Bengals are headed to the playoffs, though the defense has performed admirably.
Neither of these teams is great, but one of them has to win.
Result: Texans 24, Bengals 17
Detroit Lions at New Orleans Saints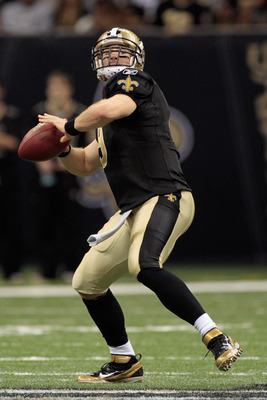 Chris Graythen/Getty Images
When: Saturday, Jan. 7 at 8:00 PM ET
Where: Mercedes-Benz Superdome in New Orleans, LA
What: The New Orleans Saints stormed through the NFC South this year behind Drew Brees' record-setting 5,476 yards passing. They will take on the upstart Detroit Lions, who are making their first playoff appearance since 1999 as a Wild Card from the NFC North.
New Orleans looks as good as any team in the NFL right now. Brees and his offense are clicking on all cylinders. The Saints make use of all five receivers, including breakout tight end Jimmy Graham.
The running game features speed from Darren Sproles and Chris Ivory, power from Mark Ingram and a little of both from Pierre Thomas. Greg Williams' defense is able to play with a lead almost every game.
Detroit has put it all together and become a legitimate contender. While Brees may have the passing title, it's the Lions' Calvin Johnson who has the receiving title. His quarterback Matt Stafford finished with over 5,000 yards passing himself.
The defense is nothing short of ferocious under the tutelage of head coach Jim Schwartz, a defense-minded coach. To say they have attitude is quite the understatement, which could bode well for them in future playoff runs.
Result: Saints 34, Lions 24
Atlanta Falcons at New York Giants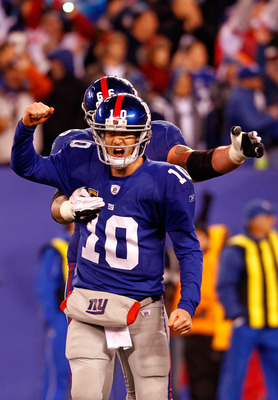 Jeff Zelevansky/Getty Images
When: Sunday, Jan. 8 at 1:00 PM ET
Where: MetLife Stadium in East Rutherford, NJ
What: The NFC East champion New York Giants will play host to the Atlanta Falcons who earned the first wild-card spot out of the NFC South.
The Giants have been a streaky team as long as Eli Manning and Tom Coughlin have been there. They're capable of beating any team in the NFL but can also lay a dud as bad as the worst team out there.
In the playoffs, though, I like the team that can rush the passer, run the ball with power and hit the home run via the air. New York does all three of those things well with Jason Pierre-Paul, Brandon Jacobs and Victor Cruz.
Matt Ryan and his Atlanta Falcons have made it to another postseason, but they have only played two winning teams in the last six weeks, and one of them was a beat-up Houston Texans team.
The Falcons, I'm afraid, are still trying to learn how to work Julio Jones into their offense, and it has hurt Roddy White's contribution. They'll figure that out as time goes on, but this won't be their week.
Result: Giants 27, Falcons 20
Pittsburgh Steelers at Denver Broncos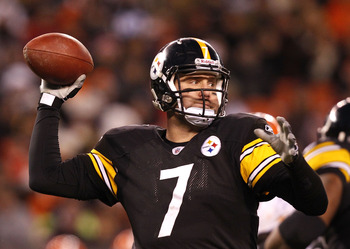 Matt Sullivan/Getty Images
When: Sunday, Jan. 8 at 4:30 PM ET
Where: Mile High in Denver, CO
What: The Denver Broncos caught fire when they swapped Kyle Orton for Tim Tebow in the starting lineup. Their 8-8 record was good enough for the AFC West title and a chance to host the playoff stalwart Pittsburgh Steelers from the AFC North.
The Broncos have won games controlling the ball and keeping the opposing offenses off the scoreboard. Say what you want about Tebow (and many have), but he knows how to run the read-option offense, where he decides whether to keep or hand the ball to Willis McGahee.
Pittsburgh lost Rashard Mendenhall for the entire postseason to a torn ACL, which means Ian Redman and John Clay will have to carry the load. The way the Steelers play football, that won't be too big of a deal.
Getting Ben Roethlisberger and Mike Wallace more connections will be key because they tend to go for big touchdowns. A running team like Denver will have huge problems trying to come back from seven to 10 points down in a playoff game, especially against the black and yellow.
Result: Steelers 23, Broncos 10
Keep Reading