Dallas Cowboys
Nike Is Coming: Will the Dallas Cowboys Get Chrome Helmets?
Could Dallas replace the wing with a Blue Star?
Harry How/Getty Images
January 3, 2012
Sitting here watching the Oregon Ducks in their new mirrored finish helmets and the thought came to me: "With Nike taking over the NFL uniforms for 2012 will the Cowboys finally go away from the light gray helmets we have known since the 1960's and go with a true silver helmet," a la the Oregon Ducks Rose Bowl lid?
Honestly the one thing Jerry Jones has not messed with has been the uniform.
I know, I know, there is the white helmet and throwback blue jersey worn a couple times a year (actually my favorite look), but since he took over there have been makeovers by virtually every NFL team, save for the truly old school teams like Pittsburgh and Indianapolis.
Since 1990 only eight teams have not changed their helmets (not including expansion teams).
With Nike coming for next year how many of these holdouts stay true to the old school designs?
Thoughts and odds they fall into Nike's grip a la Oregon.
Packers—The Pack are old school to the bone, and along with the Browns, Bears and Steelers are the most likely to hold pat. 5 percent
Browns—See Packers. 5 percent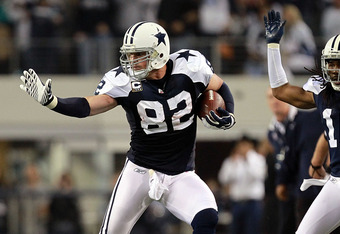 Cowboys have embraced the throwbacks...is silver next?
Ronald Martinez/Getty Images
Colts—Big changes are coming in Indianapolis, and a uniform change could be one of them, but it is likely to be a minor tweak, a la the Vikings or Cardinals 10 percent
Steelers—Steelers have like the Cowboys embraced the throwback look and gone with a yellow helmet. Will they be the one? 15 percent
Bears—Orange jerseys? What happened to the Halas run Bears franchise? Must have been the stay in Urbana. 20 percent
Chiefs—Who would have thought an old AFL team would be this staid? Outside of the Raiders the old AFL teams have been chameleons, but not these Chiefs. Still, that franchise needs a makeover, and this may be the perfect time. 25 percent
Bengals—The stripes are getting old, and with a new uniform design recently and a team on the rise, this is one of two who are likely to make a change, and if they do it could be a drastic departure from the tiger stripes. The Bengals have a great new logo that would look fantastic on a black or orange helmet. 65 percent
Cowboys—America's Team is no longer "America's Team," and always looking to squeeze another penny out of the diehard, Jerry Jones is more likely to change to a more transcending uniform and helmet than any of these other holdouts. 75 percent
Like the new article format? Send us feedback!