2012 NFL Draft: The Washington Redskins 7-Round Mock Draft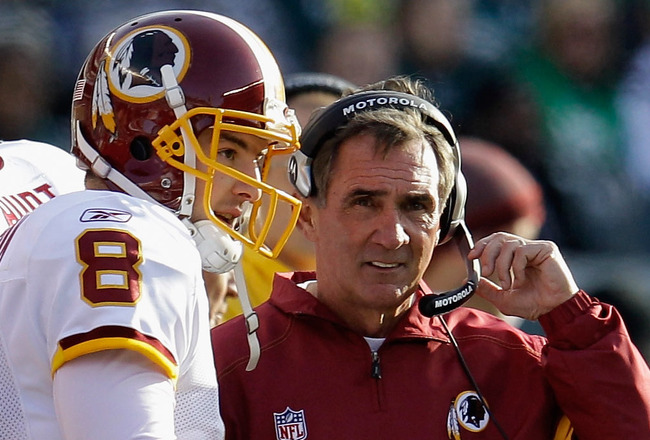 Rob Carr/Getty Images
The Washington Redskins had yet another disappointing 2011 season, going 5-11 overall. This season, the Redskins improved on defense and were in a lot of games, but unfortunately could not continue the momentum they had after a 3-1 start.
This offseason, the Redskins should continue to address some problem areas, including quarterback and offensive line. Also, Mike Shanahan and Bruce Allen should continue to re-build through the draft. This team lacks depth at many positions, and the best way to improve that is through the draft.
In the 2012 NFL draft, the Redskins ended up with a top-six pick in each round and have an extra fourth rounder, bringing their total to eight picks.
For each draft pick, I will have my choice, a sleeper pick annd the team's pick.
1st Round, Mine and Team Pick: Robert Griffin III, QB, Baylor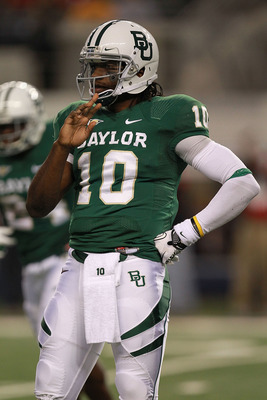 Ronald Martinez/Getty Images
I believe the Redskins address the biggest concern with their first-round pick. Whether they trade up for Andrew Luck or hold on to hope that Heisman winner Robert Griffin III is available with their pick is the biggest choice for the Redskins.
I think either way, they draft a quarterback with their pick, and it should be RG3. Not that I have anything against Andrew Luck, but the ransom to get him from the Colts may be too high for a team lacking youth and depth because of poor drafting in the past.
RG3 had one of the best seasons for quarterback this year. If he does call it a college career, he will have made many statements, including propelling his Baylor Bears to a 67-56 victory in the Alamo Bowl.
Griffin has already graduated with both an undergraduate and potentially a graduate degree from Baylor. Griffin has the smarts to be an excellent NFL quarterback and has the agility, strong arm, accuracy and speed to be a dual threat like Cam Newton or Michael Vick.
He will have thrown for over 10,000 yards, 78 touchdowns, and only 17 interceptions in a four-year time in Waco.
1st Round, Sleeper Pick: David DeCastro, OG, Stanford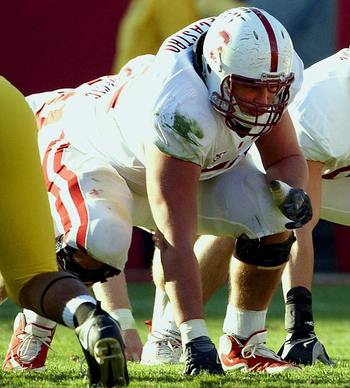 David DeCastro Stanford
If for some reason the top QB prospects are off the board by the time the Redskins pick, the potential to re-build the offensive line could be done early in the draft as well. The reason the Redskins were so successful during the 80's wasn't just quarterback consistency. Just look at the Redskins history. Each Super Bowl run was with a different quarterback each time.
The one consistent theme was a great offensive line and a powerful runner. The offensive line has been a shambles for a long time now and needs improving desparately. The tackle positions are secure for now, but the interior needs help.
David DeCastro is the top interior lineman in this year's draft. He has been a three-year starter at Stanford. He is good at both pass and run blocking and plays with a blue-collar attitude that is needed in the NFL. With DeCastro and 2010 first-rounder Trent Williams, the Redskins could begin to build a newer version of the Hogs.
2nd Round, My Pick: Cordy Glenn, OG, Georgia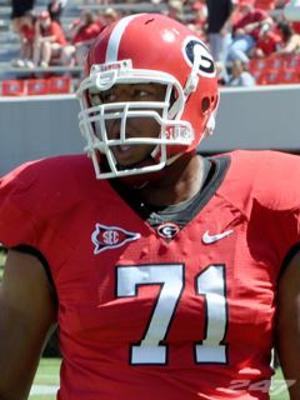 With the second-round pick, the Redskins can go in a couple different directions. They could either draft a wide receiver if they do not think any of the receivers on the roster need help, running back to provide depth or interior linemen.
I would go with the last option. Drafting an interior lineman would be a good start and perfect for this pick. Since more than likely, the top offensive guard, David DeCastro, will be off the board, hopefully one of the top three guards falls into the second round.
Georgia's Cordy Glenn would be a great addition to the Washington offensive line. According to ESPN, Glenn is the second-rated guard and potentially could still be available in the early second round. Glenn has also started for a big-time program since his freshman year and handled the pressure of the SEC well.
He is a better run blocker but is also good as a pass blocker as well. He would add some toughness to an offensive line that is currently anchored by journeymen at the guard and center positions.
2nd Round, Sleeper Pick: Brandon Boykin, CB, Georgia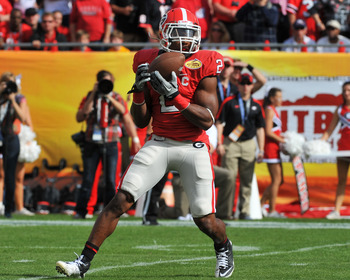 Al Messerschmidt/Getty Images
With the fall from grace in the fans eyes of cornerback DeAngelo Hall, the Redskins could make a statement to D-Hall by drafting a top corner in the second round. I would love it to be Jayron Hosley, but I do not see him being available by the sixth pick in the second round.
Brandon Boykin out of Georgia would be a great addition in the second round. He plays a lot like the player he could be replacing in Washington, but is more of a leader than Hall. He's a smart, athletic speedster at cornerback that can also be a kick returner and potential offensive mismatch.
The knock on Boykin is his height being only 5'9", but he has shut down much bigger wide receivers in his career. Brandon Boykin could be a surprise pick for the Redskins early in the second round.
2nd Round, Team's Pick: Dwight Jones, WR, North Carolina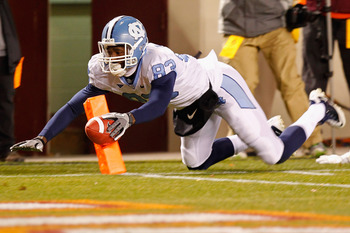 Dwight Jones WR UNC
Geoff Burke/Getty Images
The Redskins need a wide receiver that can stretch the field. Santana Moss in his prime was the wide receiver that could do that, but has slowed to more of a possession receiver. The other receivers on the roster haven't shown much and look to be mostly short to mid-range type receivers.
Drafting Dwight Jones out of North Carolina would be a big pick-up in the second round. Jones has the potential to stretch the field and gives whomever is the quarterback a big receiver downfield. He was the the go-to receiver for the Tarheels.
This could be an excellent pick because Jones has room to improve and can become a top-end receiver at the next level.
3rd Round, My Pick: Nate Potter, OT, Boise State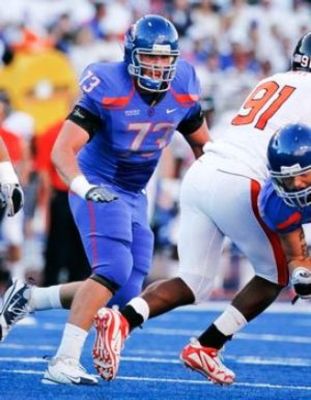 Nate Potter Boise St OT
Offensive tackle Nate Potter from Boise State had a great career with the Broncos in protecting Kellen Moore. Potter would be a great addition, as he would add depth on the offensive line and would hopefully be able to learn and develop behind Jammal Brown.
He is more of a finesse blocker and looks good in the zone blocking scheme that the Shanahans want to use in Washington. Not the greatest athlete but a very smart player. He graduated last spring and was pursuing a graduate degree this season.
Potter has the tools and build to develop into a project offensive tackle and potentially be a good football player down the line in Washington.
3rd Round, Sleeper Pick: Marcus Fortson, DT, Miami (FL)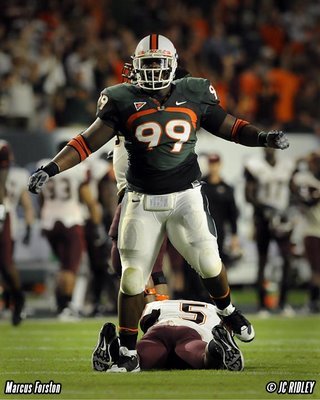 Marcus Fortson DT
There is a lot of youth along the defensive line for the Redskins. Only defensive lineman Darrion Scott is 30-plus, but a few of the defensive linemen are potential free agents, including Adam Carriker. But with Barry Cofield being the Redskins' best option at nose tackle, this could be a good time to draft a potential successor at the position or someone that can be converted as project defensive end.
Marcus Fortson could be a worthy pick in the third round by the Redskins. He has not been quite as productive at Miami as one would hope, but is very athletic for his size. A better run defender would make Fortson a better fit in a 3-4, where controlling the line of scrimmage is the biggest concern for the defensive line.
3rd Round, Team's Pick: Coby Fleener, TE, Stanford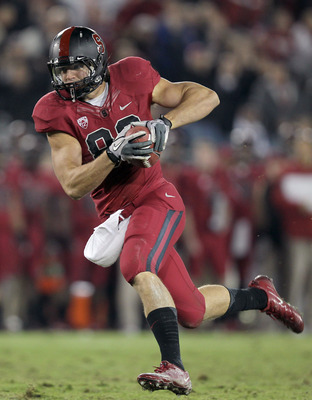 Coby Fleener TE
Ezra Shaw/Getty Images
If it is possible, the Washington Redskins should cut ties with trouble in the form of Fred Davis. Getting a combination of what Davis and Chris Cooley bring to the table would be a good move here in the third round. Cooley is the best tight end on the team and is either the Redskins best receiver or second to Santana Moss.
Logan Paulsen is a good tight end but is more of a blocking tight end. If this were possible, one of the many Stanford Cardinal's tight ends would be a great addition to Washington. Coby Fleener, while not the best receiver nor best blocker, can suffice as a combination of Davis and Cooley.
Fleener has great size at 6'6" and is a great route runner and has great hands as well. His blocking skills are sub-par, but with the right mentoring, he could become better at this tight-end skill.
I don't see him surviving to the third round, but I have seen a couple mock drafts that have Fleener going in the third round.
4th Round, 102nd Pick, My Pick: William Vlachos, C, Alabama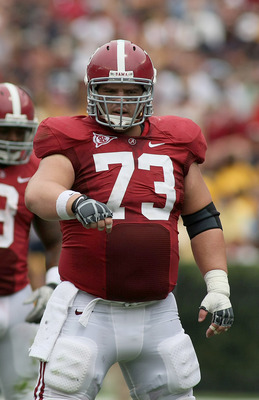 William Vlachos C
Greg McWilliams/Getty Images
The Rimington Award Finalist, William Vlachos, anchors the offensive line for the Alabama Crimson Tide. The fifth-year center would be a good prospect for the Redskins at the center position. Will Montgomery, Kory Lichtensteiger and Erik Cook are the only "centers" on the current roster. All three also are considered offensive guards as well, so the Redskins do not have a true center currently on the roster.
With a very lackluster draft class at the center position, drafting Vlachos here would be a steal. Vlachos also has made All-SEC teams the past two seasons. He is very astute at his position and has the technical skills to project well as starting center down the line.
4th Round, 109th Pick, My Pick: Cam Johnson, DE/OLB, Virginia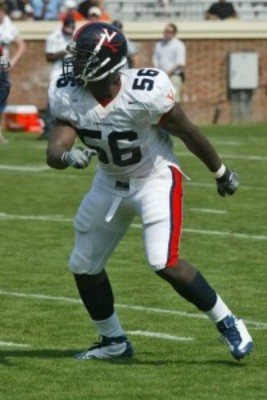 Cam Johnson DE/OLB
With the second pick in the fourth round, the Redskins should start addressing depth on the defense. In line with one of the best NFL teams in the Pittsburgh Steelers, they should draft a mid-round linebacker/defensive end type here. Cam Johnson from the University of Virginia would be a good addition in Washington because he can possibly play two different positions on defense.
In Al Groh's 3-4 scheme Johnson was an outside linebacker. This season in a 4-3 scheme, he played defensive end.
Cam Johnson is an above average pass rusher and run defender. His versatility to either back up at defensive end or linebacker would be an asset. Very good athlete and matured through his college career.
4th Round, 102nd Pick, Sleeper Pick: Tauren Poole, RB, Tennessee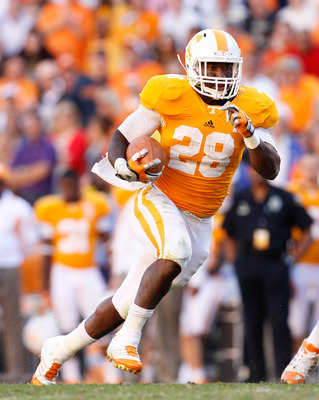 Tauren Poole, RB
Kevin C. Cox/Getty Images
The Shanahans love drafting a running back somewhere in the mid-rounds of the draft, so I wouldn't be surprised to see a running back here in the fourth round. Tauren Poole out of Tennessee could be a nice addition in Washington. He would definitely give any of the current running backs a run for their spot on the team.
Poole is a very patient runner and has great awareness and vision as well. He has the intangibles, as he was an Academic All-SEC performer each season at Tennessee.
The big downside to Poole are size and speed. He's a much taller running back and does not have the top line speed to run away from the defensive. Also is not good in the pass game, but he can develop in this area.
The reason I say he is a sleeper is more the fact that Poole is a lot like the other running backs already on the roster. It would be better for Washington to select a different-styled runner or one that fits the zone running scheme.
4th Round, 109th Pick, Sleeper Pick: T.Y. Hilton, WR, Florida International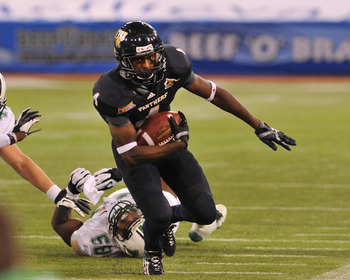 T.Y. Hilton WR
Al Messerschmidt/Getty Images
Considering all of the offensive woes this season, finding an explosive receiver even here in the mid rounds would be a good idea. T.Y. Hilton made a name for himself this season with some big games against better competition than other Sun Belt Conference teams.
Hilton is a true speed receiver with good route-running and is very dangerous with the ball in his hand. Again, he has the intangibles, as he stayed for his senior season so he could graduate.
The downsides to Hilton are his size; he's only 5'9" 178lbs, and he really never saw press coverage in college.
4th Round, 102nd Pick, Team Pick: Joe Looney, OG, Wake Forest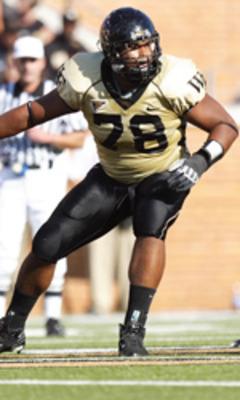 Joe Looney OG
No matter how good, the availability of good interior linemen can be had in the middle rounds of the draft. For myself, I would rather have an elite offensive line, but still, there is quality to be had here in the fourth round. So I believe the Redskins address their needs on the interior of the offensive line now.
Joe Looney out of Wake Forest would be a good choice here in the fourth round. It's a big deal, especially on Jim Grobe at Wake, to start as a true freshman. Looney did just that in the bowl game. He's been the best offensive lineman on the Wake Forest team since joining the starting lineup and was one of the leaders of the offense.
Getting Looney in the early fourth round would be a steal, as he is one of the higher-ranked offensive guards by ESPN.
4th Round, 109th Pick, Team Pick: Robert Turbin, RB, Utah State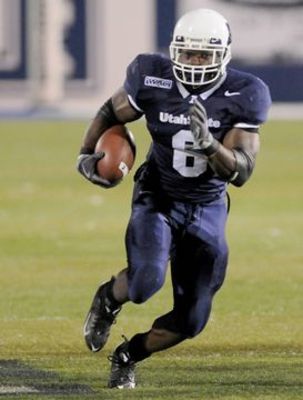 Robert Turbin RB
With the cagey selections last year of Evan Royster and Roy Helu in the middle rounds, I wouldn't be surprised to see the Redskins select another here in the fourth round.
I made mention of Tauren Poole as a sleeper pick because he was similar to the running backs already on the roster. However, I believe Robert Turbin would bring a different dynamic to the Redskins. More of a power runner, Turbin has exprience in the zone running scheme that Mike Shanahan likes to incorporate. He is a small but powerful runner and has great hands in the passing game as well.
He would compliment the current roster easily because of his compact stature.
Turbin doesn't have breakaway speed, but will be able to find holes and is a patient runner.
5th Round, My Pick: Audie Cole, ILB, North Carolina State
Audie Cole LB
Streeter Lecka/Getty Images
Here in the fifth round, the Redskins should continue to add depth to a good defense. With London Fletcher getting up there in years and Perry Riley looking to be one of the guys of the future, why not find another inside linebacker prospect here in the fifth round.
Audie Cole out of North Carolina State would be a good project type linebacker. Cole is a hard worker and has gotten this far mostly through hard work and determination. He plays well from the linebacker position and has a high motor.
Audie doesn't have great tackling instinct, and he is considered tall for the middle linebacker position. He will have a lot to improve on, but I believe Cole can be a future starter in the league under the right system.
5th Round, Sleeper Pick: Eddie Whitley, S, Virginia Tech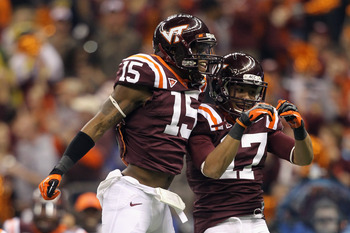 Eddie Whitley S
Matthew Stockman/Getty Images
The Redskins have both Oshiomogho Atogwe and LaRon Landry being free agents this offseason. I believe they re-sign both Atogwe and Landry because they were critical pieces of the Washington secondary, but both missed games this season. Other than Reed Doughty and DeJon Gomes, the Redskins do not have much depth at the safety positions.
Eddie Whitley out of Virginia Tech would be a good fit in Washington, as he played a lot like Landry for the Hokies. He played near the line and was one of the leaders of a stout Virginia Tech defense. Whitley also has the speed to cover as well from the safety position.
The Redskins are high on Gomes, but gathering some depth in the defensive secondary is not a bad idea.
5th Round, Team Pick: Alex Hoffman, OT, Cincinnati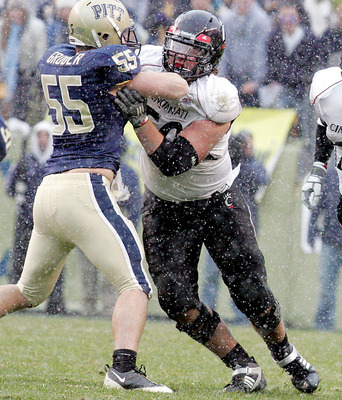 Alex Hoffman OT
The Redskins will continue to add depth to improve the offensive line. While at the offensive tackle the Redskins are set for now, adding depth is a good idea. Offensive tackle Alex Hoffman would make a good addition and would be a project lineman.
At about 6'6", 295 lbs., Hoffman has the size for the tackle position, but looks as if he carries the weight well and may not be able to add much more to his frame. Hoffman is rather average as both a pass and run blocker. He is more of a finesse-type blocker, but again, has a lot of room to improve in the NFL.
After drafting skill players prior, I see the Redskins start adding depth to the offensive line.
6th Round, My Pick: Bobby Rainey, RB, Western Kentucky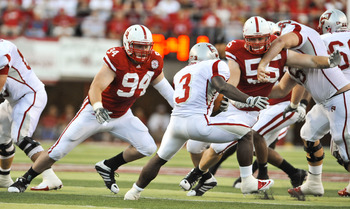 Bobby Rainey RB
Eric Francis/Getty Images
Here's where NFL teams start taking more chances on players in hopes they pan out. Bobby Rainey is not very big at 5'8", but plays bigger. He compares well to a former Washington Redskin in Brian Mitchell. I've also seen some comparisons to an exceptional running back up I-95 in Baltimore in Ray Rice.
With a push on smaller running backs that run with power and have the speed and agility to break it outside are at a premium. But because of the competition he normally ran against and even though he was a breakout performer last season, Rainey will be around in the sixth round.
6th Round, Sleeper Pick: Kellen Moore, QB, Boise State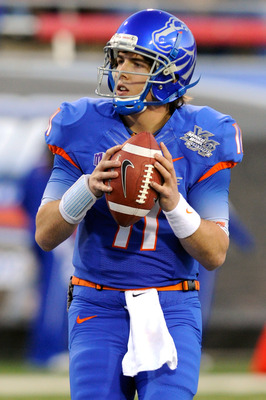 Kellen Moore QB
Ethan Miller/Getty Images
Before questioning why there is another quarterback here in the sixth round as a potential sleeper pick, let us not forget the Heath Shuler draft. The Washington Redskins also drafted Gus Frerotte, and he lasted many more years as a starter/back-up in the NFL while Shuler ended up in politics.
While I think Moore is better than a sixth-round pick and more than likely will not be around, if he is, it would be a steal and would definitely provide the back-up necessary in case Griffin busts or is injured.
Moore is not the biggest quarterback, but neither is another elite quarterback in Drew Brees. He has the football smarts to be a serviceable NFL quarterback. Boise State has less talent on the roster than many of the teams Boise played in the non-conference season, and Moore goes down as the winning-est quarterback in college football. Moore is also quite mobile in the pocket and is accurate enough on is passes.
The downsides are again his lack of size and arm strength. However, Moore knows how to win and will develop into a good quarterback.
6th Round, Team's Pick: Philip Blake, C, Baylor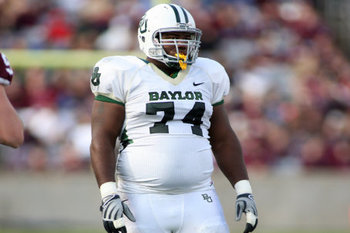 Philip Blake C
If you want to make a new quarterback comfortable, draft his center if possible as well. So with the need of depth on the offensive line, the Redskins should think about drafting Philip Blake out of Baylor. Blake was a big part of the offensive line for Baylor and was a big part of the success of the offense.
Blake has the ability to be a utility offensive lineman, as he played at right tackle before moving to center in 2010.
7th Round, My Pick: Danny Coale, WR, Virginia Tech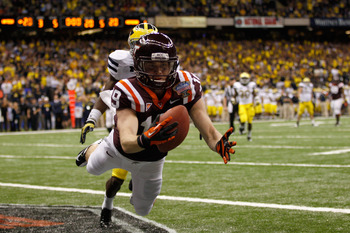 Danny Coale WR
Chris Graythen/Getty Images
In an offense that was normally run first at Virginia Tech, Danny Coale is second all-time on the Hokies receptions list behind teammate Jarrett Boykins. While this is a sentimental pick, as I'm a graduate of Virginia Tech, I believe whomever gets Coale will end up with a great special teams player and a steal as wide receiver.
Coale is a 4.4 second, 40-yard receiver and will do whatever is asked of him. Halfway through the 2011 season, Coale was not only a starting wide receiver, but the starting punter as well. He may not have the size as a big-time receiver, and even with his speed, Coale is much more of a possession receiver.
7th Round, Sleeper Pick: Emil Igwenagu, FB/TE, Massachusetts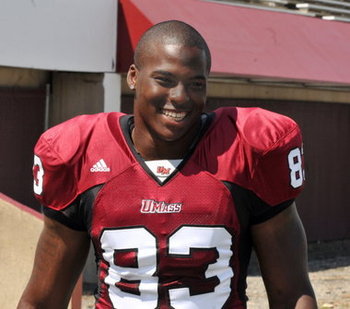 Emil Igwenagu FB/TE
The most underrated position on offense in the running game is the fullback. Emil Igwenagu out of Massachusetts would be a good selection in the seventh round. While Igwenagu played at tight end for the Minute Men, he projects more as a fullback/halfback type player in the NFL.
ESPN currently ranks him as the top fullback in the draft; why not take the chance here. The Redskins currently have Darrel Young, who has spent the last two seasons with the club mostly on the practice squad, and the ageless Mike Sellers. Good running teams usually start with having a great fullback to lead the runner through the holes.
7th Round, Team's Pick: Randy Bullock, PK, Texas A&M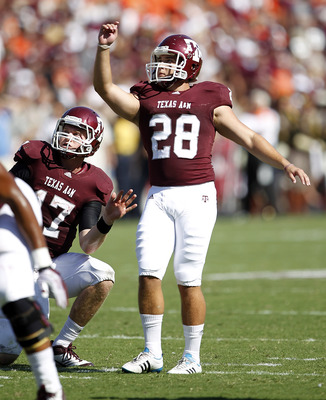 Randy Bullock PK
Bob Levey/Getty Images
The Redskins need to address one of the bigger holes they have, and that is at the placekicker position. Graham Gano has been a liability for the Redskins ranking near the bottom in kicking statistics. It's time to make a change, and drafting Randy Bullock in the seventh round would be a step in the right direction.
Bullock was all-Big 12 second team this season and only missed four field goals all season, going 25-29 on the year. While even four is not great, it would be an upgrade over Gano.
Keep Reading

Washington Redskins: Like this team?