NHL Trade Scenarios: One Player Each Team Would Love to Trade at the Deadline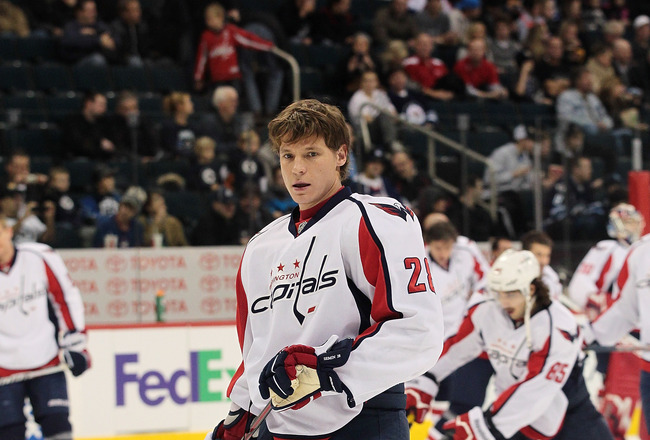 Marianne Helm/Getty Images
The 2011-12 NHL trade deadline is on Feb. 27, 2012. That gives NHL general managers 56 days to make trades that will make their teams better. It also places a time limit on them to get rid of unwanted contracts and problem players that might be detrimental to their playoff chances.
Almost all of the NHL's 30 teams have an obvious choice for a player that they would love to get rid of at the deadline.
There are a few teams that you have to look at really closely to find someone the team might want to shed, but I have looked at all 30 teams, and here are my findings.
Anaheim- Jason Blake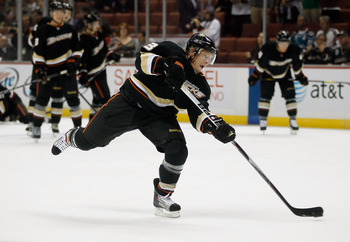 Jeff Gross/Getty Images
When Jason Blake was with the New York Islanders, he seemed to be a player that could be vital to a team's success. However, as the seasons have gone on, his tenures in Toronto and Anaheim have shown that he is not that type of player.
A free agent at the end of the season, Blake has been injured for most of the season. Unless he comes back and suddenly finds his offensive game he had in his last season with the Islanders, he will be very hard to move. Nonetheless, Anaheim would probably love to get rid of him if they got the chance.
Boston- No One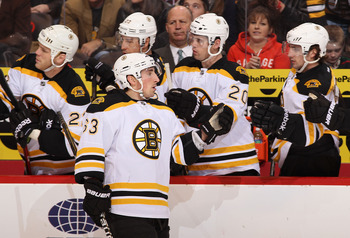 Christian Petersen/Getty Images
The defending Stanley Cup champions have absolutely no one on their roster that they would love, let alone need to get rid of. The Bruins are a well-oiled machine and when things are going well for them, there might not be a better team in the NHL.
The biggest thing Boston would trade away at the deadline is a prospect or draft pick for a veteran.
Buffalo- Jochen Hecht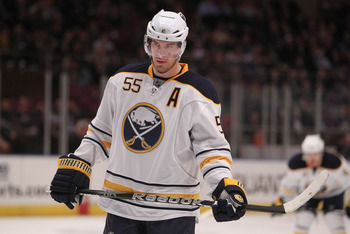 Nick Laham/Getty Images
Jochen Hecht has been a good secondary player for the Buffalo Sabres for eight seasons. That being said, the time has come to let him go. He will be an unrestricted free agent at the end of the season, and rather than lose him for nothing, the Sabres should do everything they can to trade him to a team looking for veteran help for a playoff push.
The Sabres have some young talent that can easily step in and take Hecht's place. Trading him would give someone a chance to play in the NHL, and it would give Hecht a chance to go after a championship
Calgary- Matt Stajan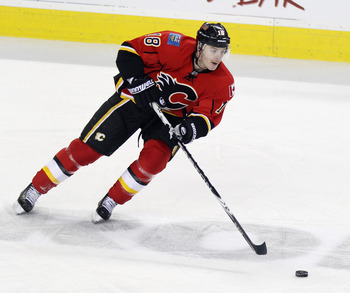 Bruce Bennett/Getty Images
The only remaining piece of the package received from Toronto in the Dion Phaneuf deal, the Calgary Flames would love to find a way to change that. Matt Stajan was given a hefty contract and he does everything but live up to the deal. When it comes to centers, Stajan is fourth on the depth chart and he makes more money than the first three.
If Calgary could find a team willing to take Stajan's contract, it would happen in a second. The problem is, no one is going to take him.
Carolina- Jaroslav Spacek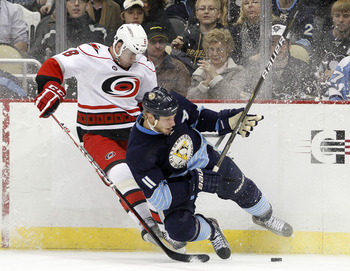 Justin K. Aller/Getty Images
Only acquired from the Montreal Canadiens in early December, Jaroslav Spacek's time in Carolina might be short. A team destined to start a rebuild after the season ends, they love to move anyone that could net them a young prospect or draft pick.
Spacek isn't going to net them a lot, but he would probably fetch them the most out of the players they are willing to trade.
Chicago- No One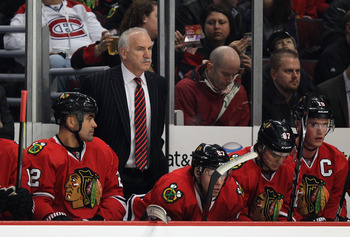 Jonathan Daniel/Getty Images
Much like Boston, Chicago doesn't need to get rid of anyone. I could pretty much copy and paste my thoughts about Boston here and replace Boston with Chicago.
Don't be surprised to see a Stanley Cup final between the Bruins and Blackhawks.
Colorado- No One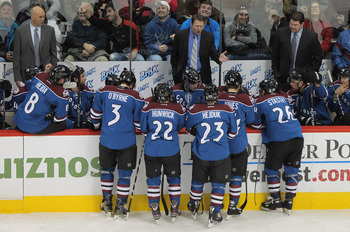 Doug Pensinger/Getty Images
Colorado doesn't need to trade anyone, but for a completely different reason than Boston or Chicago. Colorado is a team that will be on the rise in the next couple of seasons. As Matt Duchene and Gabriel Landeskog get better, so will the Avalanche. There is not any player that Colorado would love to trade. That's not to say they couldn't trade anyone to get a good package in return. Paul Stastny comes to mind in that situation.
Columbus- Vaclav Prospal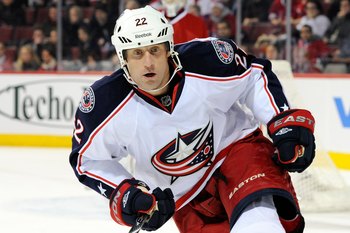 Richard Wolowicz/Getty Images
A player that Columbus would love to trade. Maybe it would be best to trade everyone and start all over.
Alright, all joking aside, I don't know what Columbus can do. They have tried everything now that they have brought Jeff Carter and James Wisniewski in. All they can really do is just try again and hope it works next year.
Vaclav Prospal has been a pretty good player for Columbus this season. Usually, that means you're safe at the deadline. In Columbus, it means that there is a high likelihood that he will be moved.
Dallas- Andrew Raycroft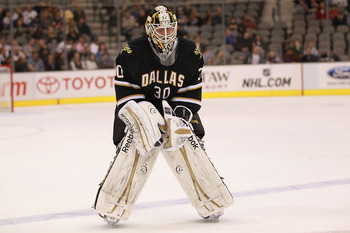 Ronald Martinez/Getty Images
Andrew Raycroft is in a pretty bad position in the Dallas Stars organization. He is stuck behind a goalie in Kari Lehtonen who is their undeniable No. 1 goalie for now, and he has a star prospect in Jack Campbell waiting in the wings. Campbell will be playing in Dallas sooner rather than later, shortening Raycroft's usefulness to the Stars.
Further lessening Raycroft's chances is the fact he has not been playing that well, his recent demotion to the AHL gives credence to that fact. If Dallas finds a suitor, he's gone.
Detroit- No One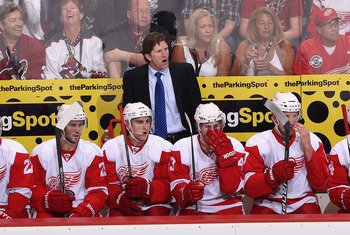 Christian Petersen/Getty Images
Okay, this one's simple. Detroit never trades anyone at the deadline, they only bring someone in, and even that is rare. Detroit is a team built through the draft and free agency and that is not going to change.
Edmonton- Ales Hemsky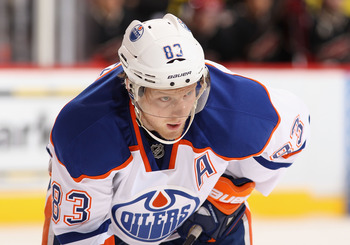 Christian Petersen/Getty Images
Ales Hemsky has not been performing up to his usual standards this year. This year being a contract year for him, his play significantly hampers his trade value. Edmonton wants to get something good in return for him, not just a return that usually comes back for a rental player.
Edmonton needs Hemsky to pick up his play for the Oilers to make a trade that benefits them at the deadline, because it's likely that Hemsky would leave in free agency, and they don't want to lose him for nothing either.
Florida- No One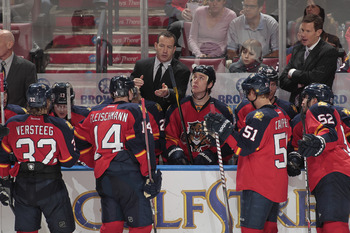 Joel Auerbach/Getty Images
Wow, never thought I would be saying this, but the Florida Panthers don't have to trade anyone this season. They are the surprise of the NHL and they don't want do anything that would derail their current success.
Anything more than trading a prospect or a draft pick would be a mistake.
Los Angeles- Dustin Penner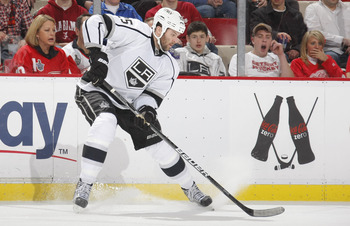 Dave Sandford/Getty Images
Things just have not gone as well as Dustin Penner would have hoped in Los Angeles. The fact that the Kings weren't able to trade him earlier this season pretty much cost Terry Murray his job.
If they wanted to trade him then, nothings going to change at the deadline.
Minnesota- Matt Hackett or Josh Harding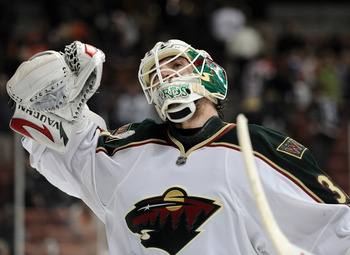 Harry How/Getty Images
Minnesota has a choice. They can either choose to trade Josh Harding, their backup for the past few years with the exception of last season because of injury, or Matt Hackett, a young prospect that they very highly of.
With Nicklas Backstrom as their starter, Minnesota has the chance to to get a good return if they trade either of their young goaltenders. Harding is a unrestricted free agent at the end of the season, so he might be the more logical choice to trade as there is a chance that he might leave to go after a starting job.
Montreal- Scott Gomez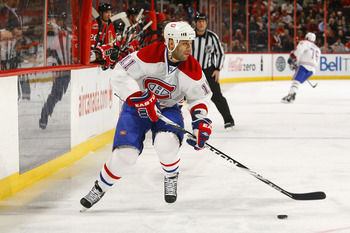 Phillip MacCallum/Getty Images
No bother explaining it, Scott Gomez will always be the Montreal Canadiens representative on a list such as this or any other "let them leave" or "trade them" article.
Nashville- No One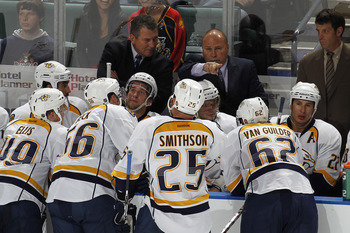 Joel Auerbach/Getty Images
Nashville is another team that doesn't make that many moves around the deadline. The one year they did was when they brought in Peter Forsberg and that was five years ago. Don't expect much to happen in Music City other than re-signing Shea Weber or Ryan Suter.
New Jersey- No One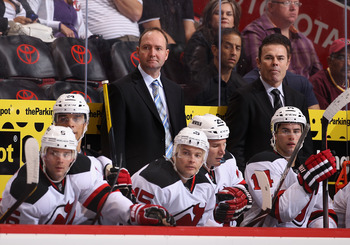 Christian Petersen/Getty Images
There are definitely players that the New Jersey Devils could trade should they not come to terms on a contract, namely Zach Parise and Martin Brodeur. Do they want to trade them? No. No one in New Jersey really needs to be traded as long as the team stays in the playoff race. Things start to falter though, and things could change really quickly.
New York Islanders- Evgeni Nabokov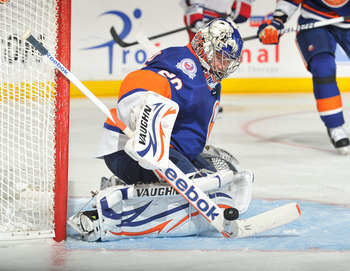 Christopher Pasatieri/Getty Images
With all the speculation that has surrounded the status of Evgeni Nabokov in New York, something might have to give at the deadline.
I don't get it though. Why would you trade the best goaltender they have had in a long time? I know that he probably wants to leave in free agency, but if any team has to convince their big free agent to stay, it's the Islanders with Nabokov.
New York Rangers- Sean Avery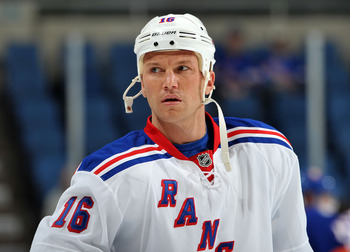 Christopher Pasatieri/Getty Images
The Rangers gave him the second chance the fans had been begging for and it ultimately fizzled out. He's not going to get another shot with the Rangers and he has to hope that someone else is and willing to trade for him.
Ottawa- Filip Kuba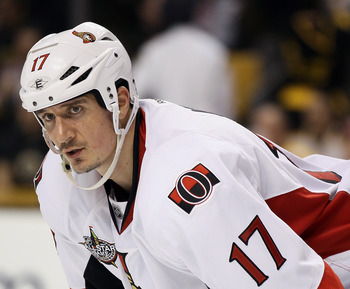 Elsa/Getty Images
On a rebuilding team such as the Senators, a veteran with an expiring contract isn't going to kept around. Such is the case with Filip Kuba. He will not be brought back in free agency and the Senators would like to get something for him before let him walk for nothing.
Philadelphia- Michael Leighton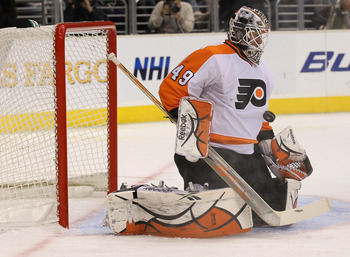 Stephen Dunn/Getty Images
I have said this too many times in recent articles, and I guess I'll say it again. Michael Leighton deserves a shot to stay in the NHL, which he obviously can't do in Philadelphia. The Flyers need to trade him.
Phoenix- Adrian Aucoin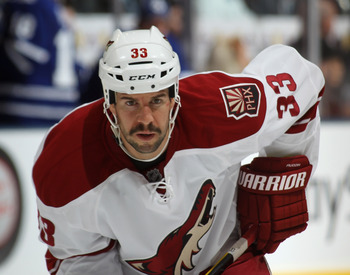 Bruce Bennett/Getty Images
The Phoenix Coyotes is a team that has had many troubles and it looks like this could be the final year they languish in Glendale.
That being said, the Coyotes would be wise to trade some of their veterans, such as Adrian Aucoin or Derek Morris, and continue to bring in young talent. If they do, the Coyotes or whatever they become will have a bright future.
Pittsburgh- No One
Jamie Sabau/Getty Images
San Jose- Antero Niittymaki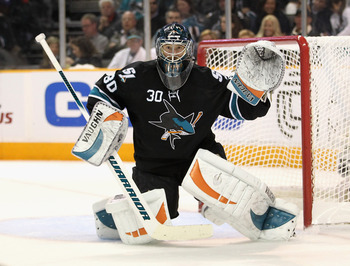 Ezra Shaw/Getty Images
After a promising start to his career, Antero Niittymaki has fallen on hard times. He is the third-string goaltender in San Jose and has yet to play a game this season. He is an unrestricted free agent at the end of the season so the Sharks will look to trade him at the deadline.
St. Louis Blues- No One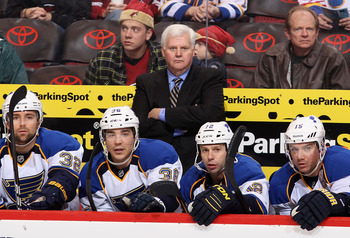 Christian Petersen/Getty Images
In the same boat as Colorado, St. Louis is looking like a team that will be contending for a Stanley Cup in a few years. With a young core that will only get better when Vladimir Tarasenko joins them next season, the Blues are set to be a force to be reckoned with for the foreseeable future.
Tampa Bay- Mathieu Garon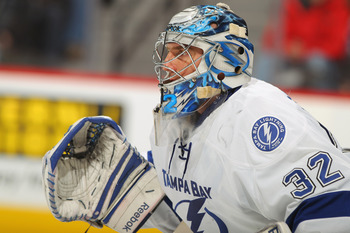 Doug Pensinger/Getty Images
Only if they get another goaltender in the deal.
Dwayne Roloson, even with the bad season he's having, is still a valuable mentor to any young goaltender they would bring in. Tampa Bay needs to make a move that would bring in a goalie such as Jonathan Bernier, Josh Harding or any young goalie they can get their hands on. Since Roloson isn't going anywhere, Garon would have to go the other way as part of a bigger deal.
Toronto- Jeff Finger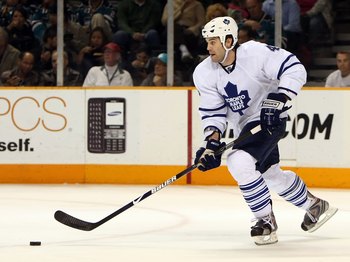 Christian Petersen/Getty Images
Vancouver- Keith Ballard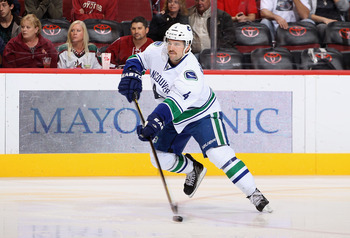 Christian Petersen/Getty Images
The player that fans couldn't wait to see go during last season's playoffs, Keith Ballard is playing more regularly this year. That doesn't change the fact that he makes a whole lot more money than he should. As long he does, Vancouver probably wouldn't mind getting rid of that contract.
The bad news is that they would probably would have to include Cory Schnieder in any deal involving Ballard.
Washington- Alex Semin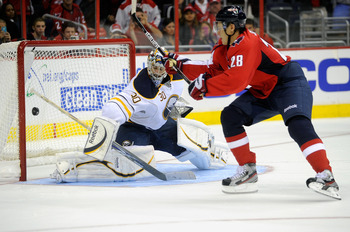 Greg Fiume/Getty Images
Who else? Though they have gotten better since the firing of Bruce Boudreau, the Washington Capitals still have a big distraction looming over their heads as long as Alex Semin is a pending free agent.
By the trade deadline, the Caps need to either re-sign Semin to a long-term contract or trade him. If they don't, it will only prove to be an unnecessary distraction.
Winnipeg- No One
Marianne Helm/Getty Images
In a league all their own when it comes to the teams that don't need to trade any players, the Winnipeg Jets don't need to trade anyone because anyone that they would be willing to give up, if anyone, wouldn't be high on another teams list.
Keep Reading